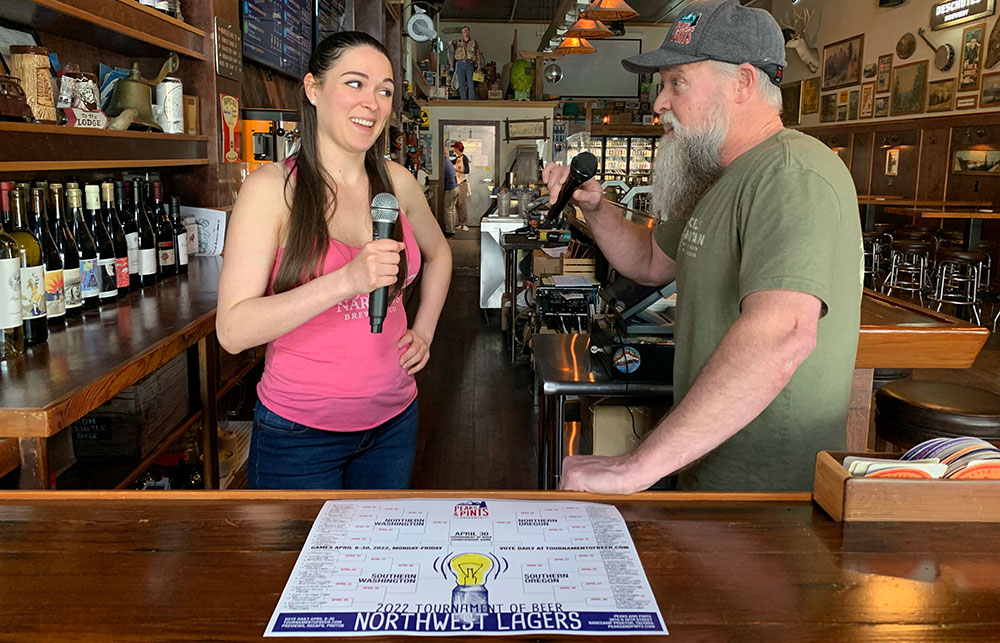 Peaks and Pints Tournament of Beer: Northwest Lagers April 23
PAPPI SWARNER: Heeeelloooooo lager fans! I'm Pappi Swarner. The subject of lagers is, like the subject of barbecue, vexed and fraught with controversy. What constitutes a great lager? Who makes the best? Everyone seems to have her or his own favorite, and everyone's an expert. In early March, we pulled the public asking what are the top 64 lagers brewed in Washington and Oregon? You chimed in. Friday, April 8, we launched the Tournament of Beer: Northwest Lagers, pitting your 64 lagers against each other, similar to the NCAA Basketball Tournament, only with more Saccharomyces pastorianus yeast.
CLAIRE BRINICH: Yup, I'm back for another day calling Second Round lager games. This day is a bit easier. Pappi Swarner and I will recap yesterday games, then take the rest of the weekend off to prepare for the last day of Second Round action Monday, April 25.
SWARNER: Let's do this thing. …
Friday, April 22, Second Round Northwest Lagers Games Results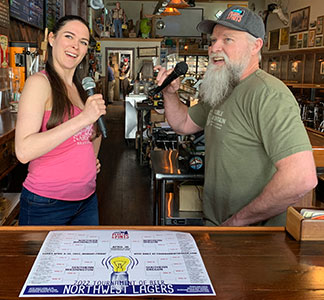 GAME 1, NORTHERN WASHINGTON REGION
Holy Mountain Brewing Holy Light (#7 seed) vs. Seapine Brewing Pool Dad Lager (#15 seed)
BRINICH: In a back-and-forth match-up pitting two fairly-evenly matched lagers (at least in the eyes of voters, it seems), Holy Mountain Brewing, with feature stories in every magazine ever invented, grabbed 52 percent of the vote. The loss must be especially tough for Seapine Brewing's Pool Dad Lager as we're headed into swimming season. Holy Light has its sights on the champion game, as it should.
SWARNER: It wasn't a blowout as our Tournament of Beer statisticians predicted, but the statisticians also drink mostly Foster's — especially while selling Beanie Babies on eBay. Congrats Holy Mountain!
GAME 2, SOUTHERN WASHINGTON REGION
Heidelberg Premium Lager (#1 seed) vs. E9 Brewing Detour Ahead (#9 seed)
SWARNER: I got this one Claire since I use to party at the Heidelberg building before the fire and drank beer at Engine House No. 9 in the mid-1980s before Dusty Trail converted into a brewpub. To be honest, I though Heidelberg was going to win this whole thing. The beer's longtime history, the recent resurrection of the brand by powerhouse 7 Seas Brewing, the much-improved recipe, all the publicity the brand received over the last five months, their impressive marketing, and the love Tacoma has given to the Premium Lager — it all adds up to a win, right? Plus, E9 Brewing's Detour Ahead only recently hit the market. Taking a step back, this game reminded me that Tacoma has a world-class brewery in our backyard. Not only is E9 the first modern-day brewery in Tacoma, but Shane, Don, the X-Group ownership, Matt, Todd, Katie, Amber, Brenton, Marc, David, and their entire staff, have elevated the brewery nationally, if not globally. E9's wild and farmhouse ales are well-known in Oregon, California, the East Coast, and even Belgium. Some of their 63.45 percent of the vote win came from out of state. Lastly, Detour Ahead is an exceptional hoppy lager. It should be noted that Heidelberg is in its infancy of growth potential. It's already started the separation from 7 Seas and no doubt owners Mike Runion and Travis Guterson have big plans for the brand. Tacoma might not have the brewery footprint like some cities in our state, but what we do have is stellar.
GAME 3, NORTHERN OREGON REGION
Little Beast Brewing Lager (#6 seed) vs. Fort George Brewery 1811 Lager (#3 seed)
BRINCH: Speaking of publicity — when you create sold-old festivals, beer months, beer that produce lines, beer that people clamor for the beta versions, and build brewhouse the six of city blocks, you're going to stick in people's minds. Little Beast's delicious lager did a hell of a job keeping Fort George's 1811 within arm's reach but ran out of steam in the end. When the final buzzer blew at 11:45 p.m., Fort George had 52 percent of the vote and a slot in the Sweet Wort Sixteen.
GAME 4, SOUTHERN OREGON REGION
Silver Moon Brewing SMB Mexican Lager (#5 seed) vs. Pelican Pelicano Extra (#13 seed)
SWARNER: The Tournament of Lagers can be brutish and short. Oversparging the mash can destroy the title dreams of even the best lager brewers. Those who have made it far in the Tournament of Beer are more consistent and less prone to overheat the water or have insufficient aeration. Less experience Tournament breweries, on the other hand, can get lost in the moment. They might leave let yeast sit too long on the trub, trying to make an impression on a big stage. Silver Moon and Pelican both have game. In this game, it came down to pure game experience. Pelican Brewing has won a Tournament of Beer — the 2020 Tournament of Beer: West Coast Flagships. They knew how to summon all their taproom locations and work the phone tree. They knew how to give a little Extra. Pelican Pelicano Extra grabbed 66 percent of the vote and moves into the Sweet Wort Sixteen.
BRINICH: Let's wade through the chilled wort. The following are advancing to the Sweet Wort Sixteen:
>>> Holy Mountain Holy Light
>>> E9 Detour Ahead
>>> Fort George 1811 Lager
>>> Pelican Pelicano Extra
SWARNER: Well, that's a wrap! See everyone back here at 10 a.m. Monday. Cheers!
Monday, April 25 Peaks and Pints Tournament of Beer: Northwest Lagers
Game 1: Stoup Stoupporro Super Premium Japanese Style Lager (#6 seed) vs. Kulshan Brewing Premium Lager (#3 seed)
Game 2: Headless Mumby Brewing Local 66 Lager (#5 seed) vs. Top Rung Brewing Lacey Lager (#4 seed)
Game 3: Ex Novo Brewing The Most Interesting Lager In The World (#7 seed) vs. Wayfinder Beer Number 6 (#2 seed)
Game 4: Block 15 Brewing Sol Fresco (#1 seed) vs. Terminal Gravity Brewing Landmark Lager (#8 seed)
---