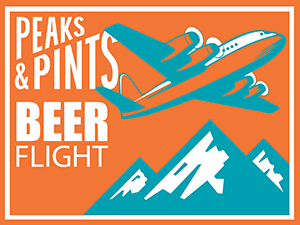 Technically, hops are flowers, which means basically every beer has flowers in it — but today Peaks & Pints presents a beer bouquet — a to-go flight of beers with floral notes. Floral beers can get aggressive in an Aunt Martha-who's-been-wearing-the-same-perfume-for-decades sort of way. It's risky territory when it comes to flowers in the world of beer. We handpicked five floral brews, in a variety of styles, that will leave you feeling more like you're drinking happiness and less like you're hanging out with Aunt Martha and her impressive potpourri collection. Stop by our craft beer lodge and grab Peaks and Pints Pilot Program: Flower Beer Flight. Cheers!
Peaks and Pints Pilot Program: Flower Beer Flight
Great Notion Berry Pusher
5.5% ABV
Wildflower honey is honey, produced from the nectar, that the bees have gathered from multiple flower sources or varieties. Honeybees practice a trait known as "floral fidelity" when scout bees come back to the hive and do their waggle dance to tell the other bees where they went, all the other bees will follow their instructions to the letter. If possible, all the bees will continue to focus their pollination on the flower source described in the waggle dance. Great Notion Brewing performs the Sour Steadfastness dance when they brew their fruited sour Berry Pusher. It's fermented with flaked oats and buckets of wildflower honey, strawberry, and blueberry puree.
The Ale Apothecary Orobas
7.75% ABV
Founder Paul Arney and his team are focused on one thing at The Ale Apothecary — making truly unique beers, using strictly Oregon ingredients — including local barley, wheat, hops, barrels, and even the wild yeast drifting around the high desert air — aged in oak, waiting patiently for the right moment to express themselves. Fermented with equal parts barley and honey, honoring the early, mystical root of brewing, The Ale Apothecary adds raw honey to Orobas' wort in barrels for wild yeast to start fermentation. After 22 months the wild ale is transferred into barrels of Pinot Noir grape pomace from Domaine Drouhin for 7 months.  The result is a 100 percent naturally carbonated wild ale made with 100 percent Oregon ingredients and bottle-conditioned with honey for a dry, grape, and floral sour ale with a tannic bite.
Fort George Beach Eagle
4.7% ABV
Beach Eagle is a Mexican-style lager named for the glorious Beach Eagle of the North Oregon Coast. Fort George Brewery brewed this pale lager to pair specifically with Mexican food on the beach. Pale in color, light in hops, and full of refreshment, this classic lager has a light grainy corn flavor with subtle citrus and floral notes that tastes great with or without a lime wedge tossed in.
Kings & Daughters Wildflower's Italian Pilsner
4.2% ABV
Kyle and Kacie Larsen named their Hood River, Oregon, brewery "Kings & Daughters" not only as a nod to the Larsens' three young daughters, but King is a family name from past generations on Kyle's side and it's also the middle name of their son. K&D's focus will lean toward the soft side of the flavor and design — sessionable and feminine — as the flowers on their website demonstrates. Their recently released Wildflower's Italian Pilsner utilizes traditional and modern German Grown hops. Expect a rounded spice and floral hop character, clean malt base, and a pleasant yeast profile.
pFriem Kolsch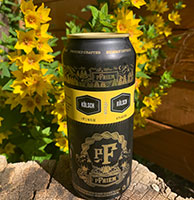 4.8% ABV, 17 IBU
Kölsch is neither an ale nor a lager. It's fermented with ale yeast and finished in cold temperatures like a lager. The result: it's clean, light, and crisp. Kölsch is associated with a beer from Köln; in Germany it's brewed to strict standards, with 10 to 20 percent wheat. pFriem Family Brewers' version is brewed in Hood River, Oregon, not in Köln, Germany, for light ale tantalizes with notes of ripening pear, flowers, biscuits, and a dry alluring finish.
LINK: Peaks & Pints cooler inventory
---