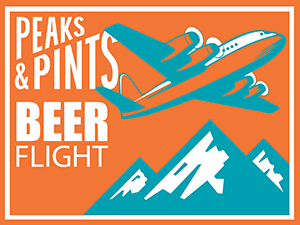 The style trend that began with the cloudy IPAs coming out of New England has spread to pales ales. And just like their stronger sibling, hazy pales skip hop bitterness for intense bursts of flavor and aroma. Often described as "juicy," brewers dry hop the pales with loads of hops for lively, fruity character; the goal is to brew a hoppy pale with soft mouthfeel, low bitterness, and a juice-like, fruit-forward profile. The hazy character comes not just from the large amount of post-boil hops, but also the use of high protein grains such as wheat and oats. The yeast choice is a factor as well, as certain strains will produce fruity esters and stay suspended in the beer longer, contributing to the cloudy appearance. Pale ales in general have less hop intensity and a bit more focus on malt than IPAs, and this applies to hazies as well. Today, Peaks & Pints suggests a to-go flight of hazy pale ales — a flight we're calling Peaks and Pints Pilot Program: Hazy Pale Flight.
Peaks and Pints Pilot Program: Hazy Pale Flight
Block 15 Sternwheeler
5% ABV
Brewed in collaboration with Friends of Historic Butteville and the Oregon Hop House, Block 15 Brewing's Sternwheeler hazy pale ale features organic Anchor, 2B, and McKenzie hops exhibiting vibrant notes of grapefruit, citrus, and pine resin.
Kings & Daughters Horticulture, Baby!
4.8% ABV
Kings & Daughters co-founder and head brewer Kyle Larsen invited Breakside Brewery founder Ben Edmunds to explore the world of low ABV, hop-forward beers. With Breakside's vast knowledge and curiosity about hop combinations, and Larsen's approach to creating a low ABV vessel for hop forward beers, they created Horticulture, Baby!, a double dry hopped hazy pale ale that's smooth, citrusy, and not bitter.
Wet Coast Whisper Sister Hazy Pale
5% ABV, 32 IBU
In the slang of the prohibition era, a "whisper sister" was the nickname given by the flappers to a female proprietor of a speakeasy. In the modern-day era, a Whisper Sister is the name of a hazy pale ale brewed by Wet Coast Brewing in Gig Harbor, Washington. This easy-drinking pale is brewed with a hefty dose of oats. Vermont IPA yeast brings the haze and bolsters the tropical and citrus notes of El Dorado and Falconer's Flight hops.
LINK: Peaks & Pints cooler inventory 
---