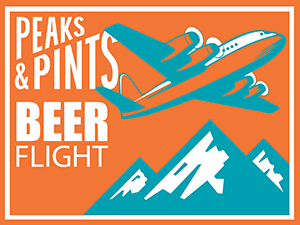 Alan Sprints closed his Hair of the Dog Brewing Sunday. It wasn't a shocker. Instead of delivering chocolates on Valentine's Day 2022, he delivered his video farewell message stating it's better to fade away than burn out, although the pandemic certainly burned him out. He announced he wasn't selling the nearly 29-year-old Portland institution and had a few more beers in him — including the "Alan" strong ale meets IPA, which Peaks & Pints, Parkway Tavern, Rainier Growlers, Bottleworks and other bottle shops helped brew (stay tuned for its tapping at Peaks). Peaks & Pints picked up a few last cases of Hair of the Dog beer, which you might consider grabbing as a to-go beer flight — Peaks and Pints Pilot Program: Final Hair of the Dog Beer Flight —and cheers the brewer who was true to himself, was a leader in the industry, and created unique, delicious craft beer. Cheers Alan!
Peaks and Pints Pilot Program: Final Hair of the Dog Beer Flight
Hair of the Dog Fred
10% ABV
Fred Eckhardt's book, A Treatise on Lager Beers, published in 1969, was the first modern book about beer. During his stint as the Oregonian's first beer columnist, he penned The Essentials of Beer Style, helping many homebrewers understand their craft and in turn helped launch many craft brewing careers, including Hair of the Dog's Alan Sprints, who created an American Strong Ale simply named Fred. Fred, the beer, is a deep golden color. It is made with aromatic and rye malts and includes 10 different hop varieties — Northern Brewer, Progress, First Gold, Crystal, Fuggle, Willamette, Tettnang, Chinook, Spalt, Saaz, and Strisselspalt for caramel, bitter hops, and some alcohol.
Hair of the Dog Adam
10% ABV, 50 IBU
Hair of the Dog is proud to be one of the first breweries in America specializing in the production of high alcohol, bottle conditioned beers as well as experimenting with the barrel aging process since 1994. Founder Alan Sprints has 180 oak barrels used to age his beer from 6 months to 8 years. Inspired by the historical style Adambier from Germany, Adam is a strong, dark smoky ale aged for an extended time in barrels for deeply bready malt flavors layered with roast, smoke, and leather. It's astonishingly complex and punishingly strong at 10-percent alcohol.
Hair of the Dog Cherry Adam From the Wood
13.5% ABV
Hair of the Dog Cherry Adam from the Wood is aged with locally grown black cherries in bourbon and sherry casks for 15 months. It hits the nose with dark fruit, oak, and vanilla smells. The taste has a ton going on: vanilla, oak, deep malts, pitted fruits, figs, and bourbon-coated cherries.
Hair of the Dog Matt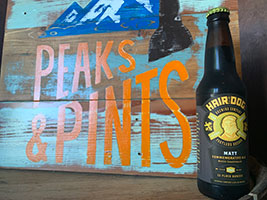 11.5% ABV
Matt is a strong ale inspired by Matt VandenBerghe and the late Matt Bonney, champions of the Washington state craft beer industry. Matt was originally brewed to celebrate the 10th anniversary of Bottleworks, which was founded by the two other Matts. It's brewed with two Munich malts, two smoked malts and two types of Belgian candi sugar. It spent some time in Kentucky bourbon and Apple Eau de Vie barrels from Clear Creek distilling for deep and lush with notes of apple, chocolate, and smoke.
LINK: Peaks & Pints cooler inventory
---