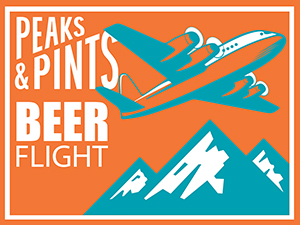 Joel Gregory, homebrewer and electrical engineer, opened Ex Novo Brewing in July 2014 with the mission to contribute all — yes, all — of its profits (that don't get redirected to infrastructure improvements, which is not code for lining any pockets) to its four primary nonprofit partners: Friends of the Children, IJM, Impact NW and MercyCorps. These are organizations that work mainly to build stronger communities for the poor by reducing violence, providing support, and, in the case of Friends of the Children, by working with kids to break the cycles that keep communities in poverty and violence. Gregory initially envisioned the Northwest Portland brewery as a small neighborhood pub and gathering spot. It wasn't long before he realized Ex Novo beer was a thing and the brewery expanded to two more locations, gone into distribution and maxed out its 10-barrel brewhouse, as the brewers struggle to keep up with demand. Today, Peaks and Pints presents a to-go flight of Ex Novo beer — a flight we call Peaks and Pints Pilot Program: Ex Novo On the Fly.
Peaks and Pints Pilot Program: Ex Novo On the Fly
Ex Novo Sons of Scotland
7.6% ABV, 24 IBU
Ex Novo Brewing's Sons of Scotland sees a variety of North American, English and German malts and a touch of hops for balance in the brewing process. On the nose, expect freshly baked brown bread, peat-smoked barley, toffee, and earthiness. A huge bombardment of brown bread, smoked peat, toffee, and earthiness also arrive on the tongue, but are joined by rich toffee and some dried dark fruit notes. It's a smooth drinker.
Ex Novo Intergalactic Pale Reality
5.8% ABV, 33 IBU
West Coast pale ales are known for hop aroma bursting with notes of citrus and tropical fruits. Their malt character is understated, and they finish dry to let the layered hop flavors and aromas take center stage. In other words, meet Ex Novo Intergalactic Pale Reality. This classically brewed pale ale is brewed with a combo of amazing new world hops, Citra and Galaxy, for loads of citrus and tropical fruit notes before a long resinous bitter finish.
Ex Novo Parting of the Sensory
6.5% ABV
Modest Mouse's "Parting of the Sensory" contrasts the dual reality of our lives: the cold, scientific reality of existence versus our need to believe that we are more, that we have a purpose, and that there's someone looking out for us. It's about the disappointment and anger felt when we realize we've been deceived. Ex Novo's Parting of the Sensory delivers truth: soft citrus aromas of orange and lime combined with ripe melon and lemongrass tea, followed by tropical and citrus juicy flavors that finish with ripe tropical fruit and melon with lemon, lime and a brief acidity.
Ex Novo Myriad Reflector
7.2% ABV
Back in 1917, Louis Bernard Woeste of Newport, Kentucky, filed a patent for a Myriad Reflector. It wasn't the first mirrored ball ever, but Woeste was the only one to stake a claim with an official patent. Woeste's 27-inch "magnificent globe" was covered with "more than 1200 special-made mirrors," and hung above to ballrooms, skating rinks, and Studio 54 in Manhattan's Broadway District. Ex Novo's version is covered with Sabro, Strata, and Amarillo hops for aroma of tropical fruit cocktail, with massive notes of pineapple, coconut, lime, strawberries, mango, and platform shoes.
Ex Novo Pacific Southwest
6.8% ABV, 70 IBU
Ex Novo Founder Joel Gregory opened a second Ex Novo in his hometown of Corrales, New Mexico. Occupying the former Rancho de Corrales, a 200-year-old historic building destroyed by a fire in 2012, which makes sense since the name Ex Novo roughly translates "from the beginning" or "from scratch." Gregory melds the two locations into a single West Coast IPA, Pacific Southwest. Brewed with Citra and El Dorado hops, it offers dank notes of pine, lemongrass, and grapefruit zest, while hits of evergreen and prickly pear linger.
---