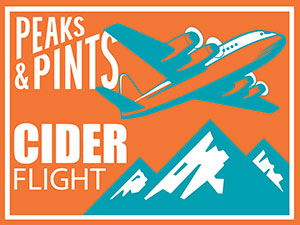 Remember when you knew how to relax? It was probably before you had an iPhone, before you had kids, before you had a job that demanded 70 hours a week — plus weekends. Relaxation, we're afraid, is a dying art. That's why we offer a flight of four tropical chill ciders today. So, pawn the kids off on Grandma, put your phone down, and get ready to swallow one seriously giant chill pill. Step one: Deep breath, South Sound. Step two: Grab today's Peaks and Pints Monday Cider Flight: Tropical Chill Pill of tropical-themed ciders intended to give you a psychological relief from the chill of below 50-degree rain by providing the impression of warmer climes.
Peaks and Pints Monday Cider Flight: Tropical Chill Pill
Seattle Cider Papaya Sparkling
4.2% ABV
Joel VandenBrink, the founder of Two Beers Brewing Co., launched the Seattle Cider Company in August 2013, with the help from his Two Beers sales rep and a former farm hand Eric Willard. Diagnosed with Crohn's disease, which makes beer difficult to digest, VandenBrink launched the cider company with only two products: Semi Sweet and Dry. Today, Seattle Cider has many options, including Papaya Sparkling, which is inspired by seltzer and crafted in the tradition of their ciders, ala apples. It's light, refreshing, and naturally gluten free.
Reverend Nat's Viva La Pineapple
6% ABV
When his North Portland neighbor begged him to take his backyard apples off his hand in 2004, Nat West began experimenting with fermentation, turning the small green apples into hard cider. His friends went nuts. West would go on to hold weekly free cider parties at his house, experimenting on his friends, which ended up at 50 or so people. In the summer of 2011, West launched Reverend Nat's Hard Cider. Then he put on his mathematician button-down sweater. He took a blend of fermented fresh apple juice sourced from Eastern Washington and added unfermented fresh pineapple juice. Then, he added a touch of cinnamon, cloves and allspice. The summary is spice and pineapple that hits the nose and tongue with notes of green apples and pear.
Channel Marker Surf Session
6.5% ABV
Nestled between the lush Cascade Mountains and the salty Puget Sound, the maritime climate and adventurous spirit of Seattle provides the inspiration for Channel Marker cider recipes. And They source, forage and grow many of our ingredients from around the Sound — their backyard. Their Surf Session brings beach vibes with its squeeze of fresh lime and sprinkle of San Juan Island sea salt. Enjoy this light, dry cider straight from the can or as a mixer in your favorite margarita recipe. Surf's up!
Grit City Ciderworks Mango Citra Hopped
6.5% ABV
Last July, husband-wife team Kelsey and David Horne opened Grit City Ciderworks in Tacoma's Hilltop neighborhood. David — who grew up in Washington's Apple Capital Wenatchee and homebrewed for a decade — wanted to make cider to balance the sweet cider market. After studying at Oregon State University's renown fermentation program, along with his beer brewing knowledge, he found his preferred cider taste profile. Made with whole mango chunks and fresh-pressed Northwest apples, Grit City Ciderworks' Mango Citra Hopped hits the nose with full, fresh mango accompanied by fresh Citra hops from the Yakima Valley. This-semi sweet cider has a full mango flavor and finishes tart with full Citra flavors and hints of hop bitterness.
LINK: Peaks & Pints cooler inventory
---