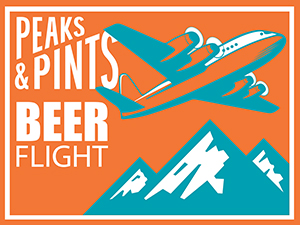 What if you're not a fan of stouts or porters, but still want to get in on Peaks & Pints Dark Side of Thanksgiving festivities? We got you. First, what makes a dark beer dark? It all comes down to the malts. Though all beer relies on malts (cereal grains that have been allowed to germinate, then dried to halt the germination process), dark beers are unique in their use of black and dark malts. These grains are heavily roasted to achieve the characteristic color as well as the caramelized, toasty flavors we love. The blanket term "dark beer" encompasses everything from classic styles like schwarzbier (a dark German lager) to Baltic porters to the hard-to-find black IPAs. The most familiar dark beers, however, are generally billed as either porter or stout ales, but, as we noted, we're skipping these styles for our to-go dark beer flight, Peaks and Pints Pilot Program: Dark Beer On the Fly.
Peaks and Pints Pilot Program: Dark Beer On the Fly
Browar Witnica Black Boss Porter
9.4% ABV
Baltic porters are typically strong, sweet and bottom-fermented, which makes them lagers. They lack the powerful roast of an imperial stout, but have an intense malt character, big dark fruit flavors, and moderate to strong alcohol. Browar Witnica's Polish version pours a very dark brown — almost black. Port wine aromas of oak, cherry and raisins proceed flavors of caramel, raisins, sweet tobacco, and bittersweet chocolate. Licorice emerges as the beer warms, while roasty flavors rise in the back.
Wander Nightmare Cyclist
5.5% ABV
Wander Brewing released a terrifyingly delicious schwarzbier brewed collaboratively at great distance with their friends Solemn Oath Brewery in Naperville, Illinois. "Smooth, rich German malt unapologetically cut off by two wheels of bright Czech Saaz. A beautiful symphony of chaos, just in time for the holiday of horror," states Nightmare Cyclist hype. It's delicately bitter, allowing the roasted malts to balance in their own way. It's very much akin to a light porter, and the bittersweet chocolate and not-burnt, softly coffee-like roastiness lingers in the finish.
21st Amendment Fireside Chat
7.9% ABV, 45 IBU
21st Amendment Brewery produces a line of very tasty brews including Fireside Chat, a winter ale with a nod toward Franklin Delano Roosevelt's Depression-era radio addresses. (Franklin Roosevelt won the 1932 presidential election based in large part on his promise to repeal the 18th Amendment. He did so incrementally, beginning by legalizing the sale of beer, and ending with the 21st Amendment, the first and only time an amendment to the Constitution has ever been repealed.) 21st Amendment begins with a rich, dark, English-style ale — cola brown with black in the middle and dark brown on the edges, so it works for this flight. On the nose, all the typical winter warmer flavors are accounted for: roasted malts, cinnamon, ginger, caramel, clove and a smidgen of orange peel. Big notes of cinnamon and ginger lie in wait up front, with a touch of subtle orange peel and some clove with a big ginger sendoff, washing in some cinnamon, bread notes and subtle chocolate, too.
Pelican Bad Santa
7.5% ABV, 65 IBU
"I Saw Mommy Kissing Santa Claus," sung by former jockey Jimmy Boyd, takes a humorous approach to a child's shocking discovery of his mother's infidelity. Pelican Brewing in Pacific City, Oregon, brews a beer that pairs with Mommy's merry adulterer — Bad Santa. This Cascadian dark ale, or Black IPA, is filled with complex malt flavors and aromas with toasted malt and roast character, blending seamlessly to the alluring herbal hop aroma that comes from copious amounts of Fuggle hops. Bad Santa doesn't care if you've been naughty or nice; he just wants Mommy.
---