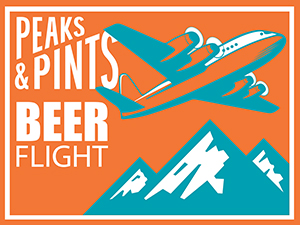 Darkness descends on Peaks and Pints this Thanksgiving week, and it promises to be an eventful week with at scarce and salient selections from the dark side. Beginning today and running through Friday, Nov. 27, the right side of Peaks and Pints' Western red cedar tap log will house dark elixirs, including imperial stouts. In the Georgian-era, stout meant simply that: strong. Stouts were more potent versions of porter. Made with an extra helping of dark grains for added booze and body, stout quickly caught on, most famously in Ireland and Russia where the style received an extra punch for the journey. Today, those so-called imperial stouts reign stateside. Imperial stouts spell comfort, warming us on a cold, windy day. Before even taking our first sip, we can smell the roasted malt. Depending on the variety, we may get a touch of chocolate, maybe even vanilla or bourbon. The first sip steals our soul. It's sweet as chocolate. Sometimes bitter, too. It's a warm blanket. It's fuzzy slippers. It's our to-go flight of the day, Peaks and Pints Pilot Program: Dark Side On The Fly.
Peaks and Pints Pilot Program: Dark Side On The Fly
Boulevard Let's Keep It Platonic
14.2% ABV
Boulevard Brewing's three-way imperial stout collaboration with Side Project and Weldwerks was double barrel aged. The three breweries brewed a base beer boiled for more than 24 hours; a technique finely tuned by the talented folks at Weldwerks. They then blended the collaboration brew (a technique mastered by the wise crew at Side Project) with three other stouts to help layer and round out flavors, with the collaboration brew making up 65 percent of the final blend. It's a big, bold beer, as it should be, with a sweet, robust finish complemented by generous rations of love, respect and camaraderie.
Big Sky Oak Bourbon Barrel Ivan The Terrible
12.4% ABV
Ivan IV Vasileyevich — widely known as Ivan the Terrible or Ivan the Fearsome — was the Grand Prince of Moscow from 1533 to 1547 and reigned as the "Tsar of all the Russias" from 1547 until he died in 1584. The warlord often behaved in ruthless and paranoid ways. Big Sky Brewing's Ivan the Terrible Russian Imperial Stout isn't terrible or ruthless. Rather, Ivan the stout is a balanced medley of traditional stout flavors — dry fig and black cherry, with more bittersweet dark fruit flavor growing on the mid-palate as the beer warms. Ivan the Oak Bourbon Barrel stout, though, is rich, complex and intense, thanks to aging in American oak bourbon barrels. Sifting through the darkness you will find dark chocolate and bourbon flavors added to the dried fruits.
Crux [BANISHED] Tough Love
14% ABV, 70 IBU
The eighth vintage of "Tough Love," Crux Fermentation Project's barrel-aged imperial stout, is constructed with dark roasted malts, malted rye and oak-smoked wheat, then banished to aged in Buffalo Trace Bourbon barrels under controlled conditions for nearly a year. The aging process smooths out the edges and bitterness turns to notes of vanilla beans, velvety chocolate, dried cherries and wood. Tough Love is one of the most balanced and best examples of the bourbon barrel-aged imperial stout genre.
North Coast Old Rasputin
9% ABV, 75 IBU
According to legend, it took copious amounts of poison, three gunshots, a beating and a drowning to take down Grigori Rasputin. Fortunately, North Coast Brewing's Old Rasputin Russian Imperial Stout is more refined than its namesake and easier to drink than most of the imperials we've come across. Old Rasputin is a giant beer, true to style, with an alcohol content of nine percent by volume and a huge hop bitterness, thanks to Northern Brewer, Cluster and Centennial hops. Black as night and tasting of dark roasted malts and bitter chocolate, this is a complex, strong beer, both in flavor and alcohol content. Though slightly astringent, Old Rasputin finishes clean and refreshing.
---