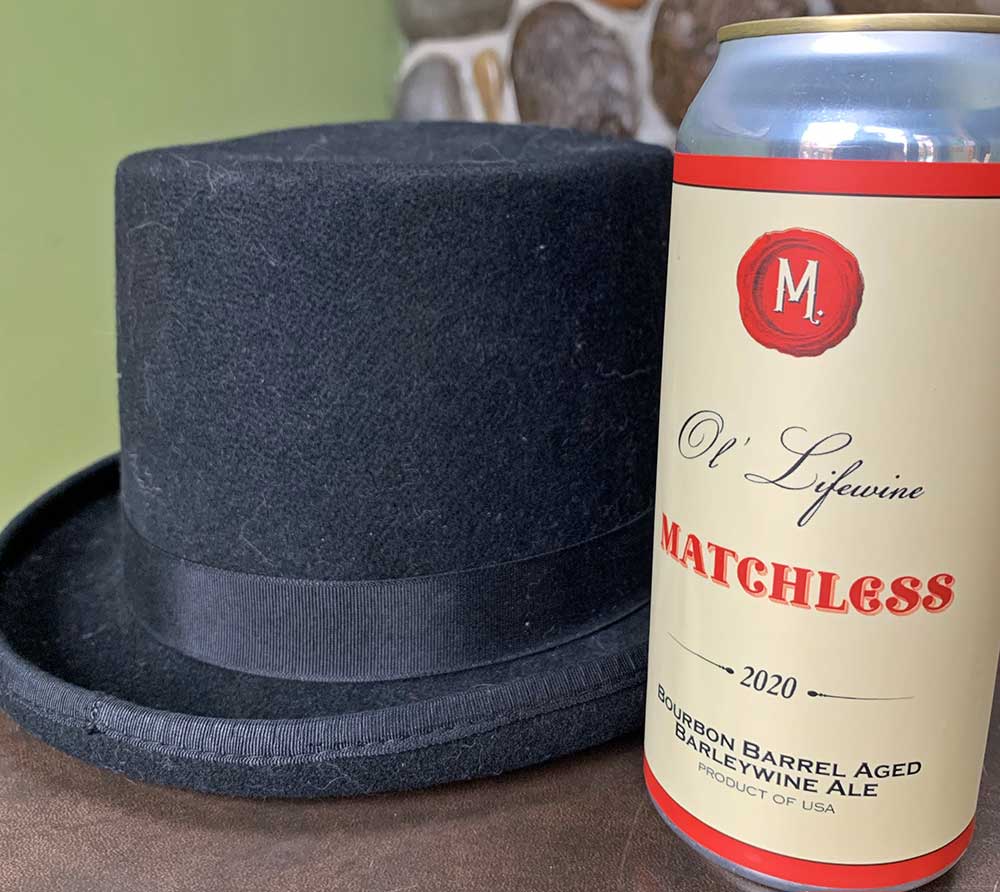 Fancy Pants Sunday: Matchless Ol' Lifewine
You fancy yourself cultured, don't you? You do. It's so obvious. If only you knew how obvious it is. You're one of the special people: You've been to the Baltic states, you speak French, you're dying to get to Florence, you love both Nick Hornby and Tom Robbins and you can't wait for your daily Chopped fix and the next issue of The Collective Quarterly. Peaks & Pints is impressed. We know what you'll also enjoy: Fancy Pants Sunday: Matchless Ol' Lifewine.
Ol' Lifewine is a beer — but it's a wine! Actually, it's a barleywine. Despite its name, barleywine is indeed a beer but at wine strength — ranging as low as 7-percent alcohol by volume in British versions to the 14.5 percent of Ol' Lifewine, and beyond. English versions of the style emphasize malty sweetness, while American versions are usually hoppier. Matchless Brewing's take on the style with its Ol' Lifewine falls more to the English side of the style, and its flavor focuses on a huge malt bill rather than fruity esters.
Despite its name, barleywines aren't made with tons of specialty grains, as one might assume. Historically, barleywines are brewed with pale malt, the same malts used for pale ales. Brewers achieve that rich caramel flavor that's expected in barleywines by extending the length of the boil, which caramelizes the flavors and imparts that deep color. Matchless Head Brewer Nick Crandall employed a labor-intensive, almost forgotten English mashing technique known as double mash. As the name implies, it involves two separate mashes: a main mash consisting of crushed malt, and a cereal mash consisting of raw adjuncts and a small charge of crushed malt. The latter is boiled for at least an hour to gelatinize the starches and is then added to the main mash, which has undergone an acid rest. The result of so much time and energy is a beer rich in flavor and huge in mouthfeel.
The Tumwater, Washington brewery's double mash bill resulted in a beer with the color of deep maple wood and a body of velvet; it has a tiny head and not all that much carbonation. As a result, it sort of glides past the taste buds. Unlike most of those Frankenstein beers that have fruit added to them, nothing's forced or contrived about Ol' Lifewine — OK, that's not entirely true. It's aged in bourbon barrel for a big, brawny beer, one that will fill you up, then lay you down on the floor and give you sweet, sweet toffee, rich vanilla, dried stone fruit, chocolate, toasted nuts, and dark caramel kisses on the cheek.
If you've never had Matchless Ol' Lifewine, this is a good chance to add to your oh-so-impressive list of lifetime achievements and drink the 16-ounce can of one of the toffee-ist beers you'll ever enjoy.
You fancy Matchless Ol' Lifewine!
LINK: Matchless Brewing archives
---