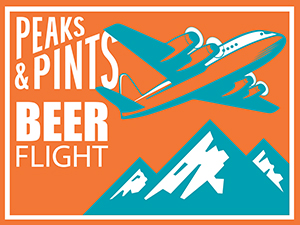 August is National Sandwich Month. What does that entail? Peaks & Pints isn't really sure, but we are thrilled since sandwiches rule at our craft beer bar, bottle shop and restaurant in Tacoma's Proctor District. Today also happens to be National Cuban Sandwich Day. It will be celebrated in Tampa, where the Cuban sandwich was born, and at Peaks & Pints, because as previous stated, we do sandwiches. Created by immigrant laborers at the turn of the 20th century, the Cuban sandwich is a tasty alternative to Plain Jane ham and cheese. Some versions have salami, some have lettuce and tomato, but the basics are the same: pork, spiced ham, cheese and pickles on toasted bread. Whether you choose our Cuban or another tasty one in the South Sound, we offer a to-go beer flight that pairs well with the Cuban: Peaks and Pints Pilot Program: Cuban On The Fly.
Peaks and Pints Pilot Program: Cuban On The Fly
Modern Times Fruitlands Mai Tai Edition
4.8% ABV
First, our Cubano beer pairing flight needs a cocktail. The Mai Tai is known for being citrusy, smoky, a bit nutty, and incredibly strong. Modern Times Beer's version, Fruitlands Mai Tai Edition, mixes their Fruitlands sour, salty base beer with heavy doses of orange, lime, and pineapple, yielding a tasty wall-to-wall tropical fiesta. Shake off the news with Modern Times Fruitlands Mai Tai Edition from the comfort of your home. Salud!
Stone Buenaveza Salt & Lime Lager
4.7% ABV
Stone Brewing was founded in San Diego County, just minutes from the border. Their Spanish-speaking neighbor has inspired this lager brewed with salt and lime. Sweet white bread starts off the nose coupled with mild lime zest. It's an inviting, softer aroma with freshly-cut grass, zesty citrus peel, and fleeting maltiness. Has a similar flavor profile, with some bready malts, some nice lime hints, a bit of salt, and some floral hops for a bit of bitterness. It's refreshing and palate cleansing and won't compete too much with the sandwich.
Cigar City Maduro Brown Ale
5.5% ABV, 25 IBU
Cigar City Brewing's Latin American roots are present in many of its brands. For instance, the flagship Maduro Brown Ale refers to the Madura-wrapped cigars. Maduro, the beer, is a Northern English-style brown ale with some American affectations. Maduro is higher in alcohol than the common English brown ale and features flaked oats in the malt bill, which imparts a silky body and works to mesh the roasted, toasted and chocolate components together in Maduro's complex malt profile. The end result is a remarkably full-flavored yet approachable and sessionable brown ale. Pairs well with Cuban sandwiches and cigars, obvs.
Block 15 Ridgeback Red
5.5% ABV
Normally an in-house exclusive at Block 15 Brewing's two Corvallis taprooms, Ridgeback Red features a blend of rustic malts with zesty hops grown in the Pacific Northwest. Balancing flavors of caramel and toasted nuts with pine, lemon and grapefruit hop character, it finishes delightfully crisp for a malt-forward beer. The caramel, bready notes of the malt mesh perfectly with the toasty, subtle sweetness in a Cuban sandwich. There's enough of a citrus hop punch to cut through the meat and cheese and tie in the tangy mustard.
---