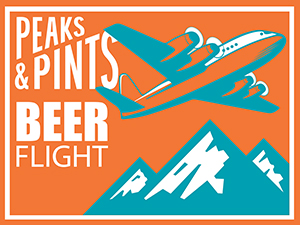 The National Weather Service has issued a Winter
Storm
Warning for the greater Tacoma area. The forecast calls for 4-5 inches tonight, and another 2-4 inches tomorrow. A great snow beer can only be understood in apocalyptic conditions, when roads disappear, and weather analysts show real fear. A great snow beer will fuel you through hours of shoveling. A great snow beer is fuel — deep, dark, rich, warming. A great snow beer will remind you of warmer times and incite tropical travel plans. A great snow beer is a coconut stout. Peaks & Pints has them.
Coconut is an increasingly popular flavor in beer, and it fits best alongside the chocolate and roasted flavors of a stout. Throw on your parka, grab the sleigh, and head to Peaks & Pints for our
February Stout Month
to-go flight of coconut stouts — a flight we call Peaks and Pints Pilot Program: Coconut Stouts On The Fly.
Peaks and Pints Pilot Program: Coconut Stouts On The Fly
Silver City Mysterious Familiar Dessert Stout
9% ABV, 17 IBU
Remember snowstorms from your childhood when your mother rewarded your shoveling duties with layers of creamy chocolate pudding, vanilla wafers and toasted coconut? Those flavors will reward your shoveling duties today in the form of Silver City Brewery's Mysterious Familiar Coconut Vanilla Dessert Stout. It's a king-sized sweet stout, swirling with chocolate, coconut, and vanilla bliss.
Icicle Brewing Dark Persuasion
6.5% ABV, 22 IBU
Icicle Brewing Co. sits in the Bavarian theme park known as the city of Leavenworth, which seems perhaps the most appropriate place for a brewery. Owner Oliver Brulotte, who has deep family roots in Washington's hop farming history, basically launch the Wenatchee Valley's craft-beer boom. The brewery draws their water from nearby Icicle Creek, a run-off from surrounded by numerous mountain ranges including the Stuart Range and Wenatchee Mountains. And, Icicle Brewing makes a liquid German chocolate cake, Dark Persuasion. Seriously, this stout tastes exactly like German chocolate brownie, with strong chocolate and coconut notes, a touch of vanilla and a smooth finish.
Wander Coconut Correspondent
6.4% ABV, 40 IBU
Wander Brewing scored a gold at the 2017 and 2019 Great American Beer Festival for its Correspondent Foreign Extra Stout. Typical for the foreign extra stout style, Wander hits a higher gravity, but blow imperial numbers, for sweet, darkly toasted caramel and some milk chocolate from the malts, but mostly toasty grain, followed by a nice, sweet pine note and long mildly sweet finish. Adding sweet-toasted coconut is good news.
Short Throw What It Do?
11% ABV
How are you doing? Yes, that's too many words for a greeting. Instead, try "What it do? Better yet — ask "what it do?" then hand the beneficiary of your greeting a can of Short Throw Brewing's amazing What It Do? decadent, silky imperial stout with coffee and toasted coconut. While sweet chocolate and a crisp roast note lead the flavors, the coffee and coconut represent, although the coconut becomes more prominent as it warms. It's also dangerously drinkable.
The Bruery Bakery: Coconut Macaroons
12.2% ABV
Macaroons, those glorious little cookies that look like an OCD pastry chef's re-envisioning of the hamburger as tiny French patisserie experiment, have become trendy. And unlike the rise of the cupcake, the macaroon is something we greeted with great happiness. Peaks & Pints finds the same happiness when we sip on The Bruery's Bakery: Coconut Macaroons. It's a rich, imperial pastry stout drawn from the decadent flavors of coconut macaroons that's aged in bourbon barrels with coconut and vanilla to attain its pastry-like, amazing flavors.
Revision Batch FOUR K 2020
13% ABV
In March 2017, Jeremy Warren opened Revision Brewing Company in Sparks, Nevada. Four-thousand batches later, he released Batch FOUR K 2020, an imperial stout brewed with Madagascar bourbon vanilla beans, cacao nibs and toasted coconut  —  a fitting beer to leave 2020 in the dust and a decadent drinking experience to start the new year off right. Expect roasted notes, dark chocolate, coconut and well-masked alcohol.
---