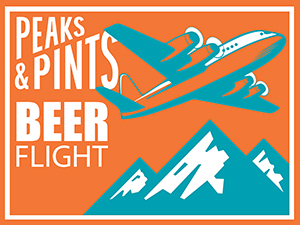 The Chinook hop is a cross between the Petham Golding and USDA-selected male (#63012, if you want to be specific), and was first released from the breeding program in 1985. Primarily grown in Yakima, this hop is primarily used for its high alpha acid content as a bittering hop. These are the most pine-like hops and can overwhelm other, less assertive, hops. Chinooks are more common as bittering hops in big beers such as barleywines. They have a spicy, piney aroma with aggressive spicy pine, spruce and citrus flavors. These days, however, late additions and even dry-hopping with Chinook is becoming more popular. This hop can contribute herbal, piney, and smoky aromatic qualities to a beer. Let's sample five craft beers brewed with Chinook in our to-go flight, Peaks and Pints Pilot Program: Chinook On the Fly
Peaks and Pints Pilot Program: Chinook On the Fly
Reuben's Brews Chinook Crush
6% ABV
Reuben's Brews Chinook Crush features a classic "C hop" well known in the Pacific Northwest for West Coast-style IPAs, but this Crush Series hazy IPA highlights a unique flavor profile from carefully sourced hops Hop Head Farms in Michigan that feature a powerful pineapple and citrus character.
Stemma Lot Of Love
4.9% ABV, 40 IBU
Stemma Brewing's Lot of Love is a super light and crushable West Coast style IPA perfect for long days on the mountain. Made with Cascade and Chinook hops, it's citrus forward with a touch of malted rye. Stemma collaborated with mountain biking organization Brooklyn Bell, Whatcom Mountain Bike Coalition, Rockshox, and Ground Keeper Custom to fundraise for Galbraith Mountain's new parking lot. Seventy-five cents from each can goes directly to WMBC for this project.
Stoup Neck Tats
8% ABV, 75 IBU
We've told the Stoup Brewing story a thousand times, but it bears repeating. Scientist Brad Benson and foodie Lara Zahaba opened Stoup in Seattle's Ballard neighborhood in 2013. Washington state's first female Cicerone, Robyn Schumacher, became Stoup's third partner, assisting Benson in the brewing room. Stoup's Neck Tats Double IPA is bittered with Chinook with copious amounts of Simcoe added in the whirlpool and dry hop. Hop additions in the forms of Pellets, cryo-pellets and resinate result in loads of layered goodness, citrus hops, pine and subtle cantaloupe. Grab Stoup's Neck Tats from the Peaks & Pints cooler and hike the High Point Trail.
Everybody's Pop-Up Park IPA
6.9% ABV, 75 IBU
Peaks & Pints Pop-Up Park was unlike anything White Salmon, Washington, had ever seen. It was the Columbia River George's hottest destination for a day, a pop-up park offering .000000426459 square miles of scenic vistas, a 5-foot-long hiking trail and one species of fake flora nestled in Everybody Brewing's brewhouse. Situated close to a gorgeous three-foot waterfall of lauter tun runoff, the pop-up park's guests consisted mainly of Peaks & Pints staff chillin' instead of helping collaborate on their new house beer, Everybody's Pop-Up Park IPA. Good thing too as the amber colored IPA — brewed with Amarillo cryo, Simcoe, Cascade, Chinook and Centennial for pine and citrus — is worthy enough to charge admission.
Sierra Nevada Bigfoot
9.6% ABV, 96 IBU
Sierra Nevada Brewing's cult classic was first brewed in 1983 and is considered to be one the best American barleywines being brewed today. Wildly hoppy — Chinook as bittering hops and Cascade, Centennial and Chinook for finishing hops — and balanced by a fierce malt backbone, this brew will age gracefully for years and years — much like the story behind that blurry photo you took that one time of something that could maybe probably be Bigfoot.
Stone Arrogant Bastard Ale
7.2% ABV, 100 IBU
Stone Brewing Arrogant Bastard is less-than-amber but more-than-pale IPA with a little "oomph" in the malt and hops department. The malt profile of Arrogant Bastard, while not overwhelming, definitely has a good backbone of caramel, rich, and somewhat raisin-bread type toasty flavors. It has more richness than your standard IPA. This malt body is balanced with a very aggressive-tasting hop treatment using the Chinook, giving it a West Coast citrusy bitterness, but also contains a more rich, herbal, and maybe even a bit of a "rough" pungent element.
---