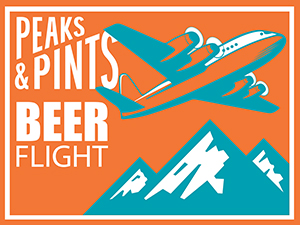 You've probably squeezed a cherry into the mouth of a stout bottle, or at least seen others do it. That little twist of cherry turns your chocolate stout into a Black Forest cake. Luckily many brewers these days are infusing cherries into their beers in a produce-aisle range of offerings. Cherries can balance otherwise heavy beers or add extra freshness and flavor to the lighter styles. Cheeries have been added to beer for centuries, especially with Belgian lambic styles, which are called krieks. Cherry beer is no longer a throwback to centuries past. North American brewers are adding cherries to their craft, whether it's a kriek, or another beer style infused with the finest cherries. Last night, Peaks & Pints cracked open Firestone Walker's new Cherry Barrel Blossom … and thus today's to-go flight of cherry beer is a thing, which we call Peaks and Pints Pilot Program: Cherries On The Fly.
Peaks and Pints Pilot Program: Cherries On The Fly
Reuben's Tart Cherry Weisse
3.2% ABV, 3 IBU
The name of the style, Berliner weisse, is protected by German law, which states that a beer should only be called by that name if it is brewed in Berlin, just as a Kölsch must be brewed in Köln. At the height of its popularity during the late 19th century, Berliner weisse was the most favored alcoholic drink in Berlin, and nearly 50 breweries were producing it. However, it fell by the wayside, as pale lagers became the beers of choice worldwide. Currently in Berlin there are only about three makers. Reuben's Brews has embraced the centuries old Berliner weisse style fermenting Tart Cherry Weisse, with, well, tart cherries for a crisp, refreshing, tart and balanced spring sipper.
Rodenbach Alexander
5.6% ABV, 8 IBU
Originally brewed in 1986 to commemorate 150 years of brewing, Alexander consists of a blend of two-thirds aged beer (two years in oak foeder fermenters) and one-third young beer, flavored with macerated cherries. If Rodenbach Grand Cru is the quintessential Flanders red ale, then Alexander is the quintessential kriek version of that style, finally available to anyone with a taste for tart, complex cherry beer. Alexander pours cranberry-red and has a dense cherry nose, with moderate carbonation. The trademark acetic flavors of the Flanders red style are subtly present, balanced nicely by a semisweet maltiness. The dominant flavor is definitely cherry — crisp and fruity, rather than syrupy and medicinal.
Ommegang Rosetta Kriek
5.6% ABV, 9 IBU
Brewed and blended by Ommegang's sister brewery Liefmans in Belgium, Rosetta combines old (aged on cherries at least three years) and young Flemish brown ale (or oud bruin) with a lively and fruity kriek, or cherry beer. The blend, which was developed by Ommegang Brewmaster Phil Leinhart, results in a complex yet refreshing mahogany-brown brew that is an intriguing interplay of tartness and sweetness.
Firestone Walker Cherry Barrel Blossom
11.2% ABV, 28 IBU
Cherry Barrel Blossom, the latest release from Firestone Walker's Proprietor's Vintage series, is an imperial smoked porter aged in bourbon barrels for one year and six to eight months in cherry bitters barrels. The final blend is 88 percent bourbon barrel-aged beer mixed with 12 percent cherry bitters barrel-aged beer. The bourbon and cherry bitters barrels give the beer aromas and flavors of cherry, bourbon, vanilla, tobacco and milk chocolate. Added sea salt that brings all these flavors together while adding mouthfeel.
---