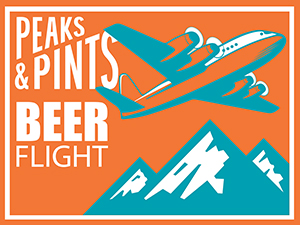 Sherman Gore, Richard Tiffany and Jason Bos had big eyes when their bosses of Portland-based Laurelwood Public House & Brewery sold their popular Battle Ground location to Eric and Paula Starr, who transformed the space into Northwood Public House & Brewery. The trio convinced the new owners to dust off the cobwebs on 2-barrel brewing system so they could brew beer for the neighborhood. Three years later, Gore, Bos and Tiffany opened Brothers Cascadia Brewing in Hazel Dell on April 10, 2017. The trio opened with a 12-barrel brewery in an auto shop, which allowed for a wall of 40 oak barrels separating its long bar from the brewing floor. Along with a series of saisons and barrel-aged stouts, brewmaster Bos began cranking out delicious IPAs, lagers, and collaborations that are a part of their January and February 2021 Collabuary celebration. Today, Peaks and Pints presents a to-go for Brothers Cascadia's latest beers, a flight we call Peaks and Pints Pilot Program: Brothers Cascadia On the Fly.
Peaks and Pints Pilot Program: Brothers Cascadia On the Fly
Brothers Cascadia Full Glycol Jacket
4.7% ABV
The fermentation stage is particularly critical to the outcome of beer as any adverse temperature levels (too high or too low) can ruin a batch altering the final flavors and aromas, resulting in a bad beer. To prevent the exposure of a fermentation mix to undesirable temperature levels, brewers typically attempt to actively cool the process. For breweries producing their beverages on a larger scale, the most effective way of ensuring optimal temperature regulation is using fermentation cooling glycol jackets. As part of their Collabuary 2021, Brothers Cascadia invited Logsdon Farmhouse Ales to travel along the Columbia river from Washougal to the Brothers' brewery in Hazel Dell to brew a schwarzbier, Full Glycol Jacket. It is light and easy to drink while also being dark and full of character. Delicate notes of roast, caramel and cream are apparent but balanced, to keep this beer ultra-drinkable.
Brothers Cascadia To DIY For
7% ABV
Think of DIY, and you probably imagine making and building things yourself—decorating or putting up shelves. But DIY goes far beyond home improvements. It isn't so much a practical skill as a state of mind.  As part of Brothers Cascadia's Collabuary 2021, Portland's Baerlic Brewing traveled to Hazell Dell to brew this extremely aromatic and juicy beer. The combo of Sabro, Citra, and Mosaic give off a bountiful array of tropical, citrus and creamy aromas and flavors.
Brothers Cascadia Borderlands
6% ABV
Stemma, a Latin word meaning "written family genealogy", is owned by Jason Harper and his wife, Kim, both of whom moved to Bellingham to attend Western Washington University years ago. Years later, June 2019, homebrewer Jason and Kim opened Stemma Brewing. Recently, Jason left the border town of Bellingham for the border town of Hazell Dell to brew a hazy IPA with Jason Bos. The Jasons came up with a hazy with Sultana and Nelson Sauvin hops, and a touch of malted spelt, for aromas of pineapple, melon, and lychee with a light color and texture. Expect a gorgeous bight color with a tropical floral nose and bitter tasting hops from the middle to the end.
Brothers Cascadia Tri-Clamp Down IPA
7.2% ABV
Tri-clamp fittings are the gold standard in professional breweries. They've been widely adopted in homebrewing too as T.C. kettles, fermenters, and pumps become more widely available. Tri-clamp fittings allow you to make a sanitary connection without any nooks or crannies for contaminants to hide in and they can be cleaned in place. Brothers Cascadia teamed up with Breakside Brewery and named their West Coast IPA after the valuable piece of brewing equipment. Expect billowing aromas and intense flavors of dank citrus, ripe papaya, and assertive bitterness.
Brothers Cascadia Everybody and Their Brother
6.7% ABV, 65 IBU
Everybody and Their Brother knows it's hard to beat a delicious West Coast IPA. At least, that's what Brothers Cascadia and their friends up the Columbia River, Everybody's Brewing, believe. With mouthwatering aromas of pine and fruit punch, this crisp, collaborative IPA has notes of pine and hops.
---