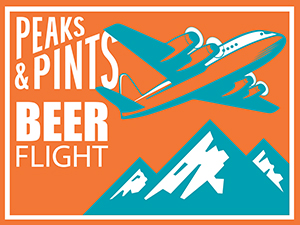 Hops have long defined life at B.T. Loftus Ranches in the Yakima Valley. Back in 1932, Kevin Smith and Meghann Quinn's great-grandparents founded the family hop farm that's now run by their older brother, Patrick. Meghann and her husband, Kevin Quinn, and younger brother were keen homebrewers. Wouldn't it be natural to start a brewery on the farm? In 2013, the trio took down three acres of the farm's Field 41 and built Bale Breaker Brewing Company, which is surrounded by fields of hops. Bale Breaker has grown to become the fourth largest independent craft brewery in Washington. With a 30-barrel brewhouse and a 27,000 square foot facility, they craft five year-round canned beers, including the widely celebrated Topcutter IPA. We also have a 5-barrel pilot brewhouse, the Imagination Station, where they test and develop new recipes. In conjunction with the release of their Ales for ALS PNW Collaboration Hazy IPA, we present an Bale Breaker to-go beer flight that we call Peaks and Pints Pilot Program: Bale Breaker On The Fly.
Peaks and Pints Pilot Program: Bale Breaker On The Fly
Bale Breaker Pinwheel Party Imagination Station 2
6% ABV, 15 IBU
Kept in clear jugs and dipped out with ladles, aguas frescas are non-alcoholic coolers that combine fruits, cereals, or seeds with sugar and water. Add hibiscus and it "de Jamaica" is added to the title. Bale Breaker's Pinwheel Party Imagination Station 2, inspired by Agua Fresca de Jamaica, is brewed with wheat, real hibiscus flowers, lemon peel, and pink guava puree. Expect low bitterness with ripe, tropical aromas and a zesty finish. ⁠
Bale Breaker Ales For ALS PNW Collaboration Hazy IPA
6.7% ABV, 25 IBU
Amyotrophic lateral sclerosis, or ALS, causes nerve cells break down, which reduces functionality in the muscles they supply. In 2013, B.T. Loftus Ranches created the national fundraising campaign Ales for ALS to raise funds and awareness for ALS research. This year, Bale Breaker asked six Northwest breweries — Georgetown, Payette, RAM, Iron Goat, Perry Street, and Cloudburst — to collaborate on hazy juice box of an ale to fight the neurodegenerative disease. The result is a smooth, hazy IPA offering orange, pineapple, grape, and grapefruit aromas with a mild hop bite and stone fruit flavors.
Bale Breaker Hazy L IPA
6.2% ABV, 40 IBU
Named after the Bale Breaker's great-grandparents B.T. and Leota Mae Loftus' cattle brand, "Lazy L," this hazy is brewed with Citra, Sabro, and Mosaic hops grown by BT Loftus Ranches. Expect notes of Piña Colada, grapefruit juice, lemon squares, and strawberry candy.
Bale Breaker Leota Mae
6.2% ABV, 50 IBU
"A strong woman exudes confidence and self-respect. She's often regarded as the 'alpha female' within a group and lights up any room she enters. She knows what she wants and is in control of her life. I respect that. Everything I've read paints a picture of Leota Mae being a strong female. She's the great-grandmother to the family running Bale Breaker Brewing in the Yakima Valley. The matriarch of their family, she worked sunrise to sunset cultivating the land they still farm today. This sweet malt, crisp citrus hop IPA is a delicious tribute. Oh, and my camping buddies and I drank a bunch of it in Leavenworth two summers ago. It's so f—ing delicious." — Peaks and Pints bartender Nicole Allen
Bale Breaker Topcutter IPA
6.9% ABV, 70 IBU
Topcutter IPA had the highest number of nominations during Peaks and Pints' Tournament of Beer: Washington IPAs seeding process. Bale Breaker's flagship IPA has changed lives. In fact it's rumored that Birchfield, the unincorporated community in Yakima County where Bale Breaker harvests hops and brews beer, is considering changing its name to Topcutter, Washington, to draw tourists from nearby Yakima. And why wouldn't Birchfield's council? Topcutter is a well-balanced yet aggressive West Coast IPA that showcases Yakima Valley hops, including late additions of Simcoe, Citra, Loral and Mosaic for a complex citrus, fruity and floral aroma and flavor.
---