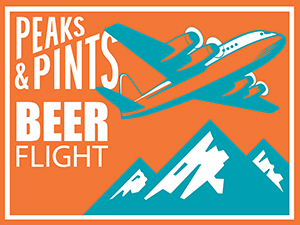 Like Willamette Valley winemakers, Eugene brewers and cidermakers benefit from the Valley's rich agricultural basin. The Pacific Northwest is a major producer of barley for malt, and Oregon's Willamette Valley is one of the top domestic producers of hops. With growing conditions similar to Germany, the delicate hop flower has flourished there since the 1870s. Another esteemed ingredient praised by Eugene brewers is the clear, soft water of the McKenzie River. Mountain springs and melting snow from the Cascades feed the McKenzie River, recognized as the best in the nation. Peaks & Pints presents a to-go flight of two Eugene breweries — Alesong Brewing & Blending and Oakshire Brewing — in a flight we call Peaks and Pints Pilot Program: Alesong and Oakshire Beer Flight. Catchy, huh?
Peaks and Pints Pilot Program: Alesong and Oakshire Beer Flight
Alesong Gose Añejo
7.7% ABV
Inspired by the classic margarita, Alesong Brewing & Blending's Gose Añejo starts as a tart, gose-style ale brewed with lime and sea salt and then aged in freshly emptied extra añejo tequila barrels to contribute an earthy and smoky depth. Finished on lime and orange peels, this sour is complex and refreshing.
Alesong Señor Rhino
11% ABV
Down south over yonder hills, just outside Eugene, Oregon, Alesong focuses almost exclusively on small batches of oak-aged and Belgian-inspired brews since it first began producing beer in early 2016. Alesong has stood out among the crowd with its blending and barrel-aging techniques. The brewery's imperial milk stout is aged for 6 months in freshly dumped Heaven Hill Bourbon barrels, layering on flavors of vanilla and a hint of cinnamon and a slight warmth from the alcohol. Then, Alesong adds ancho chiles from their local Latino market, as well as Cassia cinnamon and Tahitian vanilla beans from Mountain Rose herbs, and Vietnamese cocoa nibs from Chocolate Alchemy in Eugene. Expect cinnamon, vanilla, and cocoa on the nose, followed by some heat and rich chocolate flavors intertwined with hints of cinnamon and vanilla.
Oakshire Ill-Tempered Gnome
12% ABV
When Jeff and Chris Althouse founded Oakshire Brewing Co. in 2006 they were the only employees, brewing Original Amber on a four-barrel system under the moniker Willamette Brewery. In 2008, Willamette Brewery became Oakshire Brewing. Today, Dan Russo leads the brewing operations of Oakshire's collaborative production team and overseeing the Pilot, Vintage and Core Seasonal programs, including the annual release of their beloved Ill-Tempered Gnome. This winter warmer combines dark malts with resinous hops for a more ESB experience.
Oakshire Hellshire X (2020)
15% ABV
For those unfamiliar, Hellshire began under former Oakshire brewmaster Matt Van Wyk, now part of Alesong Brewing and Blending. The beer carried with it a mythos before it was even released, heralded by many as a continuation of Wooden Hell, a similarly styled annual release Van Wyk crafted at his previous brewery, Flossmoor Station. Hellshire X is from three imperial stout recipes, paying homage to Hellshire VI, Hellshire VII, and their 2019 Hellshire Experience beers; all gracefully aged in Basil Hayden Bourbon barrels, Blanton's Single Barrel Bourbon barrels, Rittenhouse Rye Whiskey barrels, and American Port barrels, and carefully blended for depth and expressiveness. Expect bourbon and rye spice followed by fruitiness of the port.
LINK: Peaks & Pints cooler inventory
---