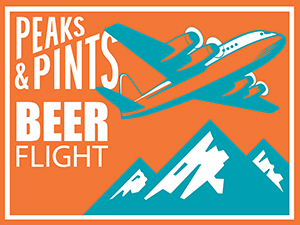 The Proctor District is, once again, dressed up for the holidays. Through Christmas, the north Tacoma business district's "Meet Me At Proctor's Peppermint Place" offers light posts resembling candy canes, a lit Christmas tree, merchant holiday window wonderment, and holiday events. Enjoy hot or cold beverages at the restaurants, browse the shops, and pre- and post-func with peppermint craft beer at Peaks & Pints in … wait for it … the Proctor District. Stop by our craft beer, cider and wine lodge and grab our Peaks and Pints Pilot Program: Peppermint Beer Flight.
Peaks and Pints Pilot Program: Peppermint Beer Flight
Matchless Cold Chocolate Peppermint Edition
8.8% ABV
There is snow in the mountains. There is a nip in the air. It's sweater weather. That means it's time to curl up by a roaring fire with a nice mug of Matchless Brewing Cold Chocolate, an imperial stout full of rich chocolate and creamy vanilla flavors. The Tumwater, Washington, brewery then spikes this imperial stout with an infusion of peppermint.
Reuben's Imperial Reuben Claus
9% ABV
Reuben's Brews Imperial Reuben Claus porter is brewed with eight different grains to create Reuben's award-winning Robust Porter, the base for this Seattle brewery's holiday porter. Roasted malts are the star in both aroma and flavor that's nutty and slightly sweet with an espresso bitterness balanced by a touch of creamy vanilla, chocolate, and caramel sweetness, without being cloying or off putting. That is … until Reuben's Brews' brewers added candy canes and cocoa nibs then bumps up the alcohol by volume. The resulting Imperial Reuben Claus holiday porter now has a peppermint nose and flavor with slightly more chocolate flavor.
Modern Times Soft Swerve Chocolate Mint
14.1% ABV
Modern Times Beer's special projects humans are proud of their Soft Swerve series, inspired by all manners of frozen confection. This iteration is built on a Voltron formation of bourbon barrel-aged imperial stouts: Modem Tones, Monsters' Park, and Dragon Mask. The resulting blend is extremely tasty and is made even more so via the generous additions of Dominican cocoa nibs, Papua New Guinea Planifolia vanilla, and mint. Pro Tip: Modern Times pulled out of Washington state so this might be the last time you can grab their Soft Swerve series locally.
LINK: Peaks & Pints cooler inventory
---
Category:
Beer Flight
,
Beer Line Blog
,
Craft Beer
,
Critical Drinking
,
Events and Festivals
,
In The Cooler
,
Peaks and Pints Christmas Beer Flight
,
Peaks and Pints Pilot Program
,
Peaks and Pints Prefunk
,
Proctor District
,
Shop
,
South Sound
,
Specials
,
Tacoma events
,
Tacoma Strong