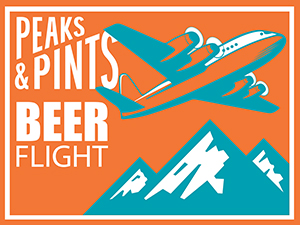 Everybody knows 4:20 is the time to smoke pot. And everybody knows 4/20 is the international pot-smoking day, thank to some high school kids in San Rafael, California, back in 1971. The phrase started as "420 Louis," meaning at 4:20 [they'd] meet by the Louis Pasteur statue outside the high school and get high. They called themselves The Waldos. Lagunitas Brewing brewed a beer in their honor, The Waldos Special Ale. Every year Peaks & Pints offers a flight of dank beer on April 20 with fun weed innuendos. This year, our annual tradition has met some challenges. First, we're closed on April 20, as Monday has become our day of rest during the COVID-19 self-quarantine. Second, all the Lagunitas The Waldos beer went to the chain grocery stores. Nice, huh? So, fire up your Mrs. Butterworth's bong or Cheech & Chong joint because Peaks & Pints presents a 4/20 flight on April 19 without our typical anchor beer, The Waldos. We're calling the flight Peaks and Pints Pilot Program: 420 Eve On The Fly. It's probably best to offer the flight a day early as everyone will be too high tomorrow to remember our flight on April 20.
Peaks and Pints Pilot Program: 420 Eve On The Fly
American Solera Terpy Simcoe
8% ABV
Hops and marijuana both contain terpenoids, compounds that give the plants similar characteristics. In fact, both fall into the taxonomic family Cannabaceae, so it follows that you could create a fairly stinky beer with the right treatment of the right hops. Hops don't get you high, but in smell, taste and appearance, they often feel just about as … dank. Based in Tulsa, Oklahoma, American Solera is a blend of unique beers created by brewer Chase Healey, who is the guy that started Prairie Ales. The double IPA, Terpy Simcoe, gets its name from terpines — basically the essential oils found in hops — and Simcoe, a type of hop known for piney dankness, pineapple gummies, and passionfruit.
Knee Deep Breaking Bud IPA
6.7% ABV, 50 IBU
When you snap, you snap ugly. When you break, you break bad. Your rapacious dark side is ever just millimeters from the surface and it's only the thinnest membrane of social mores and fortuitous brain chemicals that keeps it all in check. You need to Break Bud. Knee Deep Brewing dubs this "dank," and we concur. Said dankness is well balanced by a saccharine peach aroma more explosive than Hector's wheelchair. On the tongue, the earthiness and minerality comes through, with a stronger grapefruit presence than even the Citra. This beer helps.
GoodLife G. Love's Special Sauce – The Juice
7% ABV, 70 IBU
In 1994, Philadelphia-based blues/hip-hop artist G. Love scored his biggest mainstream hit with "Cold Beverage." His band, G. Love & Special Sauce has been touring pretty much nonstop ever since. In June 2018, that included a set on the lawn at the Bend brewery. That, in turn, led to GoodLife's latest collaboration between the brewery and G. Love himself, to make what the brewery calls "the dankest of the dankest IPAs known to mankind." G. Love's Special Sauce IPA combines six different types of hops — Mosaic, Idaho 7, Mandarina Bavaria, Centennial, Columbus and El Dorado — for a danky dankster of a beer.
The Hop Concept Dank & Sticky IPA
8.5% ABV
The inaugural beer of The Hop Concept brand, this IPA is crafted to convey the adjectives comprising its name, the beer is hopped with tons of Cs — Cascade, Centennial, Chinook, Comet, and CTZ (a Columbus, Topaz, Zeus hybrid) — as well as Amarillo, Mosaic, Simcoe, and the super sexy-sounding Experimental 05256. Those last ones have made a splash and are said to bring on notes of pine, mint and stone fruit. All of that are apparent, along with the herbaceous little sumpin' that earns the beer its "dank" descriptor. Melon is also pronounced at first sip, as is a sharp, almost peppery spike giving way to a resiny finish that goes for miles. As the beer warms up, a caramel sweetness plus notes of peaches and persimmons join the party.
Block 15 Sticky Hands
8.1% ABV, 100 IBU
Block 15 Brewing sits heart of downtown Corvallis, only a few blocks from Oregon State University. The brewery's name hails from Corvallis' previous incarnation as Marysville and the old plat map location from the old town. In late 2011, homebrewers Nick and Kristen Arzner opened the brewery and restaurant serving beers true-to-style with ingredients imported from different parts of the world, along with all the Willamette Valley produced grains, hops, fruits, herbs and yeast. Its Sticky Hands double IPA is a "Hop Experience Ale" featuring ample additions of sticky, resinous, lupulin packed hop buds grown in the Pacific Northwest. Sticky Hands begins with an aromatic blast of tropical fruits, citrus and dank herb; transitions into luscious hop flavor; and ends with a balanced bitter finish, gently propped up by pale malted barley and fermented with Block 15's privately banked Brewers yeast.
---