Fancy Pants Sunday: Alesong Rhino Suit
Down south over yonder hills, just outside Eugene, Oregon, Alesong Brewing & Blending focuses almost exclusively on small batches of oak-aged and Belgian-inspired brews since it first began producing beer in early 2016. Alesong has stood out among the crowd with its blending and barrel-aging techniques. The brewery typically releases four beers every quarter, made with seasonal ingredients. Since it's Sunday, and we have Alesong's Rhino Suit Bourbon Barrel-Aged Imperial Milk Stout in the house — welcome to Fancy Pants Sunday: Alesong Rhino Suit.
The name Rhino Suit isn't something the three Alesong owners wear to raise awareness and funds, but rather it's a term dropped by their winemaker friend while Doug Coombs, Brian Coombs and Matt Van Wyk listened to his business advice. The Sonoma winemaker said you have to wear a rhino suit every day to battle through walls of negativity. After the meeting, the Alesong owners knew the name of their first beer.
Milk stouts originated in Europe in the 1800s. The style emphasizes a malty sweetness with hints of chocolate and caramel. They are sometimes called cream stouts or sweet stouts. Brewers intensified the dark, chocolaty malt body with lactose, the sugar in cow's milk, hence why they're more often called milk stouts. Brewer's yeast can't ferment lactose into alcohol, so it hangs around to give you a rich mouthfeel and a soft, creamy sweetness, balancing out the bitter and roasted qualities typical of its cousin stouts.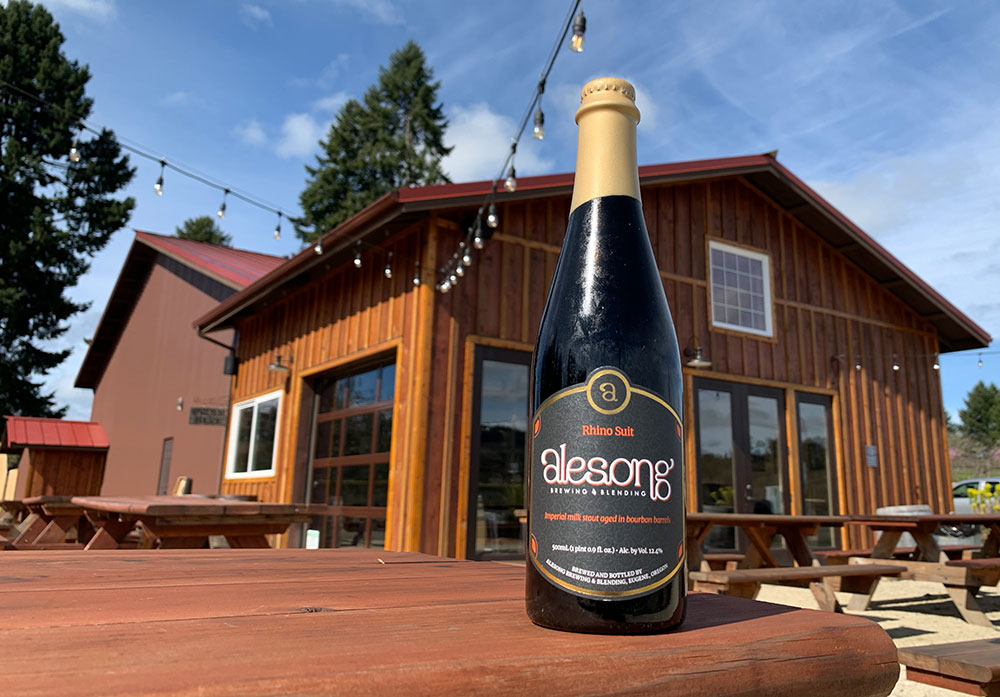 Our weekly column of complex, fancy craft beers takes a gander at Alesong's version of a milk stout, a bourbon barrel-aged imperial milk stout, which was released in the winter of 2016. The November 2019 Rhino Suit vintage sits in the Peaks & Pints cooler. This version is aged 100 percent in freshly emptied Heaven Hill bourbon barrels that added smooth notes of vanilla and coconut to the rich chocolate flavors of the base stout. After working your way through the wax-dipped entryway, a strong rush of bourbon with milk hits the nose. On the tongue, expect creamy, milk smooth body with notes of dark chocolate and vanilla, plus some alcohol heat on the finish.
You fancy Alesong Rhino Suit!
---