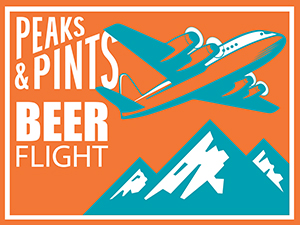 Pumpkins belong to the family of Cucurbitaceae. They are classified to Cucurbita pepo, Cucurbita moschata, Cucurbita maxima and Cucurbita mixta, according to the texture and shape of their stems. Pumpkin is poor in taste and carbohydrates but high in vitamins, especially, provitamin A, antioxidants and minerals, and it is mixed with nutmeg, cinnamon and allspice to improve of its sensory properties. Pumpkin is a vegetable, which is healthy and functional, being rich in phenolic compounds, flavonoids, and vitamins, and has a low energy. That's all fine and dandy, but today is Monday, which means we offer a to-go cider flight. Combing our pumpkin fun facts and pumpkin ciders in our cooler we get Peaks and Pints Monday Cider Flight: Pumpkin.
Peaks and Pints Monday Cider Flight: Pumpkin
Ace Pumpkin Cider
5% ABV
First produced in the fall of 2010, and the first pumpkin cider to be made in the western United States, Ace Cider Pumpkin Cider is made with apples, fresh pumpkin juices, cloves, cinnamon, and allspice. Many pumpkin beers and seasonal ciders use cinnamon as the dominant spice, whereas Ace Pumpkin uses cloves as its cornerstone spice to complement the apples and pumpkins.
2 Towns Hollow Jack
6.5% ABV
In late 2010, Corvallis homebrewers Aaron Sarnoff-Wood and Lee Larsen filled a gap in the college town's drinking scene — cider. The duo opened 2 Towns Ciderhouse crafting unique ciders brewed with the traditional English and French-style's tannic apples, Oregon grown, of course. Their Hollow Jack kicks pumpkin-spiced lattes back into the patch. Made from A brew of fresh-pressed Northwest apples, fresh boiled pumpkins, and a blend of chai spices, it's basically fall in a glass. The pumpkin flavor isn't overwhelming, which is enjoyable and not too sweet.
Seattle Cider Pumpkin Spice
6.9% ABV
Joel VandenBrink, the founder of Two Beers Brewing Co., launched the Seattle Cider Company in August 2013, with the help from his Two Beers sales rep and a former farm hand, Eric Willard. Diagnosed with Crohn's disease, which makes beer difficult to digest, VandenBrink launched the cider company with only two products: Semi Sweet and Dry. Today, Seattle Cider has many options, including Pumpkin Spice. We'll tell you what we want, what we really want: a cider spiced with cinnamon, nutmeg, clove, and allspice. It's pumpkin pie's long-lost love.
One Tree Pumpkin
6.9% ABV
Grant Barnes and Neal Hennessy started making cider as a hobby, and it turned into a vocation. One Tree Hard Cider started in Barnes' Spokane Valley garage, with exactly one recipe: a relatively straightforward semi-sweet apple cider. They went pro in the summer of 2014. Their Pumpkin cider is created with house-roast real pumpkins, the perfect amount of sweetness with organic cane sugar, and finishes with their unique blend of artisan spices.
LINK: Peaks & Pints cooler inventory
---