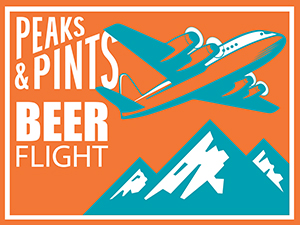 We're guessing you disbanded your Saturday-night Dungeons and Dragons league sometime back in junior high, but for some, the geekdom continues. Who, you ask? Mathew Usher, or as he is known at Peaks & Pints, Middle Earth Matthew — our bartender, cook, and cooler keeper, fully understands what J.R.R. Tolkien tries to do linguistically and mythologically in his Lord of the Rings series. Tolkien's books reach Middle Earth Matthew on a literary level, a historical level, a linguistic level, and who knows how many other levels. Dwarves in the barroom of the Prancing Pony bow down to Middle Earth Matthew. Ravens twittering under the eaves of Mirkwood sing Middle Earth Matthew's praise. And, maybe most importantly, the Stewards of Gondor rely on Middle Earth Matthew for their beer recommendations (Peaks & Pints isn't sure how old Middle Earth Matthew is, but he could be centuries old). With The Lord of the Rings: The Rings of Power now screening on Amazon Prime — where the clock turns back thousands of years before the events of J.R.R. Tolkien's The Lord of the Rings trilogy, to the era when the fateful magic knickknacks of the title were forged — Middle Earth Matthew forged a themed to-go beer flight focusing on the new swashbuckling, storytelling magic. Journey to Peaks & Pints and grab Peaks and Pints Pilot Program: Rings of Power Beer Flight.
Peaks and Pints Pilot Program: Rings of Power Beer Flight
Via Golden Void (Lindon)
5% ABV
"Golden and bright was the Elven kingdom of Lindon, where Galadriel found rest," explains Middle Earth Matthew. "The beauty of this realm was mingled with the denial of war that would soon come. So too are the flavors of lager and ale mingled in this golden Kölsch." Via Beer Golden Void has a bit more hop than average, courtesy of Saaz and a dash of Motueka with earthy/lemony hop hints complementing the lightly fruity ale yeast character.
Fair Isle Mei Zi (Numenor)
6.3% ABV
"The beautiful five-pointed star island of Numenor was a gift to men from the gods themselves," says Middle Earth Matthew. "Fair Isle Brewing's black tea infused saison will refresh and delight your pallet and have you feeling honored to have a fair isle to yourself." The oak-aged farmhouse ale brewed with Plumrose Oolong Tea for soft fruity notes of strawberry, peach, plum and subtle lingering floral oolong notes.
Structures Forest King (Southern Kingdom)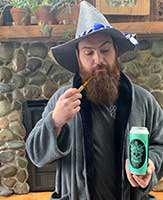 5.2% ABV
"The men of the South Lands have darkness in their history, and since their ancestors fought alongside the dark lord Morgoth, their kingdom is still covered in shadow," remembers Middle Earth Matthew. "While a brown ale is not the darkest of tavern tastings, Structures Brewing's pub style brown ale has rich malty flavor and a dry finish leaves you suspicious of its allegiance.
Little Beast Green Keeper (Harfoots)
5.2% ABV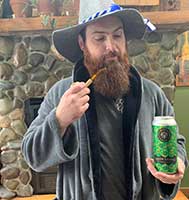 "For those of us big folk, we only hear tales of those people so small and clever they could move about us without ever being seen," adds Middle Earth Matthew. "They can hide so well. They blend right into the countryside, they do. The pure and gentle hop profile of this fresh-hopped pale ale will sneak its way onto your pallet and remain in your heart wherever you travel." Little Beast Brewing Green Keeper is brewed with hundreds of pounds of freshly picked Crosby Hops Centennial hops for slightly grassy, hoppy, and clean flavors.
Stone Arrogant Bastard Ale (Sauron)
7.2% ABV, 100 IBU
"This one pretty much speaks for itself," laughs Middle Earth Matthew. "But if you were to take council with the dark sorcerer Sauron, you would find an intolerant tone so foul you might be tempted curse him." Stone Brewing's Arrogant Bastard rules with a backbone of caramel, rich, and somewhat raisin-bread type toasty flavors balanced with a very aggressive-tasting hop treatment using the Chinook, giving it a West Coast citrusy bitterness, but also contains a richer, herbal, and maybe even a bit of a "rough" pungent element.
Skookum Caverns (Khazad-Dûm)
11.8% ABV
"Strong and proud are the Dwarven people of Moria, or as they call it, 'Khazad-Dûm'," explains Middle Earth Matthew. "They're unique, unapologetic, and unmatched in their mining of ore and their stone craft. "Venture too deep in these caverns and you might meet your doom so careful on your excavation of this strong ale." Skookum Brewery Caverns is a barrel-aged and blended strong ale with 40 percent old ale aged in Heaven Hill barrels, and 60 percent imperial oatmeal brown ale aged in Basil Hayden barrels.
LINK: Peaks & Pints cooler inventory
---