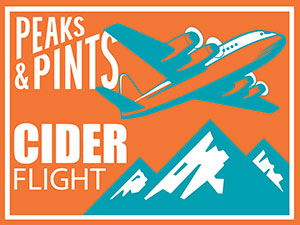 Beginning approximately 15,000 years ago, ice dams on massive Lake Missoula in Montana began to break, sending torrents of deep water rushing through Idaho, Washington and Oregon. The process continued for thousands of years with up to 40 major floods eventually forming what is now the Columbia River Gorge. It's a gorgeous area filled with waterfalls, hiking trails, outdoor recreation galore and craft breweries and ciders in a 40-mile stretch west to east — from Multnomah Falls to The Dalles, with Hood River somewhat in the middle. The ancient floods left Hood River with rich mineral soil. Double Mountain Brewery owner Matt Swihart knew the rich soil was a thing. He has his own orchard in Hood River. He added state of the art cidermaking equipment to his giant warehouse. He added "Cidery" to his business' name. Today, we offer a to-go cider flight from Double Mountain Brewery & Cidery — a flight we call Peaks and Pints Monday Cider Flight: Double Mountain.
Peaks and Pints Monday Cider Flight: Double Mountain
Double Mountain Dry Cider
6.7% ABV,

Double Mountain had long toyed with releasing their own hard cider, occasionally featuring housemade cider on at the taproom made from owner Matt Swihart's own apples. The brewery finally releases their own Dry Cider in December 2017, blending freshly harvested heirloom apples from Double Mountain Orchards and Hood River Newtowns, Braeburns, and Hanners for old world complexity. Double Mountain gave it plenty of time to dry out and develop the aromas of juicy pear, lychee, green fruit, and chamomile.  It finishes tart, crisp, dry and quenching.
Double Mountain Red Fleshed Rosé
5.9% ABV
Swihart grew Newtown apples on his Odell area property: Double Mountain farm, which had its name before Swihart opened Double Mountain Brewery 14 years ago in Hood River. He's killing it in the cider world, as they say. His Red Fleshed Rosé is made from red fleshed Mountain Rose and Pink Pearl apples, which bring the light rose color. Double Mountain's Red Fleshed Rosé is a lightly tart cider, with delicate aromas of citrus and raspberry.
Double Mountain Perry
6.3% ABV
"Passing on the chance to create a cider with pears from our backyard, which are the best pears in the world, was not an option. With this in mind, we created a slightly sweet, yet satisfying perry that is most assuredly not your grandma's pear cider," said Daniel O'Brien, a brewer at Double Mountain Brewery. Double Mountain pressed Starkrimson and Comice pears together for their Perry giving it an aroma of honey, juicy pear, and green apple that ends in a delicately sweet, gracefully tart and crisp pear cider.
Double Mountain Secret Crush
7.1% ABV
Double Mountain Brewery & Cidery secretly fell in love with their first Brett cider, and needed to put a second round in oak barrels for five months. The result is delicious. The nose is oak and apple. Expect a gamut of mouth sensations: acid tingle, ton of oak, sourness, slight pineapple, mild funk, a little pear, then tartness fading to a dry finish.
LINK: Peaks & Pints cooler inventory
---