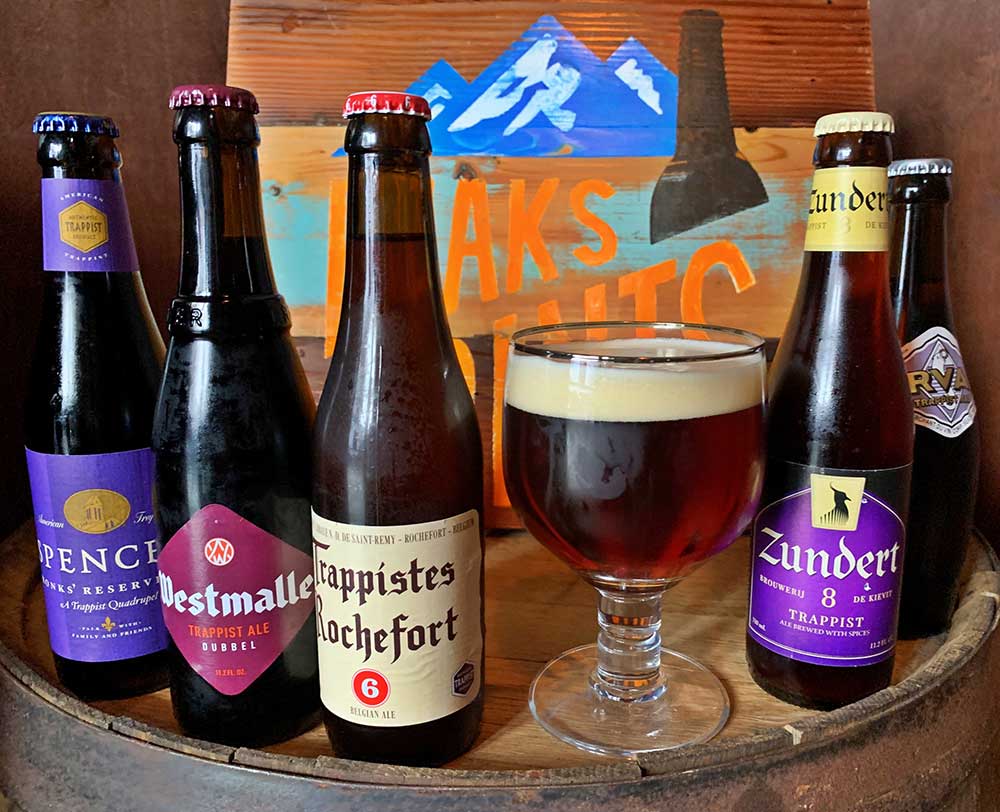 Peaks and Pints joins Trappist Tuesday
If all this isn't a hotly vivid, hallucinatory fever dream, and COVID continues to rage, and Peaks & Pints is compelled by the holy spirit to give up our craft beer lodge, our homes, our cars, and our cushy free beer samples gig for a life on religious contemplation, we will choose the Trappist life. Also known as the Order of Cistercians of the Strict Observance, Trappists are Roman Catholics who follow the Rule of St. Benedict, a 73-chapter book of precepts written in the sixth century by St. Benedict of Nursia that maps out a doctrine for life in self-supporting communities set apart from the material world and all its material girls. They don't perform public ministry, and their days are structured with set hours for reading, study, prayer, and brewing beer. We mean, duh.
Merchant du Vin
If the above scenario plays out, Peaks & Pints has a mentor — that ranks just below the holy spirit — to guide us, every Tuesday, to Trappisthood — Merchant du Vin. The specialty beer importer launches their Trappist Tuesdays today, a weekly reminder to pay calm attention to detail to Trappist beers. Peaks & Pints joins the weekly celebration with a Trappist Tuesday Beer Flight that follows Merchant du Vin's Tuesday schedule, which begins with Brasserie de Rochefort today and ends on Orval Day, which is March 26.
Merchant du Vin was founded in 1978, when there were fewer than 100 breweries in operation in the US, and Americans could not buy the world's classic beer styles. In fact, unless they had traveled to Europe most Americans had never even heard of pale ale, hefeweizen, or Trappist ale. Merchant du Vin founders Charles and the late Rose Ann Finkel realized that the flavors found in the notable beers of England, Germany, Belgium, and the Netherlands were a universal pleasure that the United States might enjoy instead of Old Milwaukee. Suddenly, the Pacific Northwest changed their ways and drank Trappistes Rochefort 10 Quadrupel during NBA Champions Seattle Supersonics post-game discussions. Soon La Trappe Dubbel, Chimay Premiere Red, Orval, Westmalle Dubbel, and ilk were being sipped before catching Nirvana at The Vogue in Seattle's Belltown. Finkel sold Merchant du Vin Corp. and Pike Brewing in 1997 but re-purchased to his beloved Pike Brewing in 2006. Today, Merchant du Vin is the world's largest craft beer importer.
Trappist Beer
Trappists monks make other sought-after, high-quality goods besides insanely delicious beer. Many make cheese; some make wine and distill liquor; but 11 Trappist breweries have the "Authentic Trappist Product" seal of approval to brew using beautiful yeasts, all with their own distinctive smell and taste. The seven OG Trappist breweries have deep roots in Europe — Chimay, Rochefort, Orval, Achel, Westmalle, and Westvleteren in Belgium, and La Trappe in the Netherlands, although a lack of monks forced Achel to turn in their beer robes last January. Stift Engelszell wears the ATP patch in Austria. Tre Fontane Abbey is legit in Italy. Other ATP approved breweries include Brouwerij Abdij Maria Toevluchy (Zundert) in the Netherlands, Mount St. Bernard Abbey (Tynt Meadow) in England, and St. Joeseph Abbey in Spencer, Massachusetts. France's Mont des Cats' beer is not brewed at their monastery but at Chimay, and Cardeña from the Abbey of San Pedro de Cardeña in Spain, is currently produced off-site.
The 11 breweries follow three criteria to earn the name and mark "Trappist": The beer must be brewed within the walls of a Trappist monastery, either by the monks themselves or under their supervision; The brewery must be of secondary importance within the monastery, and it should witness to the business practices proper to a monastic way of life; The brewery is not intended to be a profit-making venture. But more importantly, the label signifies quality — beers made at these monasteries are crafted according to traditions and secret recipes passed down across generations. In a time where American craft beer is more obsessed with hazy IPAs, pastry stouts and sour ales, it's refreshing to revisit Belgian-style Abbey and Trappist Ales that are uniformly delicious.
Trappist Tuesday: Rochefort
If Peaks & Pints did choose the Trappist brewing way, we'd be much happier today than in years past. For instance, Brasserie de Rochefort began peacefully enough, in 1230, with the establishment of Le Secours Notre-Dame. Rochefort's count, Gilles de Walcourt, and his wife founded this convent in a large valley near the town of Rochefort in the province of Namur, Belgium. It wasn't until 1464 that Rochefort saw the arrival of Cistercian monks, as part of a religious order "swap-over." They gave up their abbey, Félipré near Givet, to the nuns, and proceeded to make Abbaye Notre-Dame de Saint-Remy Rochefort their home. Then came the ruffians. The abbey was destroyed first by Protestant armies, in 1568. Then it was the turn of troops from Lorraine, who pillaged in 1650. The abbey was soon rebuilt, only for the church and abbey buildings to be demolished again, during the French Revolution. In 1887, the monks re-erected their religious buildings, but the new Trappist complex only officially reclaimed itself as an abbey in 1912. The First world War reached the abbey in 1918. The German occupiers removed the copper fittings from the brewing hall, and production was again halted for a while.
The monks weren't about to let ruffians halt their beer production, which had been a part of their lives since 1595. There competitor Chimay wasn't about to let Rochefort's beer fail, too. When, after the Second World War, Rochefort's beers declined from the success of Chimay's better known (and more consistent) brews, a little fraternal kindness was shown. The Chimay abbey's Trappists decided to help their confrères improve the quality of their beer. With Chimay's assistance, the Rochefort monks developed the current clutch of beer recipes. In the 1950s the initial light "refectory" beer was joined by the stronger Rochefort 8 and 10.
In celebration of Trappist Tuesday, Peaks & Pints suggests you take home Brasserie de Rochefort's three notable beers, Rochefort 6 dubbel, Rochefort 8 Belgian strong dark, and Rochefort 10 quadrupel.
Abbaye Notre-Dame de Saint-Remy Trappistes Rochefort 6
9.2% ABV, 22 IBU
Rochefort Trappist 6 is named after its original gravity measured in "Belgian degrees" — a brewing scale no longer used today. It was first sold to the public in 1953. Bottle-conditioned for soft natural carbonation, and the oldest of the three Rochefort Trappist beers, Rochefort 6 has the reddish color of autumn leaves, a soft body, and an earthy, herbal palate (a hint of Darjeeling tea), which develops into a deep fruitiness. Refined, soft spiciness in the bouquet finishes with a bit caramel.
Abbaye Notre-Dame de Saint-Remy Trappistes Rochefort 8
9.2% ABV, 22 IBU
Originally called "Spécial," Rochefort 8 dates to the mid-1950s. The name comes from the original gravity in "Belgian degrees." Rochefort 8 Belgian strong dark ale has the most amazing mouthfeel.  The dense foam gives way to a pleasant and natural feeling carbonation that is deliciously creamy, and reminiscent of a root beer float.  The malt delivers a strong sweetness, followed by yeasty earth tones of oak and vinous quality, then sweet raisin, plum and figs coming through as the focus. Rochefort's dry finish cuts through the rich flavors and leaves dark fruit notes on the tongue long after the swallow.
Abbaye Notre-Dame de Saint-Remy Trappistes Rochefort 10
11.3% ABV
The Abbaye Notre-Dame de Saint-Remy monks McGyvered their Rochefort Trappistes quadrupel. To elevate the alcohol by volume they steeped the candi-sugared wort in metal baskets. Furthermore, two malts were used in the brewing process: pils and caramel malt, as well as wheat starch, two varieties of hops and Rochefort's own yeast. The result is a robust dose of alcohol, much like port. Rochefort 10 hits the nose with roast wheat, figs, cherries, nuts, and dark chocolate. On the tongue, expect caramel, chocolate, ripe fruits, and herbal touches of hops.
LINK: Peaks & Pints cooler inventory
---