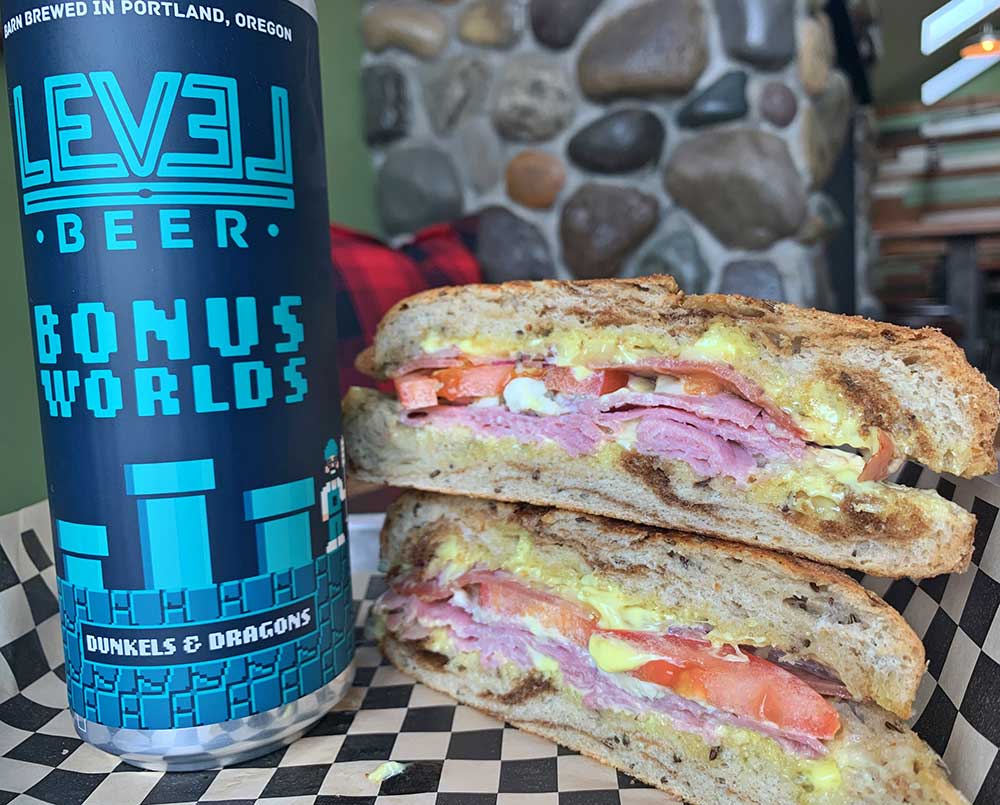 Tacoma Sandwich Special of the Day: Hamzola
MONDAY, JAN. 17 2022: Peaks & Pints Chef Boyaarondee discovered Robby Peterson's D&D notebook and deciphered the Dungeon Master Peterson's favorite sandwich for the 1990s — "Hamzola." Boyaarondee embarked on a sandwich journey that led to ham, gorgonzola, Havarti, bacon, "mayosturd," onion, and tomato on rye. Many Slaads and Bulettes knew what it was to be roasted in the depths of the Hamzola during those days, we can tell you!
PAIRING: Level Beer Dunkels and Dragons
This dunkel lager (4.7%) with bready, toffee, and light chocolate malt notes, balanced with a little spicy hop character pairs well like Rogue with Artificer.
THING TO DO: Because of COVID, Peaks & Pints isn't fully staffed and has postponed table service. Please you're the QR codes at the tables and order from the bartenders behind the bar. Call ahead at (253) 328-5621 for pick-ups. Cheers!
LINK: Peaks & Pints full menu
LINK: Dunkels and Dragons and 850+ other beers and ciders are in the Peaks and Pints cooler
Safety Is Priority Number One
Face masks must be worn when not eating and drinking — especially ordering from the bar or on trips to the restrooms.
One of the most fulfilling aspects of our craft beer and cider bar, bottle shop and restaurant is being a gathering place for the community. It's a role we do not take for granted, and there are many responsibilities that come along with it — the health and safety of our guests and staff being at the top of the list. As a neighborhood restaurant, we take pride in our commitment to providing a clean, safe, and vibrant environment. Please rest assured that Peaks & Pints has built upon these best practices to follow the COVID-19 protocol provided by the CDC.
We're open 11 a.m. to 10 p.m. Sunday-Thursday, 11 a.m. to 10 p.m. Friday and Saturday, but we hope to return to "before times" hours when we're able to seat at full capacity.
Hope to see you soon.
1

Argyle

Pinot Noir, Willamette Valley

13.5%

Just Tapped

2

Alexandria Nicole

Jet Black Syrah

Woodinville, WA

12%

Just Tapped

3

Proletariat

Rose

USA

Walla Walla, WA

11.8%

Just Tapped

4

Oregon Tonic

Mojito

Kombucha

Portland, Oregon

%

Just Tapped

5

Bluebeard Coffee Roasters

Nitro Cold Brew Coffee

Cold Brew Coffee

Tacoma, WA

Just Tapped

6

Rainier

Mountain Fresh Rainier Beer

Lager

Seattle, WA

4.73%

IBU

Just Tapped

7

Double Mountain

Tossed Apples

Heritage

Hood River, OR

7.3%

Just Tapped

8

Cockrell Cider

Pear

Pear Apple

Puyallup, WA

6%

Just Tapped

9

Bauman's

All the Berries

Cider

Gervais, OR

6.2%

Just Tapped

10

Cascade

Apricot

Barrel Aged Sour Blonde w/ Apricots - Barrel Aged (Wine)

Portland, OR

7.1%

IBU

Just Tapped

11

Urban Family

Blueberry Hedge Maze

Sour

Seattle, WA

7.2%

IBU

Just Tapped

12

Wayfinder

CZAF

Czech-style Pilsner

Portland, OR

4.9%

IBU

Just Tapped

13

Fort George

Beach Eagle

Mexican Lager

Astoria, OR

4.7%

IBU

Just Tapped

14

Unibroue

Blanche De Chambly

Witbier

Chambly, Quebec

5%

10 IBU

Just Tapped

15

Two Beers

Deception Pass Summer Ale

Pale Ale

Seattle, WA

5.2%

18 IBU

Just Tapped

16

Old Schoolhouse

Between Peaks IPA

IPA

Winthrop, WA

7%

IBU

Just Tapped

17

Holy Mountain

Five of Swords

IPA

Seattle, WA

7%

IBU

Just Tapped

18

Crux

Half Hitch

Imperial IPA

Bend, OR

9.5%

80 IBU

Just Tapped

19

Gigantic/Breakside

Later Skater

West Coast IPA

Portland, OR

7.2%

IBU

Just Tapped

20

Old Schoolhouse

Eddy Hopper

IPA

Winthrop, WA

7.5%

IBU

Just Tapped

21

E9

Rowdy & Dick

Amber Ale

Tacoma, Washington

5.8%

IBU

Just Tapped

22

Anderson Valley

Cerveza Crema

Cream Ale

Boonville, CA

5%

5 IBU

Just Tapped

23

Loowit

Big John's Brown

Brown Ale

Vancouver, WA

4.5%

IBU

Just Tapped

24

Chimay

Cinq Cents

Tripel

Chimay, Belgium

8%

IBU

Just Tapped

25

Hubbards Cave

Come Heavy or Not At All

Scotch Ale/Wee Heavy

Niles, IL

10%

IBU

Just Tapped

26

Wander

Global Mutt

Baltic Porter

Bellingham, WA

7%

42 IBU

Just Tapped

27

Left Hand

Double Milk Stout

Imperial Milk Stout

Longmont, CO

10.5%

IBU

Just Tapped

28

Rainy Daze

Haulin' Oats

Oatmeal Stout

Poulsbo, WA

6.1%

30 IBU

Just Tapped
---