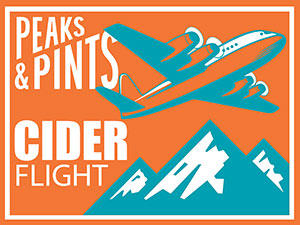 The Grand Cinema Virtual Screening Room offers new film Ai Weiwei: Yours Truly that tells the story of the blockbuster site-specific exhibition @Large: Ai Weiwei on Alcatraz — the entire story. Beginning with behind the scenes, making-of documentation during the creative process, stretching back into salient inspirations from the artist's early life and family history and forward to his own arrest in China, the film narrates not only the concept and execution of the ambitious installation but also follows the indelible effect on everyone it touched. From the meditative, thoughtful pace of the studio footage and interviews with Haines, Ai Weiwei, his family members, and salient cultural figures, the film builds toward the completed installation, which is then explored and explained with a lot of care and detail. Peaks and Pints Cider Flight And A Movie: Ai Weiwei pairs the film with cider from Double Mountain Brewery. Stop by our little craft beer lodge in Tacoma's Proctor District before enjoying the film on your TV or devices.
Peaks and Pints Cider Flight And A Movie: Ai Weiwei
Double Mountain Red Fleshed Rosé
5.9% ABV
Matt Swihart, owner of Double Mountain Brewery & Cidery, stepped into the cider world in 2017 with his Dry Cider, made using Newtown apples he grows on his Odell area property: Double Mountain farm, which had its name before Swihart opened Double Mountain Brewery and Taproom 12 years ago in Hood River. He's killing it in the cider world, as they say. His latest, Red Fleshed Rosé, is made from red fleshed Mountain Rose and Pink Pearl apples, which bring the light rose color. Double Mountain's Red Fleshed Rosé is a lightly tart cider, with delicate aromas of citrus and raspberry. 
Double Mountain Perry
6.3% ABV
"Passing on the chance to create a cider with pears from our backyard, which are the best pears in the world, was not an option. With this in mind, we created a slightly sweet, yet satisfying perry that is most assuredly not your grandma's pear cider," said Daniel O'Brien, a brewer at Double Mountain. Double Mountain pressed Starkrimson and Comice pears together for their Perry giving it an aroma of honey, juicy pear, and green apple that ends in a delicately sweet, gracefully tart and crisp pear cider.
Double Mountain Dry Cider
6.7% ABV
Double Mountain had long toyed with releasing their own hard cider, occasionally featuring housemade cider on at the taproom made from owner Matt Swihart's own apples. The brewery finally releases its own Dry Cider in December 2017, blending freshly harvested heirloom apples from Double Mountain Orchards and Hood River Newtowns, Braeburns, and Hanners for old world complexity. Double Mountain gave it plenty of time to dry out and develop the aromas of juicy pear, lychee, green fruit, and chamomile.  It finishes tart, crisp, dry and quenching.
---