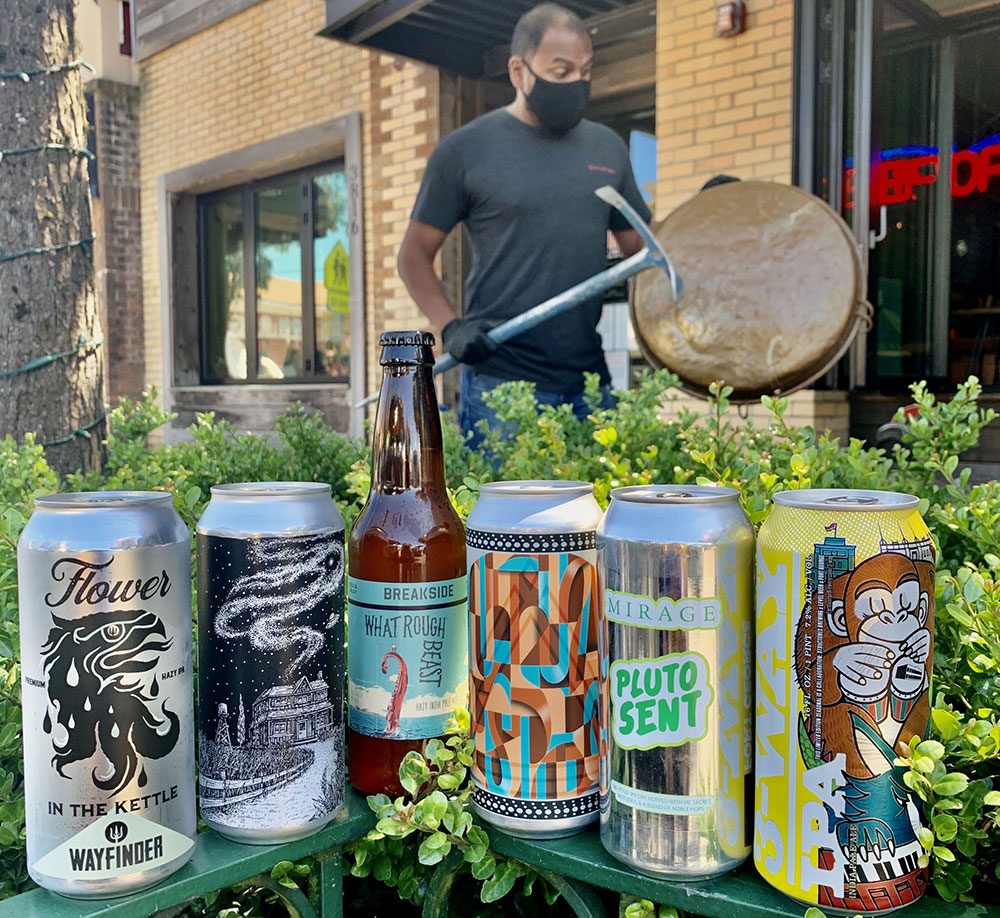 Peaks and Pints Hazy IPA Bangers 6-Pack
Born in New England more than a decade ago, the hazy IPA first gained buzz for its relative scarcity and fragility. The unfiltered IPA's cloudy looks and intense scents of berries, tropical fruit and citrus are short-lived. Its suspended yeast and vegetal matter, which amplify flavor, diminish its shelf stability. Therefore, Peaks & Pints tears through the hazies at a pretty fast rate. Here are six hazy IPA bangers in our cooler right now. …
Structures Fuzz (Citra & Amarillo)
6.2% ABV
Structures Brewing had fun meshing old recipes together and came up with their flagship IPA Fuzz in December 2016. Originally brewed with oats and hopped intensely with Amarillo and El Dorado hops, this version substitutes El Dorado with Citra hops for a fuzzy, crushable, highly-rated juice bomb with a tropical finish.
Mirage Pluto Sent
6.5% ABV
Sometimes hazy IPAs need to taste like ganja and not fruit. Thankfully, Mirage Beer sent Pluto. Dry hopped with Vic Secret, Motueka, and a blend of noble hops, this hazy is grassy, dank and pillowy soft.
Wayfinder Flower In the Kettle
6.7% ABV
Kevin Davey brewed this hazy IPA with kettle loads of juicy Mosaic hops balance between Amarillo and grapefruit-forward Simcoe. The nose has a nice, juicy mango note along with peach, honey, touch of mango and a little citrus. The palate opens juicy and fruity with mango nectar, fresh orange juice, mandarin, and some peach. The mid palate is clean and juicy with minimal bitterness. It finishes juicy and mildly sweet. We're not sure if Flowers In The Kettle is related to the flavor or something completely unrelated, but we know no flour was added.
Breakside What Rough Beast
6.8% ABV
Brewed with Mosaic, Columbus, and Citra hops, Breakside Brewery's What Rough Beast pours a hazy peach pushing citrus and tropical hops, pineapple, peach, citrus rind, orange peel, earthy citrusy yeast to the nose. Bold citrus and tropical hops follow before crushed by peach, pineapple, citrus rind, and orange peel. It's a bold, hoppy hazy with strong tropical flavors.
Fort George 3-Way IPA (2020)
7.2% ABV
Built on a structurally sound foundation of pilsner malt, spelt, and flaked oats, and dry-hopped with ridiculous levels of Simcoe, Azacca, Citra, and Chinook hops, Level Beer and Structures Brewing joined Fort George Brewery brewed a juicy beast with enough tropical fruit flavors to satiate a giant lizard, playing on pleasant notes of melon and fresh orange peel, and a soft finishing touch, like a gorilla on the bongos.
Short Throw Mutual Respeck
8.2% ABV
Short Throw Brewing's Mutual Respeck is a hazy double IPA adorned with the bountiful aromatics of Cashmere and Citra hops, dry-hopped with the same varietals. Expect notes of mango, papaya, guava, and oranges, all riding on an extremely drinkable and unobtrusive base.
---