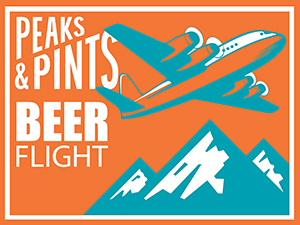 Chris Baum, John Cope, Chad Roberts, David Paulson, and Karl Vanevenhoven opened Varietal Beer Co. in April 2018 in the Port of Sunnyside between Yakima and the Tri-Cities in Eastern Washington. The ownership all had a variety of dreams and life goals, but their Venn diagram centered on owning a brewery in the Yakima Valley. After earning the Enterprise Challenge held annually by the Yakima County Development Association and the Kittitas County Chamber of Commerce, Varietal became a thing. They knew they couldn't launch with their dream wild ales, so they added a variety of other beer styles to get rolling. The clean, hoppy beers turned heads, including ours. Stop by our giant craft beer lodge and grab Peaks and Pints Beer Flight: Varietal Beer.
Peaks and Pints Beer Flight: Varietal Beer
Varietal Mindspire Rye ESB
5% ABV, can
This Varietal Beer extra special bitter collaboration with Steeplejack Brewing messes with tradition by using Washington-grown Baronesse malt and Gazelle rye for a rich spiced flavor that receives a sprinkling of floral hop character from an experimental variety out of the Hopsteiner breeding program. Steeplejack's British yeast strain adds a fruity compote flavor, striking a balance with the dryness of the beer and earthy malts.
Varietal Virgil Goes Fresh
5.7% ABV
Brewed in collaboration with Virgil Gamache Farms and HopTechnic, Varietal Beer's Virgil Goes Fresh West Coast pale ale features VGF Columbus and Chinook in the whirlpool with VGF Chinook and freshly kilned Amarillo from Loza Farms. How goes it? Expect citrus flavors with a mild, pithy bitterness.
Varietal Hop Gawds
6.8% ABV
Varietal's new fresh hop West Coast IPA, Hop Gawds, is brewed in collaboration with Chris Miller from Berryessa Brewing in Winters, California, using wet Citra hops from Sauve & Son Farms in the hopback along with Citra and Loral in the whirlpool. They dry hopped this clean IPA with freshly kilned Columbus and Citra from Sauve that they pelletized, along with fresh kilned YCR 7 from Carpenter Ranches and some Talus cryo hops. There may also have been a dusting of wet Sorachi Ace from Virgil Gamache Farms to round out this loose hop cannon.
Varietal Motile Isles
7.2% ABV
For LINC Malt's Grainmaker event Varietal collaborated with Our Mutual Friend Brewing out of Denver and Colorado's Troubadour Maltings to brew this West Coast IPA featuring Washington and Colorado barley malts, along with Colorado-grown Cascade hops from Billy Goat Farms, and Sunnyside-grown varieties of Belma and Cashmere hops. Motile Isles bright and refreshing with notes of berry, orange, and citrus fruits, finishing with appropriate bitterness.
Varietal To The Point
12.4% ABV
Created to celebrate the 21st Hard Liver Barleywine Fest at Brouwers Cafe, this English-style barleywine was aged in Weller Bourbon barrels for 6 to 18 months before being blended and bottled. This blend is focused on the vanilla bourbon character of the barrel with dark fruit and caramel sweetness balancing the alcohol heat.
LINK: Peaks & Pints cooler inventory
---