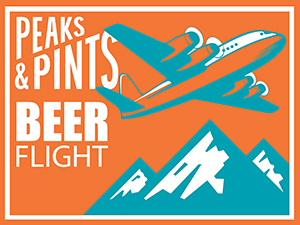 Fresh hop season is a perk you get for living in the Pacific Northwest, with farm-fresh, bright-green hops throwing off beautifully idiosyncratic farm-y notes in beer made just a car ride from where the hops are grown. It's more than just another feel-good "buy local" movement — with the yearly harvest comes a torrent of fresh-hop beers made from hops are at their peak of freshness, bursting with aroma from rhizome to rhizome. Why the time-sensitive frenzy? For something so associated with brash bitterness, hops are surprisingly delicate — breaking down almost as soon as they're harvested. The Northwest leads the world in the production of these tasty seasonals, and the alert drinker can try dozens of them at Peaks and Pints — or the five we picked today for our in-house beer flight, Peaks and Pints Beer Flight: Hop Harvest.
Peaks and Pints Beer Flight: Hop Harvest
Fort George Rock, Paper, Cascade
5% ABV
According to Fort George Brewery, "85% of all decisions at Fort George are made by playing a game of Rock, Paper, Scissors. (10% are the result of saying 'Eeny, Meeny, Miny, Mo'. And 'Nose Goes' determines the remainder.) Like the decision to concentrate all of our considerable brain power on creating the perfect beer to showcase a load of Fresh Cascade Hops we picked up. These hops were harvested in the morning and loaded into our HopBacks by 3PM. Rock, Paper, Cascade is a Pale Ale with a simple grain bill and a smattering of Cascade Cryo to balance the abundance of bold, herbal Fresh Hop Flavor. An aromatic, lightly bitter Pale with a bright, crisp finish."
Old Schoolhouse Fresh Hop Stowaway Pale
5.8% ABV
Old Schoolhouse Brewmaster Kyle Koger, who worked his way up at the brewery, mostly brews in their larger production facility and taproom in Twisp. Koger is responsible for taking the brewery to the next level — integrating the art and science of brewing beers with the medals to prove it, such as First Place at last year's Yakima Fresh Hop Ale Festival for their Fresh Hop Stowaway Pale Ale. Brewed with huge bags of Simcoe freshies from Perrault Farms, plus Citra and Mosaic, this Northwest-style pale is light and crisp.
Occidental Further Fresh Hop IPA
6% ABV
After 12 years of brewing German-style beers, Occidental Brewing has added a new line extension known as Further Beer. According to Occidental Brewing Co-Founder Ben Engler, "Further Beer's mission is to create beer styles unrelated to Occidental Brewing's branding, giving the company's brewers the freedom to experiment with new ingredients and brewing techniques." Since it's fresh hop season, Occidental brewed their Further West Coast IPA with freshly picked Strata hops from Crosby Hops, plus Azacca, for a woody, piney hop aroma, followed by notes of pine, and spruce.
Urban Family Cones of Hopshire
6.5% ABV
Brewed with Single Hill Brewing in Yakima, Cones of Hopshire hazy IPA is, well, let's let Urban Family Brewing explain, "… Two hop (HBC-586 & Amarillo) cones wins, but in order to get a cone, you have to build a hazy IPA. The other amazing thing is the freshness of the hops. Actually, let me tell you more about the haziness, 'cause you're gonna need to know about IBU's first. Nah, never mind. The thing about the haziness is that it's basically the beer…in reverse. Then you roll three cans to see how many cans you drink. Oh, 16. Perfect, lots of beers. Okay, each turn goes: open, sip, enjoy. I mean, obviously, this would be much frothier in the real beer. But the brewer can veto. This is green too. How did this happen? Are the cones a metaphor? Well, yes and no. …"
Postdoc Fresh Hop Alpha Factor
6.8% ABV
In 2021, the alpha factors were Cascade and Centennial hops. In 2022, the alpha factor was Simcoe hops. This year, the alpha factor is back to just Centennial. Indeed, this fresh hopped version of Postdoc Brewing's Alpha Factor IPA features the same base recipe but with a fresh twist — the normal whirlpool addition of hops has been replaced with fresh Centennial hops picked on brew day and delivered to the brewery within hours. Expect more fruit flavor than dankness or bitterness.
LINK: Peaks & Pints beer and cider cooler inventory
---