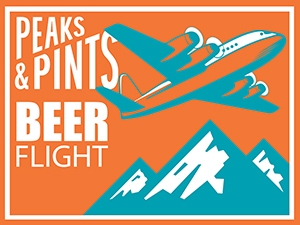 Good news! The Douville Home Group has, once again, launched the Hoppy Holiday Food Drive — this year asking 10 local breweries and cideries, and Peaks & Pints, to gather collect non-perishable food and hygiene items to support the Emergency Food Network. Indeed, 7 Seas Brewing, Cockrell Hard Cider, E9 Brewing, Fierce County Cider, Incline Cider, Narrows Brewing, North 47 Brewing, Odd Otter Brewing, Sig Brewing, and Wet Coast Brewing will be collecting canned goods and monetary donations through Tuesday, Nov. 28. with the final food count and celebration party at 6 p.m. inside Peaks & Pints. This event will include raffles for swag, guest taps from each brewery and cidery, and a last chance to give donations, The brewery or cidery that raises the most donations will be awarded the Hoppy Holiday Food Drive tap handle trophy at the event. Again, all donations benefit EFN, whose mission is "to provide Pierce County with a consistent, diverse and nutritious food supply so that no person goes hungry." EFN distributed more than 13 million pounds of food all over Pierce County in 2022 alone. More than 5,000 pounds of that food came from last year's Hoppy Holiday Food Drive. In celebration of the Hoppy Holiday Food Drive kicks off today, Peaks & Pints presents an in-house flight of five of the participating breweries – a flight we're calling Peaks and Pints Beer Flight: Hoppy Holiday Food Drive 2023.
Peaks and Pints Beer Flight: Hoppy Holiday Food Drive 2023
E9 Petite Belle
5.2% ABV
In the early '90s, Dusty Trail converted the historic Engine House No. 9 bar into a brewpub at the corner of Sixth Avenue and Pine Street, officially becoming the first microbrewery in Tacoma. Dick Dickens grabbed the Engine House reins in 2002, bringing in head brewer Doug Tiede. Heads turned and medals were hung. In 2011, The X Group added the Engine House to their local restaurant empire, with Shane Johns and Donovan Stewart running the kettles and hanging even more medals, mostly for their sours and saisons. Two years ago, they separated the brewery from the restaurant and opened E9 Brewing in Tacoma's Historic Brewery District. Petite Belle explores the obscure Franco-Belgian style, grisette, a type of farmhouse ale that dates to the late 1700s or early 1800s in southern Belgium. As with the saison, which originated as a beer made for farmhands, the grisette was seen as a beer intended to quench the thirst of miners. Grisettes are made with a combination of wheat and barley and are often fermented with saison yeast. Good grisettes are intended to be light with subtle character; so, to appreciate them means you'll need to accept a toned-down farmhouse ale. E9 Brewing Petite Belle fits that description well as it's brewed with pilsner malt, along with wheat and flaked oats that give it body in what would otherwise be a very light beer. It's fermented with a saison yeast, which offers phenolic yeast character and hints of peppery spiciness, yet everything is kept light and subtle.
Wet Coast Hi Jack! Red Ale
5.5% ABV
Wet Coast's name is a triple entendre: 1. West Coast, 2. Northwest weather, 3. Prohibition, where citizens voted wet or dry. In 1920, the United States has just enacted the Volstead Act, prohibiting the production and consumption of intoxicating liquors. Bottles were smashed, babies cried, and Americans everywhere were forced to be "dry" and live a life without beer. That is, everywhere but Washington state. Lt. Roy Olmstead with the Seattle Police Department began smuggling alcohol from Canada and soon enough Washington wouldn't just be a rainy state out west, it would become the Wet Coast. Many Wet Coast beers give a nod to Prohibition days, including Hi Jack!, which was used in speakeasies as a code word for law enforcement. Hi Jack!, the red ale, is brewed with Crystal and Black malts for a deep red hue and smooth body. Centennial hops provide floral and citrus notes with a small amount of bitterness to balance the beer.
Sig Keif Justice
6.42% ABV, draft
Founded in spring 2020, Duncan Susag, brother Alex Susag and cousin John Samuelson opened Sig Brewing on the edge of Tacoma's Historic Brewery District, along Tacoma Avenue South in the building formerly occupied by Duncan's concrete design firm, Studio Make. Head brewer Jeff Stokes has been cranking out delicious craft beers, including Keif Justice, a West Coast IPA brewed with Idaho7 Hop Hash, Mandarina Bavaria, El Dorado, and Riwaka for dank, sticky, and resinous goodness.
7 Seas Brut IPA
6.9% ABV, can
In 2016, 7 Seas Brewing opened a new location spanning two city blocks in Tacoma's historic Brewery District adjacent to the University of Washington campus. Housed in the Heidelberg Brewery's former distribution warehouse, the new facility was a 10-fold increasing in brewing capacity compared to their previous Gig Harbor location (7 Seas has since opened a new taproom along Gig Harbor's waterfront.) A Brut IPA is distinguished by its light color, effervescence, intense hop aroma, dry finish, and minimal hop bitterness. 7 Seas' version, one of the best brewed, is made with 100 percent light German pilsner malt for a straw color and refined malt character. Head brewer Travis Guterson employs a certain enzyme to the process that breaks down malt starches into fermentable sugars, leaving the beer with nearly no residual sweetness. Amarillo, El Dorado, Citra, and a touch of Strata hops are added only for flavor and aroma.
Narrows Barrel-Aged Tubbythumping Imperial Stout
11.3% ABV, draft
Nov. 7, 2022, Parker Rush, owner and head brewer at Narrows Brewing, raised a pint toward the Tacoma Narrows Bridge standing majestically out his taproom's back window. The wind was barely blowing on the cloudy day unlike 83 years ago when 42 mph winds whipped the "Galloping Gertie" 2,800-foot center span like a hungry dog attacking a bone. The $6,400,000 Tacoma Narrows bridge spanning an arm of Puget Sound from Tacoma to Gig Harbor fell into the water soon after the bridge began to sway crazily. Leonard Coatsworth, a news editor for the Tacoma News Tribune parked on the bridge, managed to escape. His dog, Tubby, a three-legged black Cocker Spaniel remained trapped in his car as the bridge wobbled, then fell. As Rush sipped on his OCTO IPA, he thought Tubby deserved more than the 253 stories documenting the dog's life. "Tubby deserves an imperial stout in his honor," Rush said out loud to his sales director, Billy Manton. You don't have to tell Manton twice. Two months later, Tubbythumping Imperial Stout was at Parkway Tavern, Peaks & Pints, and Rainier Growlers — three craft beer bars that helped brew the stout brewed with oats and a touch of smoked malt then blended with a barrel-aged stout for notes of dark chocolate, brown sugar, a hint of bourbon and a kiss of smoke. This barrel-aged version received more time in Copperworks Whiskey barrels bumping up the ABV to 11.3-prcent.
LINK: Peaks & Pints beer and cider cooler inventory
---
Category:
Beer Flight
,
Beer Line Blog
,
Contest
,
Craft Beer
,
Crosscut Flight
,
Events and Festivals
,
News and Updates
,
Proctor District
,
South Sound
,
Specials
,
Tacoma events
,
Tacoma Strong