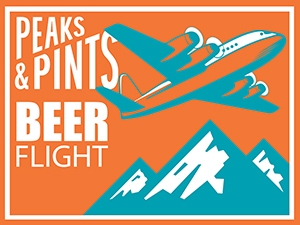 Marketing brains Bria and beer nerd Michael Perozzo left their Juice Box beer bar and opened Vice Beer with Michael's longtime beer nerd friend Cameron Johnson and his wife, Erica. Michael and Cameron hung out in the 1980s and '90s enjoying Star Wars and other pop cultural touchstones of those eras. Located in the former Barlows Brewery Space in east Vancouver, Washington, Vice Beer names and designs their beers with cultural references from their two favorite decades. It made sense to move into Barlows' old spot as Michael's Zzeppelin agency did marketing and branding for Barlows, Bria ran Barlows' taproom, and Cameron Johnson was its brewer. Vice's vibrant color scheme leans toward Miami Vice's neon blues and pinks in a modern design. At 4:30 p.m. today, Michael will sit down with the Grit & Grain Podcast folks in Peaks & Pints event room and discuss his life in beer. we created an in-house to pair with his discussion, which is open to the public. Stop by Peaks & Pints, meet Michael Perozzo and enjoy Peaks and Pints Beer Flight: Vice Beer.
Peaks and Pints Beer Flight: Vice Beer
Vice Millie 11 Degrees
5% ABV
According to the Balling scale (or Plato scale), which is a measure of gravity or density on the day the beer was brewed, Czech beer is expressed in degrees — a weight percentage of sucrose that indicates the percent by weight of extract (sucrose) in a solution. For instance, 11 degrees states that a beer is 11 degrees Balling, and it means that if the extract in solution were 100% sucrose, it would be 11% of the total weight. Named for Michael Perozzo's great grandmother, Millie, who was born just outside of Pilsen, Czechoslovakia, this delightful crisp Czech-style Pilsner is brewed with a robust grain bill and balanced hop character.
Vice 2LEGIT2WIT
5.5% ABV
"Freeze, 'cause you don't want none.
We hustle for the muscle and you look weak, son.
Yeah, we goin' for all that we can get.
Kickin' it at the top 'cause we 2LEGIT2WIT!"
That's Vice's description of their wheat beer with orange and coriander.
Vice Ya Fresh, Ya Hop & Ya Don't Stop
6% ABV
Collaboration with Baerlic Brewing, this fresh hop West Coast IPA is brewed with fresh Citra hops for citrus and grass notes.
Vice Batteries Not Included
6.5% ABV
A double dry-hopped hazy IPA brewed with Azacca, Galaxy, and Mosaic hops, for sweet notes of ripe cantaloupe, papaya, and grass that keeps going and going and going and going and going. …
LINK: Peaks & Pints beer and cider cooler inventory
---