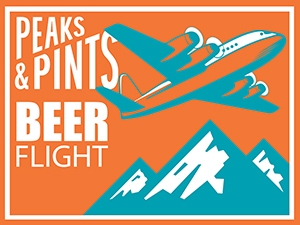 There are a few Northwest breweries that crank out numerous different beers every week. Block 15 Brewing is one of them. And, the Corvallis, Oregon, brewery releases a wide variety of styles every week, too. Offering unique hop-forward ales, crisp lagers, Belgian-style brews, barrel-aged rarities, and one of the Northwest's most extensive wild and sour programs, Block 15 produces a range of artfully crafted beers, brewed with a nod toward fresh ingredients and fresh thinking. The Block 15 barrage has arrived again to our Tacoma Proctor District craft beer lodge. It's time for another in-house Block 15 flight, which we're calling Peaks and Pints Beer Flight: Block 15 Beer. OK, it's an all-IPA flight, but we swear the brewery brews all styles.
Peaks and Pints Beer Flight: Block 15 Beer
Block 15 C-Hops, draft
6.8% ABV
Combining Crystal, Cascade, Chinook, Centennial and CTZ hops, C-Hops is a classic IPA with a nod at tradition but carves a unique path. It's not overly anything — fruit, bitter, pine, just an old school nicely bittered IPA with a gentle, malt-forward body that doesn't overpower the hops.
Block 15 Topwire No. 03
7% ABV, draft

Block 15 is on a roll with their new age West Coast IPA vibes. The third incarnation of their Crosby Hop TopWire series features Idaho 7 CGX, Azacca CGX, and, as always, estate-grown Comet for all the pine and tropical notes.
Block 15 Tropicolor 2023
7.5% ABV
Tropicolor 2023 hazy IPA captures the freshest, juiciest hop character from a trifecta of Idaho 7, Sabro and Bru-1 varietals for a soft, lush body that's highly drinkable with tropical twist.
Block 15 Sticky Hands: Turkey's Pick
8.1% ABV
Block 15 has brewed several versions of their popular Sticky Hands double IPA, which received enough public votes to be crowned the Peaks & Pints Tournament of Beer: NW Double IPAs Champion in April 2021. Their Sticky Hands Tropical Slam offers a tropical fruit explosion of mango, papaya, and pineapple with background pine and flora notes. Sticky Hands Brewer's Cut is brewed with Amarillo, Cashmere, Mosaic, Simcoe, Chinook, and Citra hops for citrusy flavors of Lemon Pez, spring blossom, peach, tangerine peel, and mango with a smooth bitterness and delicate pine aftertaste. Their Crosby Cut Sticky hands is brewed with Amarillo, Chinook and El Dorado from Cosby Hops bolstered by salmon-safe malts from Mainstem Malt and Skagit Valley Malting for waves of Seville orange and pineapple for a pungent, juicy, and resinous explosion. Their Fruit Cup version of Sticky Hands features a medley of hops presenting fruit flavors reminiscent of pineapple, tangerine, blueberry, and a squeeze of fresh lemon. And now, their Block 15 Sticky Hands Turkey's Pick incorporates the hop blend "Turkey's Pick" from Hop Revolution in New Zealand with Pacific Northwest's Crosby Hops with their Sticky Hands base. Expect loads of resin-dipped citrus and tropical fruit notes.
Block 15 Something Big & Resinous
8.8% ABV
A collaboration with Behemoth Brewing in New Zealand, this trans-Pacific double IPA features an even blend of New Zealand and Pacific Northwest hops. Dank, piney, herbaceous and juicy, Something Big & Resinous thoroughly lives up to its name.
LINK: Peaks & Pints beer and cider cooler inventory
---