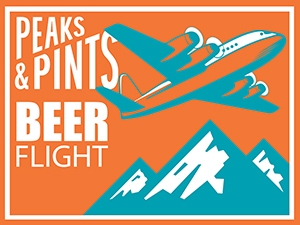 J.T. Merryweather and Chris Browhan opened Real Ale Revival, or RaR, on the banks of the Chesapeake Bay in Cambridge, Maryland, in 2013. The two graduates of Cambridge-South Dorchester High School had left the Eastern Shore for college and followed careers elsewhere before taking their homebrewing hobby to the next level, and by next level we mean a professional brewery in an 80-year-old former pool hall and bowling alley with a goal of producing well-balanced American pale ales and Belgian inspired brews 10 barrels at a time. Today, Peaks & Pints offers an in-house flight of RaR's Out of Order sour series — this time with a parody of The Muppets. Stop by our craft beer and cider bar, bottle shop and restaurant in Tacoma's Proctor District and grab Peaks and Pints Beer Flight: RaR Muppets.
Peaks and Pints Beer Flight: RaR Muppets
RaR Out of Order – Part-Ay Part-Ay
6% ABV
Animal is a Muppet character from the sketch comedy television series The Muppet Show, and the wild and frenzied drummer of the fictional band Dr. Teeth and the Electric Mayhem. The character was originally performed by Frank Oz and currently by Eric Jacobson. During performances, Animal is usually chained to the drum set by a collar around his neck, as his musical outbursts are extremely violent. He also loves to scream "Part-Ay! Part-Ay!" RaR's Part-Ay Part-Ay is a lactose sour base conditioned over strawberry, funfetti cake, and pastry cream.
RaR Out of Order – Resident Daredevil
6% ABV
Gonzo, also known as The Great Gonzo, is another character from The Muppet Show, known for his eccentric passion for performing stunts. Aside from his trademark enthusiasm for performance art, another defining trait of Gonzo is the ambiguity of his species, which has become a running gag in the franchise. RaR's Resident Daredevil takes their lactose sour base and conditions it with peanut butter, Concord grape jelly, and raspberry with a splash of creaminess for the body.
RaR Out of Order – Wocka Wocka Pie
6% ABV
The Muppet's insecure and comedically fruitless stand-up comic Fozzie Bear wears a brown pork pie hat and a pink and white polka dot necktie. The character debuted on The Muppet Show, as the series' resident comedian, a role where he uses the catchphrase "Wocka wocka!" to indicate that he'd completed a joke. RaR's Wocka Wocka Pie is not a joke. It's a delicious lactose sour base conditioned over bananas, Graham Crackers, cake batter, and whipped cream.
RaR Out of Order – Kissy Kissy
6% ABV
Muppet character Miss Piggy grew up in a small town (most likely Keystone, Iowa); her father died when she was young, and her mother wasn't that nice to her. She had to enter beauty contests to survive. She has a lot of vulnerability which she must hide, because of her need to be a superstar. "Kissy Kissy" is Miss Piggy's catchphrase, usually used as a form of love to her family and friends. RaR's Kissy Kissy takes their Out of Order lactose sour base and conditions it over strawberries, cotton candy, lemon lime, and vanilla ice cream.
LINK: Peaks & Pints beer and cider cooler inventory
---