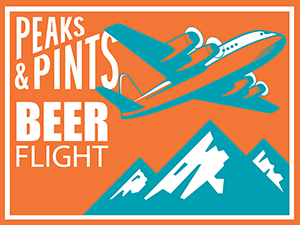 Astoria's Fort George Brewery has brewed 3-Way IPA since 2013, featuring two different craft brewery collaborators every year. This year, Anchorage Brewing from Anchorage, Alaska, and Cellarmaker Brewing from San Francisco, California, shared ideas and techniques with Fort George founder Chris Nemlowill, and after many beta test batches, blind tastings, lab tests, aroma analysis, color checks, last Saturday's Lupulin Ecstasy Festival in Astoria, and long conversations, what pours from Peaks & Pints' Western red cedar tap log, as well as what sits in our 850+ cooler, is the first of three 2023 3-Way IPAs. This year, Fort George will offer three unique versions, each brewed with a distinct yeast. London Tropics yeast from Berkeley Yeast starts the season today at Peaks, packaged in green cans with green keg collars. A Kolsch yeast version, using Kaiser German Ale yeast from Imperial Yeast, will appear in a purplish cans. And finally, a version brewed with Hazy Chico DF yeast from Berkeley Yeast will finish off the season. In conjunction, Peaks & Pints presents an in-house flight of Fort Gorge beer — a flight we're calling Peaks and Pints Beer Flight: Fort George.
Peaks and Pints Beer Flight: Fort George
Fort George Light in the Attic (Side A)
4.5% ABV, draft

"What happened to the Kölsch?" asks Fort George Brewery. "We found its wallet, keys, guitar and a wreath of empty 10 oz glasses on the table with a coaster over the top. Was it intentional? Was it an abduction? Was Kölsch taken out by the mafia… er… popularity of the Lager? We might never know. Kölsch Ale is brewed exclusively in Cologne, Germany and has stringent standards. We're not in Cologne. And we adhere to very few stringent standards, as a rule. But oh boy! Do we ever love a crisp, clear, gloriously clean ale with a little smidge of wine region terroir (thanks, Phantasm powder). This is a collaboration with Reuben's Brews, Light in the Attic Records, and Cascade Record Pressing who produced a run of 45 RPM vinyl records exclusively for this release."
Fort George Blue Mouse IPA
6.7% ABV, draft

In 2021, Matt Rhodes — formerly with Stone Distributing and King Harbor Brewing out of Redondo Beach, California — left his head brewing job at Narrows Brewing in Tacoma to become the research and development brewer at Fort George Brewery. Oct. 4, 2022, Rhodes and fellow brewer Colin Rosenberger welcomed the Peaks & Pints staff to their "Sweet Virginia" 8.5-barrel brewhouse to brew Peaks' 2022-23 house beer, appropriately named Blue Mouse IPA. In the early 1900s, John Hamrick opened the Blue Mouse Theatre for vaudeville and movies screenings in several Pacific Northwest cities, including Astoria in 1922, downtown Tacoma on Broadway in 1922, and Proctor District Tacoma in 1923, which is the only Blue Mouse still operating. Since Peaks & Pints could throw a blue mouse cat toy from our front door to the Blue Mouse Theatre in the Proctor District, we named the Simcoe, Cascade, Amarillo, and Centennial hopped IPA, Blue Mouse.
Fort George 3-Way IPA: Green (2023)
7% ABV, draft  – with cans in our cooler

Fort George Brewery and their two partnering breweries made it past the beta test mode and have released 3-Way IPA: Green. Joining the Astoria brewery this year are Anchorage Brewing from Anchorage, Alaska, and Cellarmaker Brewing in San Francisco, California. For more than 6 months, this loving, consenting threesome toiled endlessly, laying the groundwork for this hazy IPA immaculate conception. Their 3-Way IPA 3-Way IPA: Green is on tap at Peaks & Pints. The first of three versions, Green is brewed with London Tropics yeast from Berkeley Yeast engineered to release extraordinary notes of passionfruit and guava during fermentation. It's tropical, indeed, but also has dank notes and a dry finish.
Fort George Cavatica Stout
8.8% ABV, draft with cans in our cooler

Fort George Brewery at the mouth of the Columbia River in Astoria, Oregon excels at dark craft beers, such as its Cavatica Stout. The Latin root of Cavatica is cave, crevice, abyss or a dark place. Just like a stout should be. Fort George brewers dump in black barley and Munich malt to get a molasses like heft. Cavatica's extra ethanol will blend smoothly into your glass. A big head of sandy foam and the resolute sweetness of raisins, cocoa and candied walnuts impress. Cascade hops provide a balancing slice of orange that is distinctly Oregon.
Fort George Feed The Beast
12% ABV
Fort George invited another huge fan of barrel-aged stouts, Reuben's Brews, to brew this barrel-aged imperial stout with Reuben's favorite grains and Fort George's favorite oats running through a double mash, plus a flavor profile and alcohol content boost with liquid malt extract. Don't expect adjuncts and extraneous additions, just roasty, toasty malt and heady barrel flavors of chocolate wine fading to vanilla, oak, and a hint of brandy.
LINK: Peaks & Pints cooler inventory
---