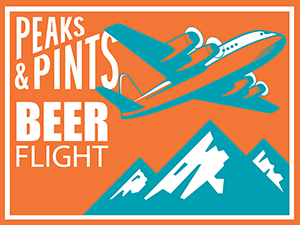 Craft beer is best fresh. If you drink a fresh hop IPA the day it is bottled or canned, it will be at its peak. Never again will it taste so good. Day by day, by degrees, its lushness will fade. Beer, unlike vinegar and Pop Tarts, is not a fixed food product. So why then do brewers barrel-age beer? Because it's porous; wood allows for very slow oxidation, which can make darker, malty beers more complex. Wood can also host microflora, bacteria that add the sourness to wild ales and lambics. The barrel's former resident — the wine or whiskey or whatever that first made its home there — is also important. As a tenant, bourbon leaves the place smelling like vanilla, as does Cabernet Sauvignon, though to a lesser extent. Rum barrels soak up all that yummy, distilled sugar cane goodness for an aroma that is pure dark rum and flavor laced with sweet vanilla and spice notes. Now, take this already-unpredictable barrel aged beer and step it up a notch. Add in another variable, like another barrel aged beer. This is where magic happens. In mixing these two beers together, the brewer can make a beer greater, much greater, than the sum of its parts. It is the possibility to create something unlike we've ever tasted before. Today, Peaks & Pints presents a flight of blended barrel-aged beers — a flight we're calling Peaks and Pints Beer Flight: Barrel-Aged Blends.
Peaks and Pints Beer Flight: Barrel-Aged Blends
Cascade Petite Cranberry
5.4% ABV, draft

Cascade Brewing's Petite Cranberry features their sour wheat and blond ales aged in oak barrels and foudres for 10 months with Pacific Northwest grown cranberries. After delicate infusions of orange peel and cinnamon this blend offers brilliant cranberry fruit flavor with soft spice notes and a clean, refreshing finish.
Holy Mountain Towards The Woodlands
5.7% ABV, draft

Holy Mountain Brewing's Towards The Woodlands is a blend of an array of barrels of mixed fermentation beer aged 2-3 years. After blending, Holy Mountain dry hops this beer with Nectaron and Citra Cryo. The result is a tart and bright saison with a complex fermentation profile and notes of sweet citrus fruits.
Fremont Mezclar – Barrel-Aged Cuvée
10.1% ABV, can

Fremont Brewing's Mezclar – Barrel-Aged Cuvee blends a brand-new porter with select vintages of Fremont's celebrated Bourbon Barrel-Aged Dark Star Stout, which means this cuvée includes 10 different specialty malts rounded out by five varieties of hops, for complex chocolate croissant and crème brûlée aromas in this roasty, medium-bodied blend. Expect notes of bourbon toffee and oaky vanilla, accented by fudgy mocha notes, and lingering barrel tones with hints of allspice and cinnamon in the warming finish.
Old Schoolhouse Blazing Barrels
11.5% ABV, can

Aging a stout in used port barrels adds fruity flavors, making the beer taste like chocolate covered cherries. Aging a stout in used whiskey barrels adds notes of caramel, vanilla, and hints of chocolate. Blending a stout with barleywine can add a pleasant cherry pit, almond characteristic that isn't apparent in either of the parent beers. Aging an Old Schoolhouse Brewery stout in port barrels, Woodinville Whiskey barrels then blending it with a 10-percent barleywine makes for a unique, intense, and delightful beer.
Huyghe Delirium Black Barrel Aged
11.5% ABV, can – bottles in the cooleer

Huyghe Brewery's Delirium Black Belgian strong dark ale is a blend of Delirium Nocturnum and Delirium Christmas, which are aged for 9 months in Oak Buffalo Trace Bourbon Barrels. The result is a spicy and vanilla scented strong beer, followed by notes of caramel, bourbon, vanilla, and a hint of almond with a boozy, woody, and smoothly bitter finish.
LINK: Peaks & Pints cooler inventory
---