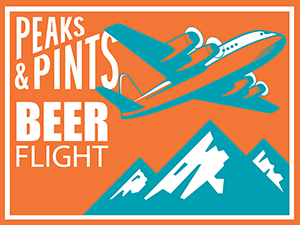 The unofficial start of summer is officially here. As the amuse bouche of the summer season, Memorial Day weekend brings with it all the sweet signs of the warm weather to come in the greater Tacoma area. From barbecues and baseball games to road trips and chill nights around a campfire, there are so many excuses to celebrate over the (much needed) long weekend. While you relax over the next few days, make sure to include a few local sips as well. Peaks and Pints has gathered five Tacoma brewery beers for today's in-house beer flight. Stop by our craft beer and cider bar, bottle shop and restaurant and enjoy Peaks and Pints Beer Flight: Memorial Weekend in Tacoma.
Peaks and Pints Beer Flight: Memorial Weekend in Tacoma
7 Seas Key Lime Sour
4.7% ABV, draft — with cans in our cooler
7 Seas Brewing Key Lime Sour Ale is a refreshingly tart sour loaded with key limes. The key lime helps balance out the San Juan Island sea salt. Unlike other goses, this sour doesn't contain coriander. What you do get is plenty of that bright, lacto sour sitting right along the fruit, reminding you that, hey, this is a beer after all. Pilsner malt and malted wheat are also behind the giant red "7" on the can, but good luck tasting it in all the fruit flavor. Everyone has their own favorite version of Key Lime Pie, and this is ours.
Wet Coast Baronesse Pale
5.6% ABV
First, Wet Coast Brewing is in Gig Harbor, not Tacoma, but is connect to the City of Destiny via the Narrows Bridge and Tacomans adore the brewery. Second, even though Wet Coast was named after owners Bryan Copeland and Aaron Johnson's love affair with our country's Prohibition era, Baronesse isn't named after Prohibition term but rather Baronesse malt from Linc Malt in the Spokane Valley, which graces this pale ale. Third, it's delicious with Amarillo, Citra, and Mosaic hops offering a gentle but full bouquet of hop flavors and aromas.
E9 Todd The Bod
7% ABV, draft — with cans in our cooler
In 2011, The X Group added the Engine House No. 9 to their local restaurant empire, with Shane Johns and Donovan Stewart running the kettles and hanging even more medals, mostly for their sours and saisons. In May 2019, they separated the brewery from the restaurant and opened E9 Brewing in Tacoma's Historic Brewery District with Johns running the brewhouse, Stewart running sales, and Todd McLaughlin running the taproom. E9's Todd The Bod, a hazy IPA, is named after Mr. McLaughlin. Brewed with Galaxy, Simcoe, Idaho7, and Citra hops, expect this Bod to bring you beer ease, delightfulness, laughs, grins, and joy for the day or as long as it lasts like only Todd can. Just too good and easy green tropical passionfruit, gooseberry, pithy peach, and dank citrus.
Sig Out West
7% ABV, can
In Spring 2020, Duncan Susag, brother Alex Susag and cousin John Samuelson opened Sig Brewing on the edge of Tacoma's Historic Brewery District, along Tacoma Avenue South in the building formerly occupied by Duncan's concrete design firm, Studio Make. Head brewer Jeff Stokes has been cranking out delicious craft beers, including Out West, a West Coast IPA utilizing the holy hop trinity of Citra, Mosaic and Simcoe. It hits the nose with pale malt, citrus and piney hops, grapefruit, lemon, light orange, and pine. Flavor follows with pale malt, citrus and piney hops, grapefruit, lemon, a touch of mixed tropical fruit and pine, with a solid piney and citrus bitter finish.
Narrows Tubbythumping Imperial Stout
10% ABV, can
Nov. 7, 2022, Parker Rush, owner and head brewer at Narrows Brewing, raised a pint toward the Tacoma Narrows Bridge standing majestically out his taproom's back window. The wind was barely blowing on the cloudy day unlike 83 years ago when 42 mph winds whipped the "Galloping Gertie" 2,800-foot center span like a hungry dog attacking a bone. The $6,400,000 Tacoma Narrows bridge spanning an arm of Puget Sound from Tacoma to Gig Harbor fell into the water soon after the bridge began to sway crazily. Leonard Coatsworth, a news editor for the Tacoma News Tribune parked on the bridge, managed to escape. His dog, Tubby, a three-legged black Cocker Spaniel remained trapped in his car as the bridge wobbled, then fell. As Rush sipped on his OCTO IPA, he thought Tubby deserved more than the 253 stories documenting the dog's life. "Tubby deserves an imperial stout in his honor," Rush said out loud to his sales director, Billy Manton. You don't have to tell Manton twice. Two months later, Tubbythumping Imperial Stout was at Parkway Tavern, Peaks & Pints, and Rainier Growlers — three craft beer bars that helped brew the stout brewed with oats and a touch of smoked malt then blended with a barrel-aged stout for notes of dark chocolate, brown sugar, a hint of bourbon and a kiss of smoke.
LINK: Peaks & Pints cooler inventory
---