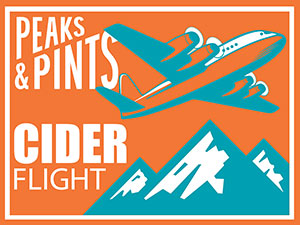 The owners of Channel Marker Cider — Zack Lough, Nicole Lounsberry, and Chris Irish — named their Seattle Ballard neighborhood cidery for their mutual love of sailing. Channel markers are nautical navigation aids for mariners. "The name is meaningful to us since we met sailing the Pacific Ocean and find inspiration on and near the water," the trio state on their website. Lough, a sailor, would ride out a hurricane season in New Zealander by making Sauvignon Blanc at a winery, which sat across the street from a New Zealand cidery. He eventually added cidermaking to his life, which he took pro in 2016 when he returned to Seattle to open Channel Marker with fellow sailor Lounsberry, and Irish in 2016 out of Lounsberry's Greenwood garage. The trio has earned recognition for their ciders; they've won awards from Cidercraft Magazine, including the 2020 Judge's Pick for their Lavender Bergamot cider, plus acclaim for their Honey Badger Cyser and Rosemary Cran Ginger. Today, Peaks & Pints focus on the small-batch, handcrafted Channel Marker for our Monday in-house cider flight. Stop by our Tacoma Proctor District craft beer bar, bottle shop and restaurant for Peaks and Pints Monday Cider Flight: Channel Marker Cider.
Peaks and Pints Monday Cider Flight: Channel Marker Cider
Channel Marker Pom Blood Orange
6% ABV
The best blood oranges are grown on the volcanic plain surrounding Mount Etna in Sicily, where the soil and the fluctuation of temperature between day and night cause pigments called anthocyanins, which are high in antioxidants, to develop. The ruby red seeds of pomegranates, also cultivated in Sicily and probably introduced by the Arabs, have a high anthocyanin content due to the same blood-red pigmentation. Fortunately for Channel Marker, both fruit varieties overlap seasonally for their pomegranate juice and fresh pressed blood orange cider.
Channel Marker Cucumber Blackberry
6% ABV
Nestled between the lush Cascade Mountains and the salty Puget Sound, the maritime climate and adventurous spirit of Seattle provides the inspiration for Channel Marker cider recipes. And they source, forage, and grow many of their ingredients from around the Sound — their backyard. Their Cucumber Blackberry semi-dry cider blends their backyard-grown cucumbers with sweet blackberries.
Channel Marker Raspberry Rainbow Peppercorn
6.5% ABV
Channel Maker's new Raspberry Rainbow Pepper features a co-fermentation of raspberry and apple that's finished with an infusion of freshly cracked white pepper, which gives the jammy cider just the right amount of peppery bite.
LINK: Peaks & Pints cooler inventory
---