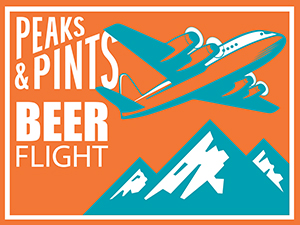 During fresh hop season, the hop cones go straight from the vine to the beer in a matter of hours. The result is a wonderfully aromatic, fresh-tasting creation. But fresh hop beer isn't easy being green. The brewhouse fermenter sits empty waiting for the phone call. It's an eternity if there's only three fermenters. After the hop farm gives the green thumbs up, a few brewers hit the road while the others begin the brewing process. At the farm, the brewers fill huge bags full of the wonderful smelling fresh hop cones knowing that they need to arrive back at the brewery before the boil. A new round of fresh hop beers has arrived at Peaks & Pints. Therefore, we present another in-house flight of fresh hop beers — this time naming it Peaks and Pints Beer Flight: Even More Fresh Hops.
Peaks and Pints Beer Flight: Even More Fresh Hops
Steeplejack Fresh Hop Tropical Pilsner
6.2% ABV
In 2019, Brody Day and Dustin Harder converted a Portland church into Steeplejack Brewing, a brewery, taproom, and restaurant that still looks like a church — a very cool church. The building's stained-glass windows loom above the brewery's tanks and bar, and pews serve as banquettes for the wooden tables at the center of the space. Their bright and punchy Fresh Hop Tropical Pilsner is brewed with fresh Strata hops that hits the noes with melon notes and a whiff of dank cannabis, followed by herbal musky, melon rind and dank catty flavors with showing of spice and tropical fruit skin.
Kings & Daughters Fill Your Cup (Fresh Hop 2023)
5.3% ABV
Like many brewers in Northern Oregon, Kyle Larsen got his start at Full Sail Brewing. Then, in 2010, he walked across the street to Double Mountain Brewery and became head brewer for two other Full Sail alums — Matt Swihart and Charlie Devereaux — while earning a Masters in Brewing Science and Engineering from Heriot Watt University, a public research university based in Edinburgh, Scotland. After a long stint at Siren Craft Brew in the UK, Larsen returned to the Columbia Gorge to add his talent to Thunder Island Brewing and Trap Door Brewing before he and his wife, Kacie, opened their own Kings & Daughters Brewery via Back Forty Beverage, a contract brewery where Larsen serves as acting operational brewmaster. Larsen's fresh hop Fill Your Cup is soft but bold, gentle yet bitter, hoppy with the fresh hop characteristics of pine, dank and grassy with subtle tropical and citrus notes.
Postdoc Fresh Hop Alpha Factor
6.8% ABV
In 2021, the alpha factors were Cascade and Centennial hops. In 2022, the alpha factor was Simcoe hops. This year, the alpha factor is back to just Centennial. Indeed, this fresh hopped version of Postdoc Brewing's Alpha Factor IPA features the same base recipe but with a fresh twist — the normal whirlpool addition of hops has been replaced with fresh Centennial hops picked on brew day and delivered to the brewery within hours. Expect more fruit flavor than dankness or bitterness.
Bale Breaker Fresh Hop Frenz IPA: Russian River
6.9% ABV
Every fresh hop season, Vinnie and Natalie Cilurzo of Russian River Brewing in Santa Rosa, California, would visit Bale Breaker Brewing's family farm, Loftus Ranches, each harvest for hop selection. Naturally, Bale Breaker and Russian River became friends. "Bale Breaker was still just a dream of ours when we first met Vinnie & Natalie," says Meghann Quinn, co-owner of Bale Breaker via a news release. "Our shared passion for high-quality hops and high-quality beer is a big part of what inspired us to start Bale Breaker. Our friendship has continued to grow over the years during their annual September trips to Yakima, so we couldn't be more stoked to finally brew a Simcoe fresh hop IPA together during harvest this year. Fresh Hop Frenz West Coast IPA releases captivating aromas of grapefruit, peach, mango, and resin and features freshly picked Simcoe, Citra Cryo, and HBC 586 hops.
Little Beast Little Green Men Fresh Hop Hazy IPA
6.8% ABV
Little Beast Brewing's Little Green Men Fresh Hop Hazy IPA is crafted with Skagit Wintmalt and freshly picked Azacca hops, both grown at Goshie Farms. Expect a blast of tropical fruit, hints of pine and spice, plus a soft and smooth body.
LINK: Peaks & Pints beer and cider cooler inventory
---