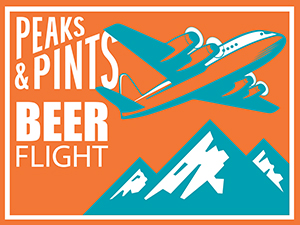 If this was a standardized test the question would be, The Rocky Horror Picture Show is to movies as (blank) is to craft beer." The answer? Pastry stouts. Peaks and Pints will prove it today as we offer an in-house Rocky Horror themed beer flight for your pre- and post-Rocky Horror enjoyment. Tacoma Arts Live presents the original unedited movie with a live shadow cast and audience participation at 7:30 p.m. Saturday, Sept. 30 at the Pantages Theater in downtown Tacoma. Patricia Quinn who played the Magneta character — the maid and Riff Raff's sister — will be in the house. No doubt she'll be watching the costume contest tonight. The Rocky Horror Picture Show is more than just a movie just as pastry stouts are more than just imperial stouts. The film has become a community and a safe space for viewers to congregate and participate in the singing, dancing, acting, and dressing up in elaborate costumes. It is an opportunity to see oneself in a film; it provides a place for self-expression. Pastry stouts — decadent, sticky, high-alcohol, highly sweet, adjunct-heavy imperial stouts — are a delicious canvas for brewers to express themselves with lactose, molasses, vanilla, cinnamon, candied ginger, and gingerbread cookies, just to name a few ingredients. The cavity-forward stouts allow brewers to glam up their beers, centered around fun, around ostentatiousness, madness, and good times for all. Stop by Peaks before or after the screen and enjoy Peaks and Pints Beer Flight: Rocky Horror Pastry Stouts.
Peaks and Pints Beer Flight: Rocky Horror Pastry Stouts
Bombastic Pandemonium
10.5% ABV
Pandemonium, an Australian flick, directed by Hayden Keenan and released 1988, is surreal, an antipodean dreamscape with lashings of The Rocky Horror Picture Show — at least in the campy. It's a stretch, but this connection allows us to highlight Bombastic Brewing's delicious pastry stout. Their Pandemonium imperial stout is brewed with peanut butter, marshmallow, and vanilla to simulate fluffernutter flavors, but expect more fluff than nutter.
Narrows Gloom
11% ABV
Rocky Horror as filmed in the UK, in an old building next to the Hammer House of Horror studios. It wasn't an actual set: it was an old Victorian gothic revival house a paddock away from the studios that had been used for other films, including the horror movie The Innocents. Listed, gloomy and semi-derelict, with its owner living abroad, it was perfect for the movie. Speaking of gloomy … before Narrows Brewing Head Brewer Matt Rhodes left Tacoma to become the R&D head brewer at Fort Gorge Brewery in Astoria, Oregon, he and longtime assistant brewer Zach Dowling brewed Gloom, a high-octane imperial stout aged in Heaven Hill bourbon barrels for 30 months and then finished on Tahitian and Mexican vanilla beans, and Ghanaian cacao nibs. New Narrows Brewing owner and head brewer Parker Rush grabbed the Gloom reins and, with the help of Dowling, brewed a new batch of Gloom — a bourbon barrel-aged then cold conditioned on vanilla beans and cacao nibs imperial oatmeal stout with chocolatey depths, bourbon notes and vanilla.
Breakside Are You Afraid of the Dark?
13.3% ABV
Are You Afraid of the Dark? is the third wood-aged stout that Breakside Brewery has blended and released this year just in time for Rocky Horror's dark and stormy night setting. The Portland, Oregon, brewery, has a longtime fondness for aging beers in apple brandy barrels, which is did for this imperial stout blend.  They grabbed a 2-year-old barleywine in a set of Clear Creek apple brandy barrels and blended it with a mix of lighter bodied chocolate stouts that had aged in some top tier rye whiskey and bourbon barrels. These brought light cocoa and more caramel into the barleywine's mix of boozy orchard fruit. To finish things off they added rich, aged beers that amped up the body and sweetness while also contributing subtle notes of chocolate chips, Oloroso sherry, and smoke.
Mason Ale Works Caramel Chaos
13.5% ABV
When it was first released in 1975, campy musical comedy The Rocky Horror Picture Show seemed likely to sink into oblivion. It bombed at the box office and with critics, with The New York Times deeming it "a low budget freak show" and Roger Ebert calling it "cheerful and silly, and kind of sweet, and forgettable." Instead, the film became a cult classic, with midnight screenings regularly held across the country where audience members dress up as their favorite characters. Like many other cities, Houston has a theater troupe dedicated to the film, one that performs before and during screenings. The Royal Mystic Order of Chaos has been staging such shows monthly. This pastry stout is for you, Royal Mystic Order of Chaos. Made with sea salted caramels, Mason Ale Works' Caramel Chaos is buttery, sweet, and smooth.
Evil Twin Bozo Beer
17.2% ABV
Evil Twin Brewing brewed Bozo Beer to make fun of the kind of overkill deployed by craft brewers such as Mikkeller, and enjoyed by bozos such as tall, muscular, handsome blond male named Rocky. They molasses, lactose, chocolate, almond, hazelnut, vanilla bean, cinnamon, oak spiral, chili, marshmallow, Muscovado sugar, and coffee to make a crazy high alcohol by volume imperial stout. It pours thick and dense, hitting the nose with coffee, chocolate, marshmallow, nuts, creamy vanilla, molasses, cinnamon, chili peppers, and cinnamon. It's not a hot mess, but rather offers roastiness, marshmallow, vanilla, coffee, chocolate, and molasses initially, with the almonds and hazelnuts checking in next. The cinnamon and chili peppers come in late but are understated. The alcohol warmth follows but not aggressive.
LINK: Peaks & Pints beer and cider cooler inventory
---
Category:
Beer Flight
,
Beer Line Blog
,
Craft Beer
,
Critical Drinking
,
Crosscut Flight
,
Events and Festivals
,
Peaks and Pints Prefunk
,
Proctor District
,
South Sound
,
Specials
,
Tacoma events