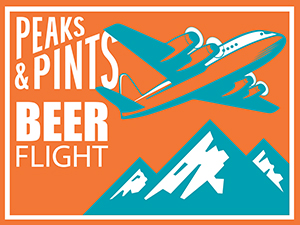 In April 2016, Matt Tarpey, Dustin Durrance, and Dave Michelow opened their The Veil Brewing doors in Richmond, Virginia's Scott's Addition Historic District. They opened with a 450-gallon coolship in their building, previously a church, complete with raised ceilings, imposing stone, black leather, white taxidermy, and a 40-foot-long cement bar. This past spring, The Veil moved several blocks down the road to open an 8,262 square foot taproom, three times the size of their founding space, bring their Richmond footprint to four locations. The Veil Brewing focuses on super hoppy beers, heavily fruited sours, dense stouts and barleywines, spontaneous wild ales, lagers, and a little bit of everything in between. Today, Peaks & Pints presents an in-house flight of The Veil — a flight we're calling Peaks and Pints Beer Flight: The Veil Brewing.
Peaks and Pints Beer Flight: The Veil Brewing
The Veil Deathless
5% ABV
Introduced by Spaten in 1841, and officially dubbed "Oktoberfestbier" in 1872, Märzen (pronounced maer-zen) is a medium-body amber lager exhibiting a good deal of sweet maltiness and healthy hops. Slightly stronger than most pale lagers, typically in the 5–6.5 percent alcohol by volume range, Märzen derives its name from the German word for March, März, the month when these beers are brewed. The Veil's Deathless is a traditional Märzen style lager with toasted, biscuity malt and some beautiful caramel complexity plus floral European hops.
The Veil Master Shredder3 (cubed)
5.5% ABV
The Veil's Master Shredder is their house IPA that's heavy on the Mosaic with juicy notes of cantaloupe, melon, orange, and blueberry. Master Shredder3(cubed) is the triple dry-hopped version of their Mosaic forward house IPA with big juicy citrus aroma of orange zest, grapefruit, and a touch of lime dankness. The hop flavor is similar with a sweet beginning but finishes with a bit of bitterness to prevent it from being cloying.
The Veil I Love To Laugh
6% ABV
New Zealand Cascade features largely the same pleasant and distinctive Cascade characteristics enjoyed by its US twin but are higher in alpha acids and offer more tropical notes than traditional US grown Cascade hops. The Veil's West Coast-inspired I Love To Laugh IPA is brewed with two types of wheat and 100 percent New Zealand Cascade hops from Freestyle Hops. Expect aromatic notes of white grapefruit and papaya followed by relatively dry and crisp tropical flavors.
The Veil Crucial Taunt
8% ABV
Valued by brewers and beer drinkers for the intense fruity aromas and flavors it imparts to beer, Citra was released by the Hop Breeding Company in 2007 and quickly became one of the most popular hops in the craft beer world. As hop bloodlines go, Citra has a complicated lineage including Brewer's Gold, Hallertauer Mittelfrüh, US Tettnanger, and East Kent Goldings. The Veil's Crucial Taunt is their beloved house Citra-forward double IPA brewed with Citra, Citra Cryo, Ekuanot, and CTZ hops for orange candy, citrus zest, and pineapple juice notes.
The Veil Tomb
9.9% ABV
After 7.6 percent ABV, an IPA is considered a double, and after 10 percent it becomes a triple, at least according to Peaks & Pints. It's a general rule of thumb, but plenty of brewers release triples as doubles, and vice versa. Just short of what we call a triple IPA, the Tomb is a hazy double brewed with Galaxy, Citra, Columbus, El Dorado, Motueka, and Waimea hops for notes of fruit juice, juicy orange, white strawberry, and citrus zest.
LINK: Peaks & Pints beer and cider cooler
---