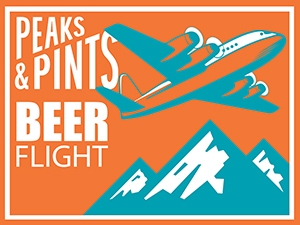 File Under: Things that get you buzzed. Like many folks, you might be a slave to chemical rituals. Caffeine in the morning, and booze at night. In the name of efficiency, Peaks & Pints recommends combining the two at every opportunity. The pairing of roasted barley with roasted coffee is so natural; it's almost surprising these stouts and porters didn't catch on sooner. But coffee beers didn't really start to percolate until the mid-'90s. But almost no one argues with the inspiration — porters and stouts tend to rely on a roasty malt bill already, conjuring subtle coffee aromatics and flavors, especially in the finish. If you mean business, and want two buzzes in one (no, they don't cancel each other out…), then pull up a chair to Peaks and Pints Beer Flight: Coffee.
Peaks and Pints Beer Flight: Coffee
Structures Coffee Forest King
5.3% ABV
English Brown ales are copper to dark brown, medium-bodied beers. They offer mild maltiness with caramel, biscuity and sometimes toasted qualities and commonly range from 4.2 to 6 percent ABV. Style aficionados distinguish between the northern English brown with its light nutty accents and the southern English version that's a little darker and sweeter. Structures Brewing's traditional English pub style brown ale falls more into the southern style with a dry and ashy nose. Flavor follows the same lead as the aroma but offers more depth and complexity with a rounder nutty undercurrent and some dry bitter bakers chocolate. With the coffee version, this pub style brown ale is conditioned on Steed Roasters Bygone Blend.
E9 The Bearer
6% ABV
E9 Brewing's The Bearer coffee porter base consist of lightly burnt, black malt character, plus a bit of roasty dryness in the finish. This base is then cold steeped with an organic Guatemalan and Sumatran blend from Caffe Vita to impart a bold yet balanced coffee backbone with hints of dark chocolate and brown sugar
Alesmith Barrel-Aged Speedway Stout German Chocolate Cake
12% ABV
Speedway Stout has been a favorite in AleSmith Brewing Company's year-round lineup since 1999. The 12-percent imperial stout's flavor is dominated by chocolate and roasted malts, which are complemented by a healthy dose of coffee added to each batch. While the stout is topnotch just the way it is, its well-balanced profile and smooth drinkability make it the ideal candidate for the AleSmith team to use to flex their creative muscles. Once a year they decide to push the limits and create exclusive one-off variations of Speedway Stout that are sure to impress. Their Barrel-Aged Speedway Stout German Chocolate Cake is brewed with cacao nibs, toasted coconut, roasted pecans, and coffee.
Epic Brewers Keep Big Bad Baptist
14.1% ABV
Epic Brewing's Big Bad Baptist is a luxuriously rich imperial stout aged in used whiskey and bourbon barrels and then infused with real coffee and cacao nibs. The base beer of variant Brewers Keep Big Bad Baptist is the highest gravity beer ever brewed at Epic in Salt Lake City, Utah. Using only choice bourbon barrels and in-house techniques, they created a beer with coffee and cacao flavors only attainable through true craftmanship.
LINK: Peaks & Pints beer and cider cooler inventory
---