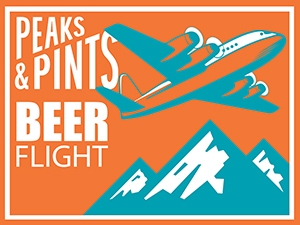 A brewer with an international reputation, Gabe Fletcher, the head honcho at Anchorage Brewing, started his career at Midnight Sun, another Alaskan brewing company. After 13 years of helping cultivate an image of creating adventurous beers, Fletcher decided to part ways with Midnight Sun and strike out on his own. In 2011, Fletcher released his first Anchorage beer. Turns out Fletcher's meticulous attention to detail and brewing expertise combined to make some amazing beer — from fresh-brewed hazy IPAs to mixed culture fermented fruit beers to barrel-aged stouts and barlywines. The brewery took off, eventually moving to its own brick and mortar in 2014 complete with rows and rows of foeders. Today, Peaks & Pints presents an in-house flight of recently arrive Anchorage beers our cooler — a flight we're calling Peaks and Pints Beer Flight: Anchorage Brewing.
Peaks and Pints Beer Flight: Anchorage Brewing
Anchorage It's OK, I'm Here
6% ABV
This New England-style IPA brewed in Anchorage has loads of Phantasm Powder to accentuate the flavors of the hazy's Nelson and Mosaic hop profile. For the uninitiated, Phantasm Powder is made from freeze-dried Sauvignon Blanc grape skins, which contain a lot of thiols — the same stuff that produces the fruity characteristics in hops. Expect notes of tropical coconut, ripe pineapple, and lavish blueberry.
Anchorage Maelstrom
6.4% ABV
A delicious IPA brewed with Mareko Maumasi of Maumasi Fire Arts — arguably one of the best chef knife makers in the world. Maumasi flew up to Anchorage to help Fletcher dial in his skills as a knife maker. With this IPA they used a few new hopping techniques and tried some new techniques with the phantasm powder, as well as double dry hop it with Riwaka, Nelson Sauvin, and Mosaic. Boozy and sweet on the nose, and juicy, juicy, and sweet.
Anchorage Don't Think About It
8.4% ABV
Peaks & Pints says, "Think about it!" Think about how Citra Incognito, Simcoe, Motueka, Sabro, and Talus hops add aromas of grapefruit and pine needles followed by sweet stone fruit and pineapple noter to this double hazy IPA. Think about the how thiol-boosting yeast magnifies its juiciness. Actually, stop thinking and get to drinking this pillowy soft beauty.
Anchorage Kamimura
15% ABV
Anchorage Kamimura's Double Oaked Imperial Stout is fermented in oak foeders, then transferred to freshly emptied Willett Bourbon barrels for an additional 6 months. It's finished on Kona coffee and Hawaiian vanilla beans — both in perfect harmony with amazing barrel character and moderate viscosity.
LINK: Peaks & Pints beer and cider cooler inventory
---