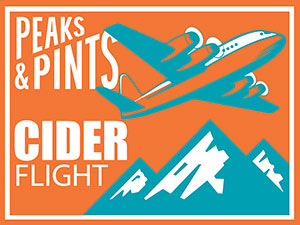 Yesterday, we didn't watch the Husky football. We didn't watch Coug football either. The Pac-12 CEO Group voted unanimously to postpone all sport competitions through the end of the 2020 calendar year. We're left with watching overrated SEC teams play each other. We don't think so. Hopefully, the NFL will give us desperate college football fans the fix we need. Some teams will have empty stadiums while others have plans for socially distanced limited attendance, but the games will go on. The Seahawks kick off their season at Atlanta at 10 a.m. today. Since we're crate deep in the 10th Annual Washington Cider Week and to-go cider flights, we suggest pairing today's game with cider made in Seattle. Yes, you'll need to grab this flight at halftime, but Peaks and Pints 2020 Washington Cider Week Flight: Made In Seattle is worth it.
Peaks and Pints 2020 Washington Cider Week Flight: Made In Seattle
Yonder Dry
6.5% ABV
Founded by CEO Caitlin Braam, Head Cidermaker Tim Larsen and Creative Director Maddy Porter, Yonder Cider's taproom is a stone's throw from Seattle's Green Lake and a drive from the orchards and pressing facility in Wenatchee. Their Dry is bright, light and refreshing with the bite of bittersweet apples.
Greenwood Blush
7.3% ABV
A year ago this month, home fruit fermenters Marshall Petryni and brothers Andy and Ryan Short opened Greenwood Cider Co. just off of Lake City Way in North Seattle. It went from hobby to 600 gallons a month quick. Originally conceived for a wedding, their semi-dry Blush is made with strawberries, raspberries, blueberries, and blackberries for strawberry sweetness upfront followed by a tart black and raspberry finish.
Schilling Passport Pineapple Passionfruit
6.7% ABV
In 1881, Colin Schilling's great-great-grandfather, August, founded the Schilling Spice Company in San Francisco, with a goal of bringing pure, natural spices to everyone at a fair price. Today, at Schilling Hard Cider, August's core values are carried forward and paired with innovative cider-making techniques to produce quality and complex hard ciders that, according to media hype, is the number on selling craft cider with three taprooms — Auburn, Seattle and a 50-tap cider house in Portland — and retail in 20 states. Think about all that plus the fact that Schilling uses only 100 percent fresh pressed apples, locally sourced non-GMO ingredients, and individually hand-selected yeast strains with beer yeast rather than wine yeast (Schilling likes beer yeast rather than wine yeast for the malt flavor) as you enjoy this unfiltered cider made with juices of fresh pressed apple, pineapple and passionfruit. The nose arrives with huge pineapple and apple — granny smith and pink lady jump — with some lavender, rose petal, ginger, lemon zest and passionfruit. On the tongue, expect ample apple, passionfruit and pineapple sweetness as well as a touch of citrus and sour bite.
Seattle Cider Pumpkin Spice
6.9% ABV
Joel VandenBrink, the founder of Two Beers Brewing Co., launched the Seattle Cider Company in August 2013, with the help from his Two Beers sales rep and a former farm hand Eric Willard. Diagnosed with Crohn's disease, which makes beer difficult to digest, VandenBrink launched the cider company with only two products: Semi Sweet and Dry. Today, Seattle Cider has many options, including Pumpkin Spice. We'll tell you what we want, what we really really want: a cider spiced with cinnamon, nutmeg, clove and allspice. It's pumpkin pie's long-lost love.
---