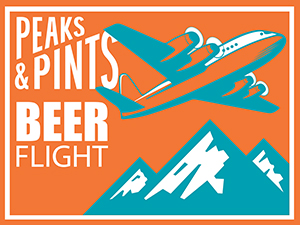 Chicago Tribune beer writer Josh Noel penned the term "pastry stout" in his recap of the 2018 the Festival of Wood and Barrel-Aged Beer, or FOBAB, after finding a surprising number of cake and cookie-inspired beers — gingerbread, German chocolate cake, milkshakes, etc.— at the annual Chicago beer festival. What is a pastry stout? Stouts made with any number of baking ingredients, such as cinnamon, coconut, chiles, cacao nibs, (Noel also includes coffee in this mix, but Peaks and Pints thinks that's crazy talk). Critics believe some of these beers have taken flavor additives too far and obscured the soul of good beer, but there are some delicious examples to seek out, such as the pastry stouts in our to-go flight today, Peaks and Pilots Program: Pastry Stouts On the Fly. No judgment.
Peaks and Pilots Program: Pastry Stouts On the Fly
Icicle Brewing Dark Persuasion
6.5% ABV, 22 IBU
Icicle Brewing Co. sits in the Bavarian theme park known as the city of Leavenworth, which seems perhaps the most appropriate place for a brewery. Owner Oliver Brulotte, who has deep family roots in Washington's hop farming history, basically launch the Wenatchee Valley's craft-beer boom. The brewery draws their water from nearby Icicle Creek, a run-off from surrounded by numerous mountain ranges including the Stuart Range and Wenatchee Mountains. And, Icicle Brewing makes a liquid German chocolate cake, Dark Persuasion. Seriously, this stout tastes exactly like German chocolate brownie, with strong chocolate and coconut notes, a touch of vanilla and a smooth finish.
Belching Beaver Viva La Beaver
7.5% ABV, 28 IBU
Kick your peanut butter fix up a notch with Belching Beaver Brewery's Viva La Beaver. This award-winning milk stout dances with creamy peanut butter, cinnamon and cocoa nibs flavors. Peaks and Pints also picks up notes of roasted coffee, cookie dough, fudge, brownie batter, cappuccino, toffee and dark roasted malts upfront, as well as a little vanilla on the mid-palate. This decadent milk stout is the definition of pastry stout.
Skookum Parlor Trick
10% ABV
You know how your better half always eats the chocolate layer and leaves the vanilla and strawberry. By the way, what kind of person does that? Anyway, get all the Neapolitan ice cream flavors when you tip the Skookum Brewery Parlor Trick can. The oatmeal stout is brewed with cocoa powder, finished with strawberry puree and conditioned on whole vanilla beans. Chocolate is the dominant flavor, which we're cool with, followed by light strawberry and vanilla.
Ex Novo Kill the Sun Mexican Hot Chocolate
11.8% ABV
Ex Novo Brewing's Kill The Sun imperial stout is aged in Heaven Hill Distillery and westward Whiskey barrels for notes of vanilla, roasted malts, oak, bourbon whiskey, toffee, and roasted marshmallow. Their Mexican Hot Chocolate variant adds lactose, chocolate, vanilla, cayenne and nutmeg to mimic the Mexican treat, which Mexicans have imbibed in since the Aztecs were stuck in caves in Aztlán.
The Bruery Bakery: Coconut Macaroons
12.2% ABV
Macaroons, those glorious little cookies that look like an OCD pastry chef's re-envisioning of the hamburger as tiny French patisserie experiment, have become trendy. And unlike the rise of the cupcake, the macaroon is something we greeted with great happiness. Peaks & Pints finds the same happiness when we sip on The Bruery's Bakery: Coconut Macaroons. It's a rich, imperial pastry stout drawn from the decadent flavors of coconut macaroons that's aged in bourbon barrels with coconut and vanilla to attain its pastry-like, amazing flavors.
LINK: Peaks & Pints Cooler new arrivals
---