Morning Foam: The Twang Junkies, Great Notion party, Holy Mountain Demonteller
GOOD MORNING, SOUTH SOUND!
Friday, March 8, 2019 — Micky Dolenz turns 74 today!
Today's Morning Foam was compiled while, thank gawd, watching the Jonas Brothers Carpool Karaoke. …
PEAKS AND PINTS DRAFT HIGHLIGHTS
DEMONTELLER, Holy Mountain Brewing: Holy Mountain Brewing Company is built on a foundation of oak. More than half its beers are aged in oak barrels at some point on their way to your glass. That careful aging process means that sometimes the date the beer is released is not as important to co-founders and brewers Mike Murphy and Colin Lenfesty as it might be to other brewers. Demonteller is a Brett-influenced, foudre-aged saison that is tart, oaky, spicy and light in body. 5.1%
HEFEWEISSBIER, Weihenstephaner: Weihenstephaner lays claim to being Germany's oldest continuous operating brewery, tracing its roots to an abbey brewery officially licensed in 1040, with evidence in the abbey's records that it was receiving hops (and therefore probably brewing) as early as 768. Today the brewery is owned by the State of Bavaria and is the "house" lab for a top brewing- and fermentation-sciences school. Everything the brewery produces is well worth sampling, but the Hefeweissbier is something special. It's unfiltered, giving it a cloudy appearance and a prominent yeastiness. The yeasts contribute the banana and clove aromas associated with the style. You might even detect some bubble-gum-like flavors. Weihenstephaner Hefeweissbier is the gold standard of the style and is hard to beat. 5.4%
FRUITOPIAN NOYAUX, Cascade Brewing: Two years ago, Cascade Brewing released Fruitopian Noyaux, a blend of a sour triple and a wheat ale that is aged for up to 24 months in oak wine and bourbon barrels with tangerine peel, blackcap raspberries and apricot noyaux. It has complex citrus and berry fruit notes with hints of bourbon and toasted almond. 9%
CRAFT CHOICE CLICKABLES
Hurry! Portland's Great Notion Brewing celebrates the launch of their new NW 28th location with the sale of the remaining 425 Bourbon Barrel Double Stack single bottles at noon today.
Breakside Brewery has added a new beer to add to its year-round lineup: True Gold, a "West Coast Golden Ale," brewed with Galaxy and Mosaic hops hugging a light maltiness, resulting in a lager-like beer that is contemporary in its very light hop flavor sans heavy bitterness.
In 2017, Melissa Hoffman won a Pink Boots scholarship. Today, she runs Lost Rhino's cellar, heads the lab and quality assurance program, and leads employee training. Click here for more females in craft beer success stories.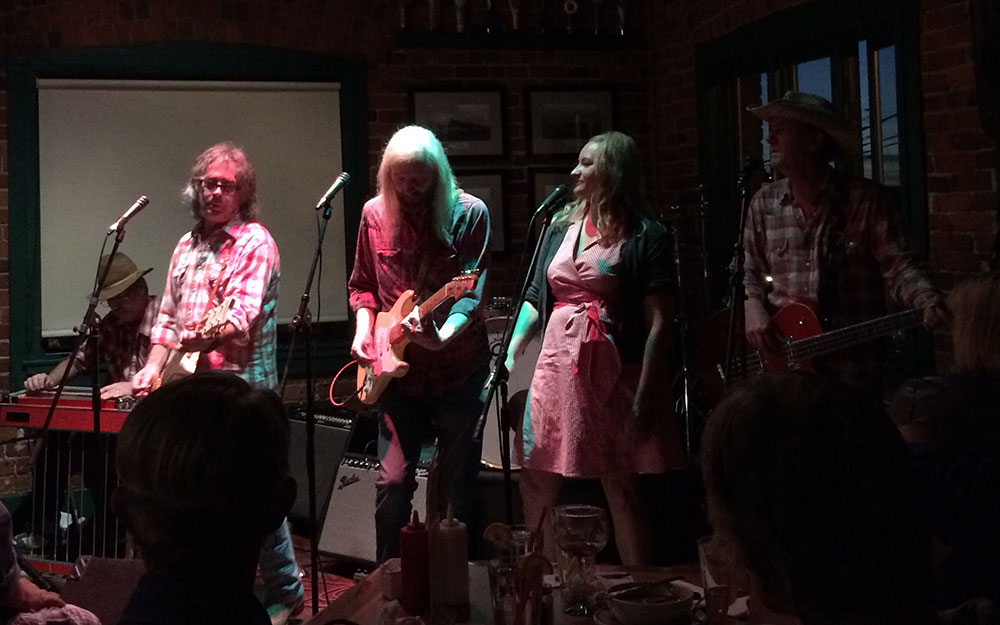 TODAY'S LOCAL STEW
APOLLO 11, The Grand Cinema: The first moon landing is chronicled in never-before-seen documentary footage. Or so Stanley Kubrick would have us believe! 11:50 a.m., 2, 4:10, 6:20 and 8:30 p.m., $5.50-$8, 606 S. Fawcett, Tacoma
STEVE'S DRUNK HISTORY: GET READY TO ROCK, The Broken Spoke: Steve Dunkelberger will drink a bunch of canned beer to make him tip over and then he'll recount Tacoma's contribution to music history. 6-8 p.m., no cover but donations gladly accepted for The Knights of Pythias, 1014 Martin Luther King Jr. Way, Tacoma
THE TWANG JUNKIES, The Valley: The country genre nowadays often seems to favor superstar pop-artists, and one can also admit that it has lost a lot of original flavor and a great amount of heart and soul. The Twang Junkies are loaded with original flavor and soul. The Tacoma band moseys up to the bar with Cash, Haggard, Hank and Earle on one side and Jagger, Lennon, Bowie and Gibb on the other, then taking The Valley tonight with their own blend of alt-country: a Southern twang bass with a hint of indie rock. Steve Aliment's Albro Swift Exit and Shagnasty open. 9 p.m., 1206 Puyallup Ave., Tacoma
---