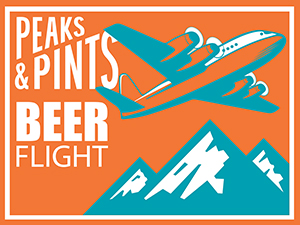 In ancient Europe, brewing was almost exclusively a woman's role. The medieval times, however, brought about the frequency of brewing in monasteries to accommodate travelers, and as time passed, the number of female brewers dwindled, brewing in the home became rare, and commercial taverns became a predominantly male domain. Today, while women have since shed the label of "alewives," they are continuing to infiltrate what has since become an XY-dominated scene by owning and running breweries. Women leading craft beer businesses certainly isn't unusual. You likely know the names of the women in beer pioneers, such as New Belgium's Kim Jordan, Odell's Wynne Odell, Jennifer Glanville from Boston Beer, Lost Abbey's Gwen Conoley, Brewmaster Veronica Vega at Deschutes and Portland's first female head brewer Whitney Burnside of 10 Barrel Brewing. Today, Peaks and Pints celebrates International Women's Day with craft beer's other female brewers in our Craft Beer Crosscut 3.8.19: A Flight for International Women's Day.
Craft Beer Crosscut 3.8.19: A Flight for International Women's Day
Oskar Blues Guns 'N' Rosé
6% ABV
Oskar Blues Brewery employs many a female brewer at its brewery in Lyons, Colorado. Brewer Diana Locatelli, brewers' assistant Lauren Laquerre and cellar workers Kristin Hubbard and Sara Laurienti all started out as homebrewers who have now translated their passion for great craft beer into jobs in the industry. Laurienti has been with the Oskar Blues family since she was 16 years old, Locatelli and Hubbard are both coming up on their three-year anniversary milestones with the company, and Laquerre recently joined Longmont production. Their Guns 'N' Rosé is a crisp rosé-style ale tart, prickly pear and floral hibiscus combine with a subtle hop profile for a refreshing, spritz-y rosé beer.
Heater Allen Pilsner
5% ABV, 38 IBU
Beer is a family business for Heater Allen, a lager brewery that opened McMinnville, Oregon, in 2007. "Heater" is Rick's wife Jan's maiden name, and "Allen" is his last name. He figures that you should always give your wife first billing. While Rick has little German heritage on his side of the family, most of Jan's family is of German descent. Their daughter, Lisa, who works for the brewery, is a true Heater Allen. In 2009, Lisa left a career in the wine industry to join her dad's two-man crew. Since Lisa came on the scene, Heater Allen has grown from a six-barrel to a 15-barrel brewhouse, producing a record 1,250 barrels of beer in 2017. Their Pilsner is their take of the renowned Bohemian-style pale lager that you might find in Bavaria or the Czech Republic. Heater Allen's version is a little more golden, rounder, and a little more malt driven than many other versions. The beer possesses strong hop character that is balanced by its rich, round, malty palate.
Stoup All Smiles IPA
6.7% ABV
Scientist Brad Benson and foodie Lara Zahaba opened Stoup Brewing in Seattle's Ballard neighborhood in 2013. Washington state's first female Cicerone, Robyn Schumacher, became Stoup's third partner, assisting Benson in the brewing room. Schumacher started her career as a high school biology teacher, but after 13 years in the classroom, her dreams of becoming a professional brewer — along with her lifelong passion for great beer and unstoppable homebrewing skills — came true with a huge smile when she helped open Stoup. Speaking of smiles, her All Smiles IPA is a Simcoeholic's dream. It's brewed with Simcoe, Simcoe Extract, Simcoe Lupulin and, for safe measure, some Mosiac Cryo and Citra Cryo, for a skunky, bitter delicious IPA.
21st Amendement Blood Orange Brew Free! Of Die IPA
7% ABV, 70 IBU
21st Amendement Brewery's Jocelyn Havel is a badass. Not only is she pursuing a PhD in chemistry, but she was also the only girl on her high school's wrestling team, trained in jiu jitsu, and voted homecoming queen. Brewer Havel's Blood Orange Brew Free! Of Die IPA is a citrusy combo of Citra hops and orange. It hits the nose with strong orange, with notes of pine and fragrant ale malts. The taste is medium bitter, but sweetened by strong orange and subtle pine.
Pacific Brewing The Skoog IPA
8.1% ABV, 73 IBU
Bethany Carlsen developed a love for craft beer and started making her own beer about eight years ago when she left her job as a personal trainer to start serving at The Ram in Northgate — with an eye on a brewer job. After a few months an assistant brewer quit and The Ram offered her the part-time position. She took it, and was quickly moved up to being the full-time assistant brewer at the Seattle Ram. She was there for two years before the head brewer position opened up at the Puyallup Ram. Bethany was the head brewer in Puyallup for a little over a year. She left the Ram and joined the Pacific Brewing & Malting Co. where she quickly earned the head brewer job. The Skoog, the brewery's flagship beer originally known as Dirty Skoog, is named after The Skoog Saloon, a blind pig speakeasy that is rumored to have operated somewhere in Old Tacoma during Prohibition. The Skoog is a medium-bodied double IPA with a crisp and refreshing bitter character balanced with malt character.
---