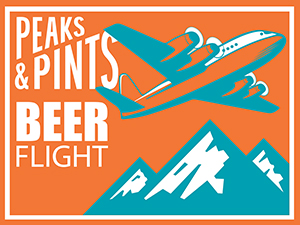 Hops are a perennial vine with the scientific name Humulus lupulus, which means "small wolf," a reference to its aggressive climbing nature and tendency to take over other nearby plants. There are more than 120 different hop varieties used today. To be a true fan, the appeal of hops has to be more than just bitterness. Hops offer a range of flavors and aromas that resemble herbs, pine, tropical fruits like grapefruit and tangerine and more. Citra hops, well, the name says it all. A relatively new hop on the scene (released in 2008 by Hop Breeding Company of Yakima), Citra adds the trademark blend of juicy citrus and tropical fruit that have made them so sought-after in the brewing industry. Citra your butt down at Peaks and Pints and enjoy our beer flight today, Craft Beer Crosscut 3.7.19: A Flight of Citra Hops.
Craft Beer Crosscut 3.7.19: A Flight of Citra Hops
Pacific Potomac Citra Pale
6% ABV, 42 IBU
Pacific Brewing & Malting Co. co-owner and head brewer Steve Navarro never intended to brew his popular Potomac Citra Pale when the brewery opened in late 2014, but when he asked his Yakima hop supplier what they had in special, the supplier said, "Well, I'm not suppose to give this out … but we have 22 pounds of Citra hops available. Bam! Navarro's planned four flagship craft beer repertoire became five. Potomac Citra Pale is a medium bodied single hop beer showcasing Citra hops with strong citrus and tropical tones of grapefruit, melon, lime and passion fruit.
Deschutes Fresh Squeezed IPA
6.4% ABV, 60 IBU
From one of Oregon's most heralded breweries, Deschutes, comes Fresh Squeezed, a Citra-hopped delight. The mouthwatering, delicious Fresh Squeezed IPA receives a liberal dosing of Mosaic and Citra hops for a mango, pineapple, orange and grapefruit morning fruit cup. While the initial flavors are sweet and fruity, a good dose of hop bitterness comes through near the end, keeping it all in perfect harmony.
Block 15 Emerging Sunshine
6.75% ABV
Block 15 Brewing's Emerging Sunshine is a crisp golden IPA bursting with citrus, mango, and floral notes from Northwest grown Strata, Amarillo, Citra, and Centennial hops. Its crisp 2-row malt base is gently rounded out with additions of flaked barley and honey malt, while fermentation with American ale yeast lends Emerging Sunshine a clean, refreshing finish.
Saint Archer IPA
7% ABV, 66 IBU
Don't let the fact that San Diego-based Saint Archer Brewery was entirely owned by X-Games athletes then bought by MillerCoors throw you — the beer is solid. A chorus of resinous American hops such as Amarillo, Simcoe and Citra provide a citrusy and tropical character that deftly hides the 7-percent alcohol content.
Gigantic Crystal Cloud Polarized Hazy IPA
7% ABV
Gigantic brewers who appear to be normal size have created a hazy IPA that appears to be clear. It's juicy and soft, loaded with Citra, Mosaic and Crystal hops creating citrusy, tropical and dank flavors for pure deliciousness.
---