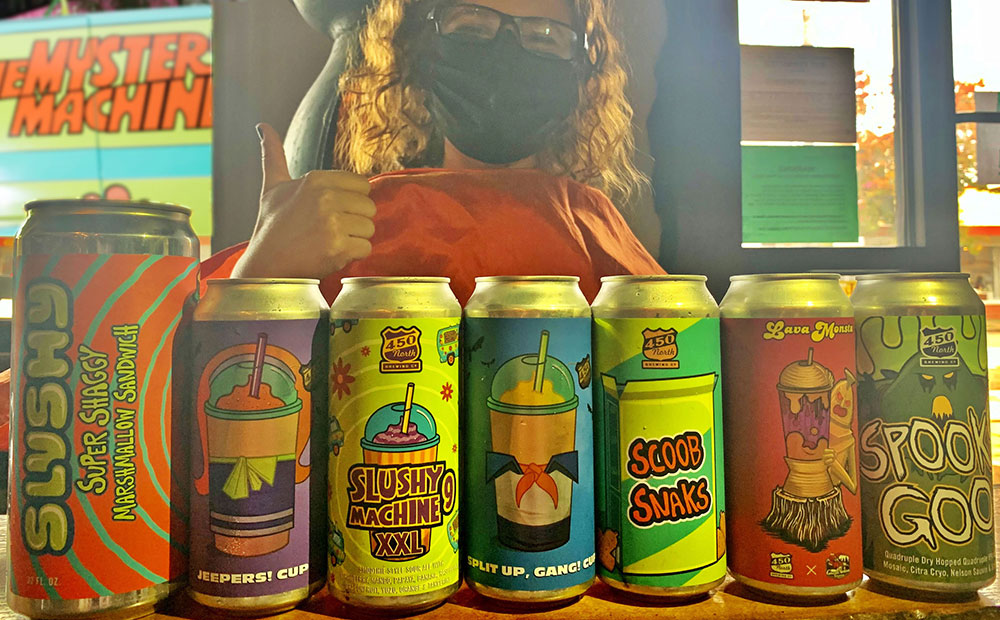 Jinkies! Looks like Peaks has more 450 North snaks!
We all love Scooby Doo for its thinly veiled weed references and campy, nonsensical villains. There's something to be said for a world in which the monster is always just a maniacal old dude in a mask. Seriously, the smoke from the Mystery Machine as it pulls away? That's not coming from the tailpipe, friend. Stoners get a bad rap. They are often thought of as closed-eyed, open-mouthed, pizza roll eating, Scooby Doo watching couch potatoes. Not 450 North Brewing Company. OK, we don't know if the Columbus, Indiana brewery houses a bunch of stoners, but the OG of smoothie style beers sure digs those crazy cartoon kids since many of their beers are named after the antics of Fred Jones, Daphne Blake, Velma Dinkley, Shaggy Rogers, and Scooby-Doo. Jinkies! Looks like Peaks has more 450 North snaks in the house!
"If you're not familiar, 450 North specializes in the most insane smoothie style beers in the market," says Matthew McLaren, brand manager at Orcas Distributors and a Level 3 Advanced Cicerone.  "They are widely credited with starting the smoothie beer craze after a few pictures of their beers went viral a few years ago.  Since then, they've been pumping out the most insane, delicious, and sought-after adjunct laden beers you could imagine."
Scooby Dooby Doo, where are you? At Peaks and Pints, that's where! Stop by Peaks & Pints and grab the following kooky craft beers. …
Jeepers! Cup: Fruited sour with pink guava, mango, pineapple, banana, and Pina Colada.
Lava Monsta Slushy XXL: Collaboration with Great Notion, this fruited sour is brewed with raspberry, cara cara orange, banana, pink guava, cherry, and cherry ice cream.
Scoob Snaks Slushy XL: Fruited sour conditioned on blackberry, oatmeal cookies, graham cracker, vanilla cream, and lactose.
Slushy Machine XXL:  Fruited sour conditioned on nine fruits: strawberry, mango, tangerine, raspberry, banana, papaya, orange, dragonfruit, and yuzu.
Slushy Split Up Gang! Cup: Part of the Collector Cup Series, Split Up Gang! Cup fruited sour has a mystery flavor but has been called a liquid sweet tart.
Spooky Goo DDH Quad IPA: Double dry hopped with Nelson, Citra Cryo, Simcoe, and Mosaic for notes of herbal dankness.
Super-Size Shaggy Marshmallow Sandwich: Thirty-two ounce can of fruited sour with double marshmallow, peanut butter, cara cara orange, peach, banana, vanilla, and lactose.
LINK: Peaks & Pints cooler inventory
---