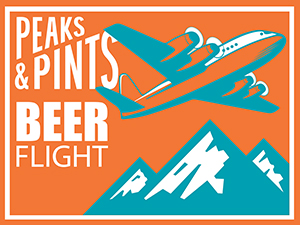 The Cashmere hop was released by the University of Washington in 2013 as a daughter of Cascade and Northern Brewer. Aptly named, Cashmere adds a smooth bitterness when added early in the brewing process. More bitter than Cascade, Cashmere gets its elevated bitterness from Northern Brewer side of its lineage. Due to its decent oil content, Cashmere makes a great dual-purpose hop, which is why you'll find it in many types of beers from IPAs and pale ales to sours and saisons. Cashmere single-handedly transforms a simple saison or sour into quite the interesting beer. And in an IPA or pale ale, its exotic, fruit-forward flavors — coconut, lime peel, herbal, lemongrass, pineapple, and melon — truly shine. Used for its citrusy aroma and tropical notes, Cashmere performs well in super-hazy IPAs where you can really taste its complex fruit characteristics. Today, Peaks & Pints presents a to-go flight of beers brewed with Cashmere. Stop by our craft beer bar, bottle shop, and restaurant in Tacoma's proctor District and grab Peaks and Pints Pilot Program: Cashmere On the Fly.
Peaks and Pints Pilot Program: Cashmere On the Fly
Baerlic Light It Up
5% ABV
Baerlic Brewing brews down-to-earth beers made by down-to-earth guys. In 2014, then-homebrewers Ben Parsons, a graphic designer, and Richard Hall, who earned his paycheck as a bike mechanic, took their work-a-day approach to life and transplanted it into Baerlic, which means "of barley" in old English. Their hazy little pale ale Light It Up is brewed with loads of oats and wheat, plus Citra, Cashmere, and Comet hops for notes of kumquat, pineapple and creamsicle.
Ruse Lunar Anomaly
6.8% ABV
Ruse Brewing is a small Portland based brewery focused on hop forward pale ales, hazy IPAs, lagers and barrel-aged mixed culture beers. Founders Shaun Kalis and Devin Benware are experts of adjunct ingredients and yeasty expressionism. Luscious yet dry, Lunar Anomaly West Coast hazy IPA is brewed with BRU-1, Idaho 7, and Cashmere hops for huge hits of zesty lime and sticky sweet mountain forest.
Offshoot Retreat [this is a hazy double IPA]
6.8% ABV, 50 IBU
Offshoot Beer's Relax [It's Just a Hazy IPA] and Retreat [This Is a Hazy Double IPA] are housed in bright, colorful cans with a person floating on a tube. The name "Retreat" likely references the fact that it's a double IPA rather than the graphic. Offshoot, an extension of The Bruery, brewed this hazy double IPA with a simple malt bill and hopped heavily with fruit-forward Mosaic, Cashmere and El Dorado. Laced with delicate and aromatic tropical notes along with a bright berry medley and a crisp mouthfeel.
Block 15 Animal Cookies
7% ABV
Brewed with Cashmere, Chinook, CTZ, and Mosaic hops, Block 15 Brewing's Animal Cookies Hop Circus Ale is packed with sticky, pungent hops. Unleash a swirling circus of pineapple, tangerine, mango, pine, and dank herbs — balanced with sweet pale malt and malted oats for a soft mouthfeel and gentle finish.
Fort George Crysknife
7.2% ABV, 97 IBU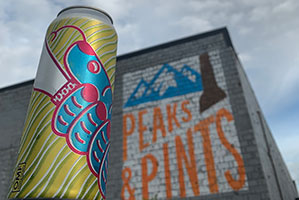 A crysknife was a knife whose blade was made from the tooth of a dead sandworm of Arrakis. It was the weapon of choice for Arrakis denizens, Fremen, a group of people in the fictional Dune universe created by Tacoman Frank Herbert. The author portrays the Fremen as a noble people, distinguished by their fierce fighting abilities and adeptness at survival in on the desert planet. The Fremen captivate us, we sympathize with the difficult lives they live, and we root for their success. Fort George Brewery's Crysknife is a New England-style IPA brewed with the Astoria brewery's BFF, Denver's Our Mutual Friend Brewing. It's a mélange of fruit and spice from Cashmere, Mosaic, Azacca, Citra, and Amarillo hops.
LINK: Peaks & Pints cooler inventory
---