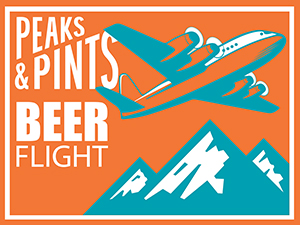 Quads. It's not only what you work on Leg Day or where you go streaking, but it's also the term used to describe the behemoth variation of beer styles: Belgian-style quadrupel and quadruple IPA. We wouldn't fault you for thinking these two beer styles were similar. As with so many terms in brewing, there appears to be a logical connection where there's not. But quadrupels and quadruple IPAs have almost nothing in common, other than that they're both beer. The Belgian quadrupel is the strongest in a series of Trappist styles, often more than 10 percent ABV. It's a dark beer that ranges from black to deep red or garnet, with a rich bold maltiness that combines with yeasty hints of raisin, dates, figs, grapes, and plums. The quad is not hoppy; the quadruple IPA is hoppy. Where the history of Belgian quads stretches back hundreds of years, the quad IPA officially arose, in our minds, in 2003 when Dogfish Head released their 18-percent 120 Minute. While quad IPAs are not an official style, IPAs with 10 percent ABV and higher tend to be the quad benchmark, which is achieved by tossing in a boatload of grains and hops. Today, Peaks & Pints presents a quad to-go flight of two Belgian quads and two quad IPAs — a flight we call Peaks and Pints Pilot Program: Quad vs. Quad.
Peaks and Pints Pilot Program: Quad vs. Quad
Brouwerij St. Bernard St. Bernardus Abt 12
10.5% ABV
BELGIAN QUAD: Brouwerij St. Bernardus' Abt 12 is a classic Belgian dark quadrupel brewed since 1946, on the basis of the original recipe compiled by the Westvleteren monks. The Abt, or Abbot, another name for quadruple, is the highest-ranking monk in the abbey; so perhaps it's no surprise that the brewery sees the Abt 12 as the highest-ranking amongst abbey beers. It hits the nose with banana, tropical fruit, raisins, spices and rum. The flavors come through as intensely fruity, with notes of banana, pineapple, as well as spicy clove, añejo rum and anise. Throughout the sip, spicy pepper and black licorice counter the sweetness before a flash of bitterness segues to the beer's enduring dry finish.
Abbaye Notre-Dame de Saint-Remy Trappistes Rochefort 10
11.3% ABV
BELGIAN QUAD: The Abbaye Notre-Dame de Saint-Remy monks McGyvered their Rochefort Trappistes quadrupel. To elevate the alcohol by volume they steeped the candi-sugared wort in metal baskets. Furthermore, two malts were used in the brewing process: pils and caramel malt, as well as wheat starch, two varieties of hops and Rochefort's own yeast. The result is a robust dose of alcohol, much like port. Rochefort 10 hits the nose with roast wheat, figs, cherries, nuts, and dark chocolate. On the tongue, expect caramel, chocolate, ripe fruits and herbal touches of hops.
450 North Spooky Goo
? ABV
QUAD IPA: 450 North Brewing only brews this quadruple dry hopped quadruple IPA for their anniversary releases. It's hopped with Citra Cryo, Nelson Sauvin, Mosaic, and Simcoe for notes of herbal dankness. It's the easiest drinking quad IPA we've ever tasted, but technically we can't prove it's a quad as the ABV isn't listed on the can not the brewery's website.
Omnipollo Decuple Dry-Hopped Fatamorgana Nelson Sauvin
12% ABV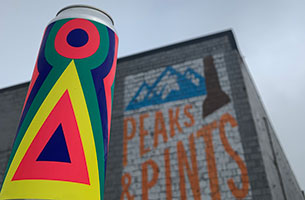 QUAD IPA: The inspiration for Omnipollo Decuple Dry Hopped Fatamorgana is Fatamorgana Double IPA, which founder and head brewer Henok Fentie brewed at Dugges Bryggeri with oats and wheat, and double dry hopped with Columbus, Centennial and Citra hops. (The word "fatamorgana" derives from the Italian phrase "fata morgana," a complex form of mirage that is seen in a narrow band right above the horizon.) Quadruple Dry Hopped Fatamorgana rolled out of Great South Bay Brewery with same base recipe but with twice the dry-hopping of the double dry hopped Fatamorgana. Fenti went back to Duggess for 8-Tuple Dry Hopped Fatamorgana triple IPA — which bring us to Decuple Dry-Hopped Fatamorgana Nelson Sauvin — a quadruple IPA dry hopped 10 times with Nelson Sauvin hops, basically turning the beer into liquid Nelson Sauvin, which means mango and starfruit up front, white wine in the middle, then a drying finish.
LINK: Peaks & Pints cooler inventory
---