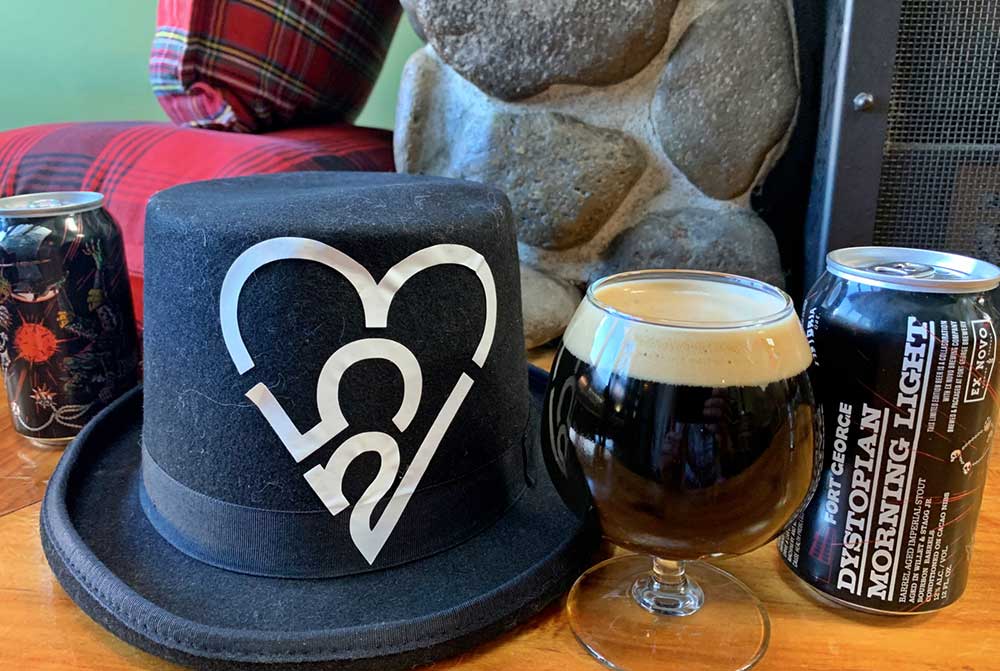 Fancy Pants Sunday: Fort George Dystopian Morning Light
Portability, recycle-ability, light prevention, price point, shatterproof — there are many reasons why breweries are pouring their bourbon barrel-aged imperial stouts into 12-ounce cans instead of bottles. Sure, a bottle can be more presentable, but ultimately, it's these reasons previously stated, and the juice inside, that count. Many beer enthusiasts don't care about package size stating if the beer is delicious, they don't care if it's stored in a Hello Kitty Thermos. Fort George Brewery, with collaborative help from fellow Oregon brewery Ex Novo Brewing, filled 12-ounce cans with their latest spirits barrel-aged beauty. Welcome to this week's column, Fancy Pants Sunday: Fort George Dystopian Morning Light.
Fort George knows stouts. The Astoria, Oregon brewery has brewed hundreds of stouts. They've tasted thousands of stouts. They've perfected dozens of stouts. But they've only canned a few stouts in their 16-year history. Founded by brewers Jack Harris and Chris Nemlowill, the two combined their brewing expertise from previous Oregon coast gigs at Bill's Tavern and Astoria Brewing Company to open Fort George Brewery in March 2007. Harris and Nemlowill drove their first 8.5-barrel brewhouse — nicknamed "Sweet Virginia" — from Virginia and through a tornado to open a small pub in the Fort George Building on Duane Street in Astoria. In 2009, they bought almost the entire city block, including the Lovell Building, where they installed a 20-barrel commercial brewhouse — "Little Miss Texas" — followed by a neighboring $12.5 million production facility down the street along the Columbia River. They just released Dystopia Morning Light, a 12-percent ABV whiskey and bourbon barrel-stout in 12-ounce cans.
Brewed to honor the darkest times of the year and aged for more than 20 months in Willett Distillery Whiskey and Stage Bourbon barrels, Fort George and Ex Novo brewed this stout worthy of both of their reputations. As Dystopian Morning Light breaks over the rim of our Peaks & Pints 12-ounce snifter, we discover dark cherry and a blazing, almost savory roast with little spicy hints of barrel char and whiskey.
You fancy, Fort George Dystopian Morning Light.
LINK: Peaks & Pints beer and cider cooler inventory
---